More major banks and insurers refuse to support EACOP
Lloyds syndicates silent amid human rights abuses
2022-10-14
BankTrack & #StopEACOP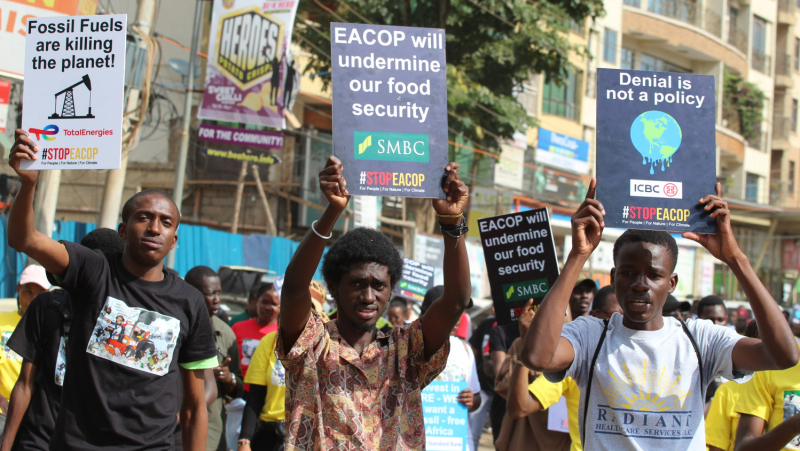 Protest in Nairobi against the East African Crude Oil Pipeline (EACOP). Photo: 350 Africa
2022-10-14
BankTrack & #StopEACOP
Five more insurers and four banks joined a growing number of firms ruling out the controversial East African Crude Oil Pipeline (EACOP) project in recent weeks, while others declined to comment amid ongoing human rights abuses associated with the project.
QBE, Suncorp, Generali, Aspen and Helvetia stated that they will not be providing insurance support to the EACOP. They follow five other insurance companies who ruled out the project in recent months, making 18 companies who have ruled it out overall. QBE and Suncorp are two of Australia's biggest insurers. Generali is Italy's biggest insurer.
In addition, Italy's largest bank Intesa Sanpaolo, Germany's second largest bank DZ Bank, as well as Natixis from France, have joined the growing list of banks that have ruled out direct finance for the EACOP project, bringing the total to 24. Spanish bank Santander is also understood not to be financing the project, which would be precluded as part of the bank's Environmental, Social and Climate Change Risk Management Policy. All four are recent or previous financiers of TotalEnergies, the project's main backer. Natixis was the last French bank financier of Total to rule out financing.
The East African Crude Oil pipeline, or EACOP is a 1,443 kilometer pipeline planned for Uganda and Tanzania. It threatens to displace thousands of families and farmers from their land, severely degrade critical water resources and wetlands in both Uganda and Tanzania, and rip through numerous sensitive biodiversity hotspots. The oil transported via the pipeline would generate 34 million tons of carbon emissions each year.
EACOP has been condemned by the European parliament for its associated human rights abuses in Uganda and Tanzania. The pipeline and associated Tilenga oil field are expected to displace almost 118,000 people in Uganda and Tanzania, and since last week nine peaceful protestors were arrested following a student-led peaceful demonstration against EACOP in Kampala, Uganda.
Omar Elmawi, co-ordinator of the StopEACOP campaign based in Kenya said: "Lending or underwriting to projects that are mired in human rights violations, lacking in free prior and informed consent is wrong, shameful and unacceptable. The (re)insurers and banks that are still considering or are committed to underwriting EACOP cannot claim innocence, they are on the side of the human rights violators and this therefore makes them complicit."
Isobel Tarr from UK-based Coal Action Network said: "Many of the insurance companies which have failed to rule out insurance for EACOP have syndicates at Lloyd's of London, where the companies behind EACOP have reportedly been looking for insurance cover. These include Arch, AIG and Chubb to name a few. These insurers must rule out EACOP immediately, to stand against the human rights abuses that are taking place in the name of this climate-wrecking pipeline."
Lindsay Keenan of the Insure our Future Campaign said: "Lloyd's Council urgently needs to commit the marketplace to policies ruling out new fossil fuel projects to keep in step with other major industry players, and in alignment with the science on keeping global temperatures below 1.5C warming."
Ryan Brightwell, Campaign Lead Banks and Human Rights at BankTrack said: "With so many of Total's financiers out of the running to join the $2.5 billion project loan the EACOP needs to proceed, the pressure is growing on those few that remain. This includes South Africa's Standard Bank, Japan's SMBC and MUFG, Industrial and Commercial Bank of China and Bank of China, as well as UK's Standard Chartered, which as chair of the Net Zero Banking Alliance should not be going anywhere near new oil projects of any kind, especially not one as mired in human rights and environmental damage as this."
Notes to editors
Responses from insurers:
Karyn Munsie, Executive General Manager at Suncorp said: "We no longer directly underwrite new or additional oil & gas projects. I can confirm that this rules out the East Africa Crude Oil Pipeline."
Viv Bower, Group Executive Corporate Affairs and Sustainability at QBE said: "Based on our assessment of the project as it is currently proposed, there are a number of elements that do not comply with our Environmental and Social risk framework and preclude us from underwriting this project."
Lucia Silva, Group Head of Sustainability and Social Responsibility at Generali said: "We can confirm that Generali is not directly involved in the EACOP project and we have no interest in a future involvement, as it is not compatible with our sustainability commitments and our risk appetite."
Cecile Locurto, Vice President, Group Corporate Communications at Aspen said: "We can confirm that we have no direct involvement, or plans to be directly involved, with the insurance of the East African Crude Oil Pipeline."
​This news follows last week's announcement that the world's largest reinsurer, Munich Re, is ruling out all involvement in traditional oil and gas, including at its Lloyds syndicate. The five other insurers to rule out EACOP in August / September 2022 have been Axis Capital, Argo Group, Talanx, Argenta (subsidary of Talanx) and RSA. The insurers contacted were Aegis London, AIG, Arch, Brit, Canopius, Chaucer, Chubb, Cincinnati, Liberty Mutual, Lancashire Syndicates and Tokio Marine Kiln.
Responses from banks:
Intesa Sanpaolo: "Intesa Sanpaolo does not intend to participate in the financing of the East African Crude Oil Pipeline project."
DZ Bank: "We would like to inform you that DZ BANK is not considering a financing role in the EACOP transaction."
Natixis: "I can confirm that Natixis will not participate in the financing of EACOP."
Santander: The bank did not provide a public statement, but BankTrack understands that finance for the EACOP project would be precluded as part of the bank's Environmental, Social and Climate Change Risk Management Policy, which prohibits finance for infrastructure projects located in IUCN protected areas (I-IV) or Ramsar Sites.
Resources
There are no active project profiles for this item now.