European banks warned over raid on pension funds to finance disputed coal plant in Dominican Republic
2016-05-27 | Santo Domingo, Dominican Republic
CNLCC, BankTrack, Les Amis de la Terre France
Enrique de León (Spanish only)
The National Committee to Combat Climate Change
Tel: +1 809 330 0294
Email: enrique.leon05@gmail.com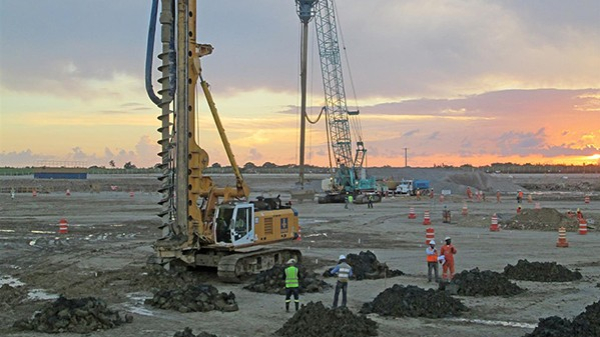 Drilling equipment at the Punta Catalina construction site. Photo: BAUER Spezialtiefbau GmbH
2016-05-27 | Santo Domingo, Dominican Republic
CNLCC, BankTrack, Les Amis de la Terre France
Enrique de León (Spanish only)
The National Committee to Combat Climate Change
Tel: +1 809 330 0294
Email: enrique.leon05@gmail.com
Top European banks including Société Générale, Deutsche Bank and ING have been warned by Dominican Republic NGO the National Committee to Combat Climate Change (CNLCC) about the worrying implications of Dominican government plans to use $600 million of employee pension fund money in order to help finance the controversial - and struggling - $2 billion Punta Catalina coal power plant project, currently under construction on the Caribbean island.
The Dominican government has been forced to initiate the pension fund move owing to the inability of the Brazilian National Development Bank (BNDES) to disburse essential co-financing for the project, a result of ongoing corruption investigations in Brazil into Odebrecht, the company awarded the Punta Catalina construction contract in what campaigners believe to be dubious circumstances.
CNLCC believes that the use of pension funds to finance the construction of the Punta Catalina coal plant is an unacceptable and potentially jeopardising use of public funds for a project originally set up to be financed without any public money involvement. CNLCC also claims that the project would result in significant pollution and carbon emissions, endangering public health and the environment as well as fuelling climate change.
The proposed Punta Catalina project comprises two identical coal-fired units each with 385 megawatt capacity, and the construction of a coal terminal with a capacity of 80,000 tonnes. Project finance for the coal plant was agreed with Société Générale, Deutsche Bank, ING, Santander, UniCredit last summer, alongside a loan guarantee from SACE, Italy's export credit agency.
A first $200 million tranche, out of a planned total of $632.5 million, was disbursed by the European banks at the end of last year. Further disbursement of construction finance from the banks, according to a contract agreement seen by campaign groups, was supposed to have been contingent on the release of co-financing from BNDES, previously scheduled for April this year.
CNLCC is also concerned about the potential use of state pension fund money for a project which would contravene part of the Dominican Republic's National Development Strategy of 2012 which stipulates the promotion of "decarbonization of the national economy through the use of renewable energy sources, the market development of biofuels, energy efficiency and efficient and clean transportation."
Enrique de León of CNLCC commented:
"With the abundance of renewable energy potential which the Dominican Republic possesses, it's been very surprising to see a string of European banks, which all say they are committed to the clean energy transition and fighting climate change, getting behind a project which will require major coal imports to the island, and will lead to considerable environmental and health impacts if the Punta Catalina plant starts firing.
"Now the Dominican government is concocting a scheme, forced upon it because of all kinds of serious irregularities hanging over the project, which it hopes will further lure in the European banks. Such antics would not be tolerated in the countries where these banks are based, and we call on the banks to put principles and the climate before profit and corruption."
Yann Louvel, Climate and energy coordinator at BankTrack, said:
"There is clearly a lot more to the Punta Catalina coal project than meets the eye. Climate considerations don't seem to have deterred some of Europe's top banks from having a punt on Punta Catalina. Now, in what is becoming an increasingly murky deal, $600 million of state pension fund money is being lined up to keep the banks involved in the deal. These institutions need to adopt a strong, no tolerance approach to these proposed shabby financing arrangements, for what is an already very shabby, highly questionable coal investment."
Notes for editors:
1. See the 18 May 2016 NGO letter to Société Générale.
2. See background information on the Punta Catalina project, a BankTrack 'dodgy deal'.
There are no active project profiles for this item now.