Nedbank is moving on coal power, but two plants are stuck on its radar
The South African bank is the first from the Global South to move out of new coal plants, but is still backing Thabametsi and Khanyisa
2018-04-10
Robyn Hugo - Centre for Environmental Rights & Yann Louvel – BankTrack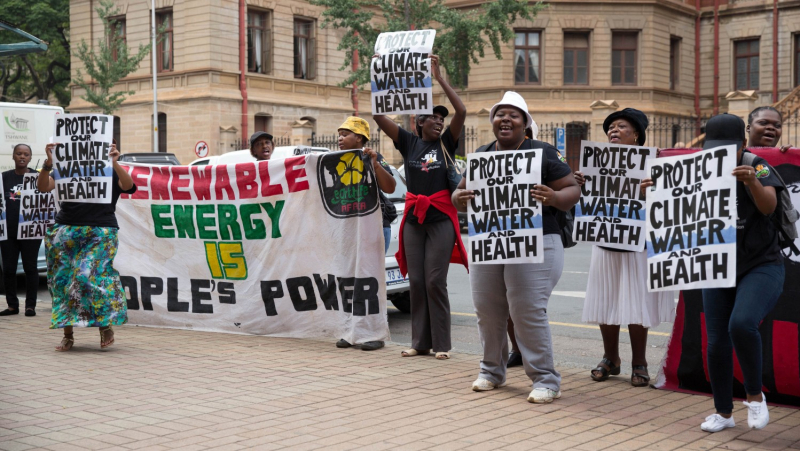 (Johannesburg, SA) Protest against the planned Thabametsi coal power project, a joint venture of Marubeni and KEPCO. Photo: James Oatway for Centre of Environmental Rights
2018-04-10
Robyn Hugo - Centre for Environmental Rights & Yann Louvel – BankTrack
The 2017 Sustainability Report of Nedbank, one of South Africa's biggest banks, contains an important new commitment from the bank, effective as of 2018, 'not to provide project financing (…) to develop a new coal-fired power plant, regardless of country or technology.' This undertaking makes Nedbank the first commercial bank from the global South to have moved away from coal power financing, and sees the bank join the ranks of 15 western banks which have to date adopted similar policies since October 2015. However, accompanying this welcome step from Nedbank is a concerning – and familiar – caveat.
The Cape Town-based Centre for Environmental Rights (CER) was alerted to Nedbank's new approach to coal power finance via communication with Nedbank officials concerning two proposed South African coal plants which the bank is currently considering for finance: the Thabametsi and Khanyisa projects, part of the national 'Coal Baseload Independent Power Producer Procurement Programme' which CER continues to contest in court. Objections have also been lodged with the South African Energy Regulator against the granting of generation licences for both plants.
Nedbank's new position, in full, states as follows:
'In addition, as from 2018, excluding its existing commitments* to round 1 of coal baseload procurement programme, the bank has undertaken not to provide project financing or other forms of asset-specific financing where the proceeds will be used to develop a new coal-fired power plant, regardless of country or technology.'
These 'existing commitments' refer to Thabametsi and Khanyisa, which, the bank advised, are 'currently being assessed on their fundamentals and must be in compliance with our Social and Environmental Management System, which aligns with all relevant legislation, regulation and best-practice principles.'
It is regrettable that both the Thabametsi and Khanyisa projects remain in Nedbank's financing pipeline for now. This announcement of a seemingly progressive new coal policy, while at the same time remaining tied to existing coal plant 'commitments', is very similar to what we've seen happen in the past two-and-a-half years with the Dutch bank ING. In late 2015, just ahead of the Paris climate summit, it became only the second commercial bank in the world to announce that it was ending direct financing for new coal plants – but ING excluded 'standing commitments' from its then new position. These exceptions to the policy have since turned out to be major millstones around the bank's neck.
One of these, the Punta Catalina coal plant in the Dominican Republic, has seen ING and other European banks having to send special legal investigators to look into the massive corruption allegations that have engulfed the project and one of the plant's construction companies, Odebrecht. The banks were compelled, one year ago, to postpone loan disbursements for Punta Catalina, and the saga continues.
In Indonesia, meanwhile, the Cirebon 2 coal plant has long been opposed by local communities for its expected impacts on health and fishing, and the project is the subject of an ongoing legal dispute over its environmental permit. In spite of this, and a whole two years after it had committed to end its financing of new coal plants, ING started to disburse its loan finance to the project last November, leaving a further very black question-mark over the bank's climate credentials.
By contrast, following the adoption of new policies which ended their financing of new coal plants globally, in 2016 and 2017, French banks Credit Agricole, Societe Generale, and BNP Paribas withdrew from the coal power deals in which they were already involved in Indonesia and Vietnam.
This is the route which Nedbank should also now take. Its new commitment guarantees that it will not get involved in the financing of any further new African coal plants - after Thabametsi and Khanyisa. But this important step will be overshadowed if the bank choses to get bogged down in financing two highly-questionable, polluting projects which are expensive, unnecessary, and lock South Africa into additional high GHG emissions past the year 2050, in conflict with South Africa's Paris Agreement commitments.
Nedbank has made disastrous coal plant investments before - in 2009, it financed the Kusile coal power plant in South Africa, which turned out to be massively late and hugely over-budget. A recent study by the economics consultancy Meridian Economics concluded that Eskom should stop construction of the plant. Nedbank should avoid making the same mistakes again; make a clean break from dirty coal, and instead focus its efforts on catalysing renewable energy development in Africa.
There are no active project profiles for this item now.