Top global banks and investors made an estimated USD 1.74 billion in income since Paris Climate Agreement from deals with agribusinesses linked to destruction of climate-critical forests and human rights abuses
2021-10-21
Global Witness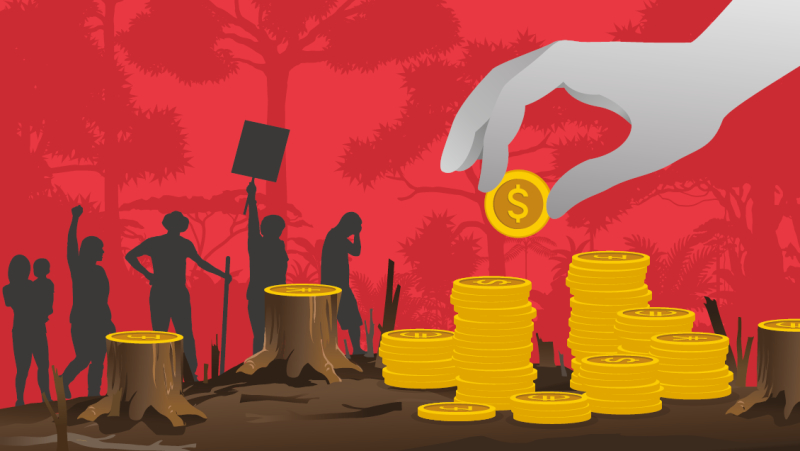 "Deforestation dividends" report cover. Photo: Global Witness
2021-10-21
Global Witness
New investigation reveals for the first time how much financial institutions in UK, EU, US, and China could have made from deals with agribusiness firms linked to deforestation and associated abuses. HSBC, Deutsche Bank, JP Morgan, BNP Paribas, Rabobank, and Bank of China are among the worst offenders.
Banks and investors headquartered in the UK, EU, US, and China made an estimated USD 1.74 billion in income from huge investments in agribusiness firms linked to the destruction of climate-critical forests in the five years following the Paris Climate Agreement. A ground-breaking investigation shows major banks, including HSBC, JPMorgan, Deutsche Bank, BNP Paribas, Rabobank, and Bank of China are profiting from rainforest destruction, contrary to many of their own public commitments.
We analysed over 70,000 share, bond, credit, and underwriting deals struck between financiers headquartered in the UK, EU, US, and China and twenty of the worst agribusiness companies between 2016 and 2020. These companies all have reported links to the destruction of tropical forests and associated human rights abuses in Southeast Asia, Central and West Africa, and Brazil.
The report, Deforestation Dividends, reveals the true scale of banks' financing of some of the world's most destructive companies and for the first time provides an estimate of how much income financiers could have made in interest, fees, and dividends from backing the parts of their business that carry the highest deforestation risk - primarily soy, beef, palm oil, pulp, and paper.
Many of the banks featured in the report have committed to align their investments with the goals of the Paris Climate Agreement and put in place voluntary environmental, no-deforestation and human rights policies. The findings published today suggest that banks' actual financing decisions contradict their own public pledges and policies as they continue to profit from deforestation and associated abuses.
This highlights that relying on banks' own voluntary commitments to rein in deforestation financing has clearly failed. In the absence of any external accountability mechanisms or government legislation, banks face no consequences for striking problematic deals over and over again.
Our in-depth analysis of financial data from 2016 to 2020 suggests that:
Financial institutions in the UK, EU, US, and China ploughed $157 billion into agribusiness firms linked to tropical deforestation and associated human rights abuses.
US financial institutions made $538 million through deals with some of the world's the most destructive agribusinesses. 
JPMorgan is the biggest deforestation financier in the US, EU, UK, and China, making $56.9 million from deals worth $9.38 billion with firms that have fuelled rainforest destruction over the past five years. 
British financial institutions made deals worth $16.6 billion (£12.7 billion), raking in $192 million (£147 million) in deforestation-linked revenue along the way.
HSBC is the UK's biggest financier of destructive agribusiness and the second largest privately owned bank in our global dataset after JPMorgan. It provided $6.85 billion (£5.25 billion) of financing to some of the world's worst deforesters - and likely pocketed more than $36.4 million (£27.8 million) in revenues along the way. HSBC received $20.2 million (£15.5 million) of that total income in the years following its 'no deforestation' commitment in 2017.
Lenders based in the EU have raked in $455 million (€401 million) in deforestation-adjusted proceeds on $34.7 (€30.6 billion) billion worth of deals with top deforesters. Deal-making was dominated by big banks from the Netherlands, France, Spain, Germany, and Italy.
France's largest bank, BNP Paribas, could have generated over $37.3 million (€32.9 million) in income from deforestation-risk agribusiness, while Dutch bank Rabobank could have pocketed an estimated $76.2 million (€67.2 million) and Deutsche Bank could have made $14.1 million (€12.4 million).
Among the destructive agribusinesses which proved particularly lucrative for these global banks are: soy giant SLC Agricola, which stands accused of clearing 30,000 hectares of forest in Brazil's Cerrado between 2011 and 2017; Brazilian beef giants JBS, Marfrig and Minerva, which we have previously linked to tens of thousands of hectares of deforestation in the Brazilian Amazon; Salim Group, which has been accused of rainforest destruction, child labour and other abuses tied to its palm oil operations in Indonesia; and Olam International, which stands accused of razing 40,000 hectares of rainforest in Gabon between 2012 and 2017 to create rubber and palm oil plantations. These companies' problematic track records should have raised major red flags for bank compliance teams.
The report adds to growing pressure for banks to be regulated under new rules on deforestation and supply chains and reinforces affected communities' calls for remedy and redress under international and national laws. As governments, shareholders and the public increasingly see money made on the back of environmental and human rights abuses as illegitimate, banks' deforestation-linked profits could become major liabilities.
Governments in major financial centres, including the EU, UK, US, and China must urgently pass strong laws that stop the finance industry profiting from deforestation and associated human rights abuses and penalise those who continue to do so.
Financial institutions must also immediately cut off ties with destructive agribusinesses and provide redress and remedy for affected communities.
Our findings come as world leaders prepare to gather for the crucial COP26 climate conference, against the backdrop of record global temperatures, increased extreme weather events and alarming rates of forest fires and deforestation around the globe, including in the Amazon.
Deforestation is one of the key drivers of global warming and protecting the world's forests is crucial to prevent further climate catastrophe, biodiversity loss and help stop the spread of zoonotic diseases like COVID-19.
Shona Hawkes, Senior Global Policy Advisor on Forests at Global Witness said:
"Our investigation followed the money to reveal, for the first time, how much top global banks are making from the destruction of climate-critical forests and associated human rights abuses.
"There is no more striking example of climate injustice than big financial institutions headquartered in banking centres like London, Paris and New York raking in eye-watering sums while they bankroll the destruction of the land, homes and livelihoods of communities who have safeguarded their forests for generations and are among the lowest greenhouse gas emitters in the world.
"Financiers' deforestation-linked profits are toxic - for the planet, for the affected communities and ultimately, for the banks themselves as their investments in destructive agribusinesses increasingly risk becoming legal and financial liabilities.
"Banks are touting their green credentials with glossy voluntary policies and commitments, but our findings highlight that these amount to little more than pure greenwashing. Talk is cheap and money speaks louder than words - if we judge banks on their financing decisions since the Paris Climate Agreement, we see they are continuing to amass millions in illegitimate gains from deforestation and leaving affected communities high and dry.
"While we know that preserving forests is high on the agenda at COP26, there is a real risk that governments and the financial sector will continue peddling false and meaningless solutions that fail to effectively address global forest destruction. Global leaders must step up and commit to bringing in government regulation that prevents companies and financial institutions profiting from deforestation."
See the original press release here.
There are no active company profiles for this item now.