New report: Indigenous resistance disrupts billions of tons of greenhouse gas emissions annually
2021-09-01
Indigenous Environmental Network & Oil Change International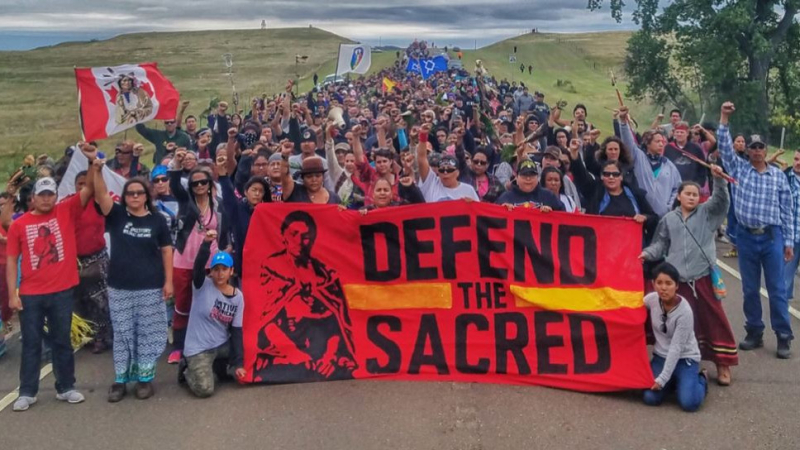 New report shows that Indigenous communities have stopped or delayed greenhouse gas pollution equivalent to at least 25 percent of annual U.S. and Canadian emissions. Photo: Indigenous Environmental Network, Oil Change International
2021-09-01
Indigenous Environmental Network & Oil Change International
The Indigenous Environmental Network and Oil Change International are releasing a new report titled Indigenous Resistance Against Carbon. The report analyzes the impact that Indigenous resistance to fossil fuel projects in the United States and Canada has had on greenhouse gas emissions over the past 10 years. From the struggle against the Cherry Point coal export terminal in Lummi territory to fights against pipelines crossing critical waterways, Indigenous land defenders have exercised their rights and responsibilities to not only stop fossil fuel projects in their tracks, but establish precedents to build successful social justice movements.
The new report shows that Indigenous communities resisting the more than 20 fossil fuel projects analyzed have stopped or delayed greenhouse gas pollution equivalent to at least 25 percent of annual U.S. and Canadian emissions. Given the current climate crisis, Indigenous peoples are demonstrating that the assertion of Indigenous Rights not only upholds a higher moral standard, but provides a crucial path to confronting climate change head-on and reducing emissions.
The recently released United Nations climate change report by the Intergovernmental Panel on Climate Change (IPCC) states that in order to properly mitigate the worst of the climate crisis, rapid and large-scale action must be taken, with a focus on immediate reduction of fossil fuel emissions. As the United Nations prepares for its upcoming COP 26 climate change conference in Glasgow, Scotland, countries are being asked to update their pledges to cut emissions — but as the IPCC report states, current pledges fall short of the changes needed to mitigate the climate chaos already millions of people around the world.
While United Nations member countries continue to ignore the IPCC's scientists and push false solutions and dangerous distractions like the carbon markets in Article 6 of the Paris Agreement, Indigenous peoples continue to put their bodies on the line for Mother Earth. False solutions do not address the climate emergency at its root, and instead have damaging impacts like continued land grabs from Indigenous Peoples in the Global South. Indigenous social movements across Turtle Island have been pivotal in the fight for climate justice.
"Indigenous Resistance has stopped or delayed greenhouse gas pollution equivalent to at least 25% of annual U.S. & Canadian emissions. The numbers don't lie. Indigenous peoples have long led the fight to protect Mother Earth and the only way forward is to center Indigenous knowledge and keep fossil fuels in the ground," said Dallas Goldtooth, Keep It In The Ground Organizer, Indigenous Environmental Network.
"Indigenous communities resisting oil, gas, and coal projects across their territory are demonstrating true climate leadership. Brave resistance efforts by Indigenous land and water defenders have kept billions of tons of carbon in the ground, showing that respecting and honoring the wisdom and sovereignty of Indigenous Peoples is a key solution to the climate crisis," said Kyle Gracey, researcher and report author at Oil Change International.
Read the full report here: ienearth.org/indigenous-resistance-against-carbon
There are no active project profiles for this item now.