Failure of Aramco IPO gives a black eye to bank CEOs and a warning to investors
---
2019-11-20
London, UK
BankTrack, 350.org, Earthworks, Friends of the Earth US, Global Witness, Indigenous Environmental Network, Oil Change International, Rainforest Action Network, ShareAction & Sierra Club
---
Greig Aitken, BankTrack
---
Share this page:
---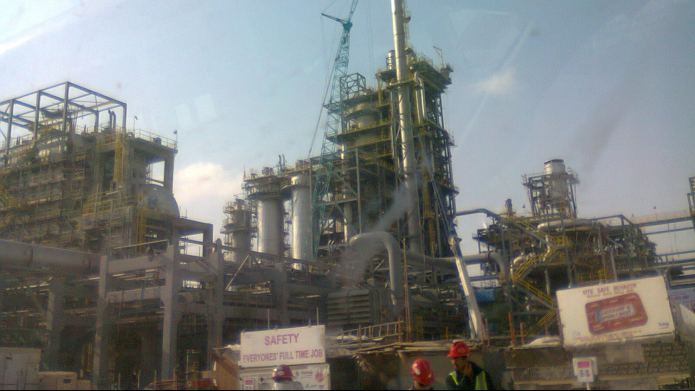 Saudi Aramco's Satorp Jer refinery in Jubail. Saudi Arabia. Photo: Suresh Babunair via Wikimedia Commons (CC BY 3.0)
Saudi Arabia has announced that the long-heralded partial IPO of its national oil company, Saudi Aramco, will be drastically scaled back. The banks that were about to go on the road to sell shares to investors in Asia, Europe and North America have been told to cancel these plans as the shares will now only be formally marketed to investors in Saudi Arabia and allied Gulf states.
Reports indicate that the Saudi regime's desired valuation for Aramco was substantially more than international investors were prepared to pay, including because of doubts about future oil demand in an era of climate crisis.
The offering is being led by nine banks: JPMorgan Chase, Bank of America, Goldman Sachs, Morgan Stanley, Citigroup, HSBC and Credit Suisse, as well as National Commercial Bank and SAMBA Financial Group from Saudi Arabia.
The Financial Times reports that the banks are "now turning on each other" over "the deal's degeneration into, what one banker called a 'Greek tragedy'." The banks' hopes for huge fees from the deal will likely have to be scaled back significantly.
JPMorgan Chase CEO Jamie Dimon has been particularly closely involved in promoting the IPO.
A coalition of environmental groups — Rainforest Action Network, BankTrack, Earthworks, Friends of the Earth U.S., Global Witness, Indigenous Environmental Network, Oil Change International, ShareAction, Sierra Club, and 350.org — had warned banks to stay away from selling shares in the world's largest corporate emitter of carbon dioxide. The groups also criticised the banks' willingness to raise billions of dollars for Saudi Arabia given the Kingdom's horrendous record on human rights.
Patrick McCully, Climate and Energy Program Director of Rainforest Action Network, said:
"This is a whopping black eye for Jamie Dimon, and for the bank CEOs. They were misled by their own greed to think that in an era of acute concern over climate change they could still make out like bandits from this deal while ignoring concerns about the Saudi government's human rights record and its goals to expand oil and gas production."
Johan Frijns, Director of BankTrack, said:
"Just two months after the launch of the Principles for Responsible Banking, prominent signatory banks such as Citi and Credit Suisse have no issues with getting involved in this IPO, this despite Saudi Arabia's horrendous human rights record and the immense climate impact that will result from an expansion of oil production by Aramco. These banks claim to be concerned about climate change and human rights, yet their involvement in the Aramco IPO makes it grimly clear that their heads are stuck firmly in the sand."
Hannah McKinnon, Director of Energy Transitions and Futures for Oil Change International, said:
"The value of oil depends on the future of oil, and the future of oil depends on our success tackling the climate emergency. As people-powered movements drive governments and financial institutions towards the higher ambition needed to stay within the Paris Agreement limits, it is becoming more and more clear that the future of all fossil fuel is bleak.

"We have shown that Aramco's valuation was highly dependent on oil prices, prices that won't materialise as demand drops with climate action. This is writing on the wall that obviously others are seeing as they flee the scene on the most carbon intensive offering in history. Chase, Citi and others would do well to reevaluate their substantial backing of fossil fuels in light of the market's clear scepticism that oil demand will continue to grow."
Doug Norlen, from Friends of the Earth US, said:
"With the implosion of this Aramco IPO, Jamie Dimon and his Wall Street look-alikes are paying the price for their abuse of the climate and collusion with human rights abusing regimes."
Catherine Collentine, Associate Director of the Sierra Club's Beyond Dirty Fuels campaign, said:
"Big banks can't keep claiming to care about climate action as long as they remain open to making massive investments in fossil fuels. This is yet another reminder that investing in the dirty fuels of the past is bad business."
Bruce Baizel, Energy Program Director for Earthworks, said:
"Investors should shun the expansion of oil, gas and petrochemicals and the companies like Saudi Aramco looking to pump more oil out of the ground to fuel the climate crisis and to create more plastics that pollute the water we drink, the fish we eat, and the oceans in which they live."
Carroll Muffett, President of the Center for International Environmental Law, said:
"In the space of three years, the IPO of the world's largest oil company has gone from unmissable to unmarketable across most of the world. That plummet reflects the growing recognition that sinking resources into climate chaos, widespread human rights violations, and authoritarian regimes creates risks that should be as unacceptable to investors as it is to the planet."

Related Dodgy Deals
Companies
There are no companies active for this item now.