Brazilian meat company JBS issues "sustainability-linked" bonds: Forests & Finance coalition responds
2021-06-25
Forests & Finance
Marília Monteiro, Forests and Biodiversity Campaigner, BankTrack, +633252256
Moira Birss, Climate and Finance Director, Amazon Watch, +1.510.394.2041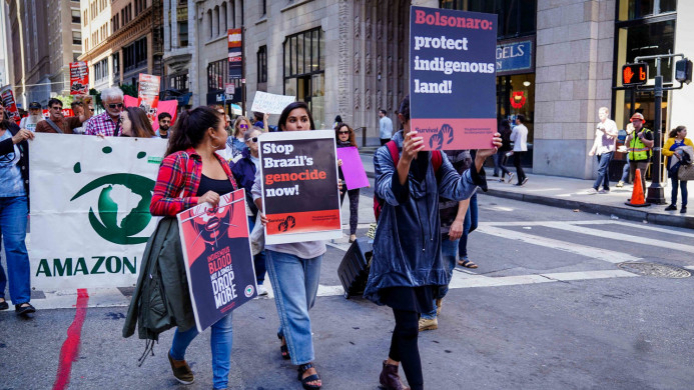 September 2019 protest; Global Day of Action for the Amazon. Photo: Ayse Gürsöz / RAN via Flickr (CC BY NC 2.0)
2021-06-25
Forests & Finance
Marília Monteiro, Forests and Biodiversity Campaigner, BankTrack, +633252256
Moira Birss, Climate and Finance Director, Amazon Watch, +1.510.394.2041
On June 15, JBS, the Brazilian meat company, announced it had sold US$ 1 billion worth of "sustainability-linked" bonds. Due in 2032, the debt is tied to JBS reducing its Scope 1 and 2 GHG emissions by 30%, compared to a baseline of 2019.
JBS, the largest meat company in the world, has been under fire for involvement in deforestation, land grabbing, slave labour, violating Indigenous and local community rights, and major corruption scandals for many years. In 2009, it committed, along with other agribusiness companies sourcing from the Amazon, to halt deforestation. Yet it failed in that commitment, and in 2019 caught international scrutiny for its role in massive fires set in the Amazon rainforest. In March 2021 it issued a new promise to eliminate illegal Amazon deforestation from its supply chain by 2025, other Brazilian illegal deforestation by 2030, and to have zero deforestation across its global supply chain by 2035.
The Key Performance Indicator (KPI) in the new "sustainability-linked" bond does not mention deforestation, nor does it cover Scope 3 emissions – meaning emissions from its supply chain, which represent the vast majority of JBS' emissions. Scope 1 and 2 emissions represent less than 10% of JBS' total emissions.
Proxy advisor ISS issued a second opinion that raised several troubling issues:
The KPI is "not material to the whole corporate value chain as the KPI does not include Scope 3 emissions."
"The issuer did not provide evidence in order to ensure that the SPT aligns with the Paris Climate Goals."
There "is indication that the current target set by JBS's is not aligned with the SBTi methodology."
In the Brazilian Amazon, arsonists have already started fires, well ahead of the typical burning season. Scientists predict that in part due to a severe lack of rain in recent months, fires this year will be particularly destructive.
Preliminary data obtained by Profundo Research Group shows that Franklin Resources (Franklin Templeton) and State Street are two early bond purchasers. Franklin holds approximately US$ 2.9 million in separate funds, and State Street approximately US$ 6.5 million. Since the bond offering just occurred, most information on holdings of the bond will not be available for another couple of weeks.
The lead underwriters of the bond issuance were Banco Bradesco, Barclays, BTG Pactual, Mizuho Financial Group, Santander, and XP.
Members of the Forests and Finance coalition issued the following statements in response:
Moira Birss, Climate and Finance Director at Amazon Watch, said "After giving itself an extension on its previous commitment to end Amazon deforestation a decade ago, JBS is now trying to hoodwink investors with a 'sustainability-linked' bond that isn't even tied to emissions from its supply chains. JBS has zero credibility when it comes to forest protection and respect for Indigenous land rights, and investors who truly want to ensure the Amazon remains standing should stay far away from this greenwash."
Merel van der Mark, Coordinator of the Forests & Finance Coalition, said "It's completely incomprehensible that ESG fund managers fall for this greenwash. It seems none of them has done the most basic background search on JBS, nor read the ISS second opinion, which has 'don't buy this' written all over it. JBS is drenched in conflict and corruption, it has a history of broken promises and it's not planning to stop deforestation for another 14 years. The underwriters and investors in this bond, such as Santander, Bradesco, are giving JBS cheap money to continue with its Amazon destruction."
Marília Monteiro, Forests and Biodiversity Campaigner at BankTrack, said "It is known that the beef sector as a whole and JBS in particular, as the largest meatpacker in the world, is a major driver of deforestation and global greenhouse gas emissions. It is one of the direct causes of the climate crisis. But now JBS wants, cynically, to say the contrary: that it is part of the solution. And banks are falling for this greenwashing discourse – as long as it remains profitable. If banks are serious about their own deforestation commitments, it is more than time to exclude JBS."