Banks and financiers back beef giant JBS to the tune of almost $1bn despite links to widespread deforestation, land grabbing and slave labour in the Amazon
---
2022-06-23
Brazil
Global Witness
---
Martha Marcuson, Senior Communications Advisor,
+44 (0) 7725 260 530
Chris Moye, Campaign Strategy Lead, Forests Investigations,
+44 (0) 7525 592737
---
Share this page:
---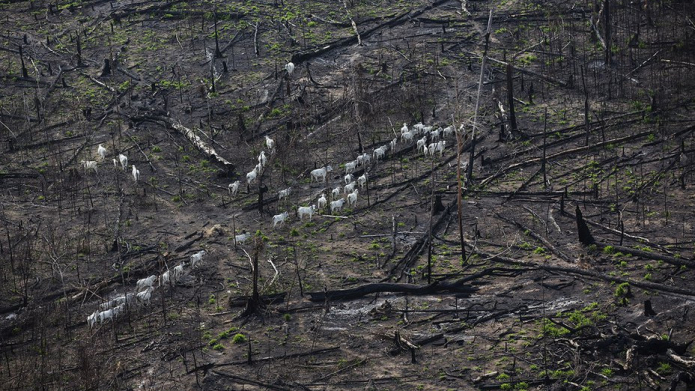 The Brazilian Amazon has been devastated by demand for cattle.. Photo: Lalo de Almeida/Folhapress/Panos
New Global Witness investigation reveals JBS sourced cattle from 144 ranches in the Amazon state of Pará that contained over 10,000 football pitches of illegal Amazon clearance, contrary to its legal no deforestation obligations
JBS also failed to monitor a further 1,600 ranches further up its supply chain with 57,000 football pitches of deforestation
Leather from there was exported to Italian manufacturer Gruppo Mastrotto, which supplies well-known brands like Volkswagen, Toyota and Ikea
UK supermarkets like Sainsbury's, Iceland and Asda stocked products with JBS corned beef in February 2022, while Morrisons dropped the stock when approached by Global Witness
HSBC, Barclays, Santander, Deutsche Bank, BlackRock and JP Morgan are among the major financial institutions still backing JBS to the tune of almost $1bn in shareholdings in spite of its myriad failings on deforestation
Giant meat trader JBS is still sourcing cattle from ranchers responsible for widespread illegal rainforest destruction and human rights abuses in the Brazilian Amazon, Global Witness reveals today. Our investigation shows that JBS's tainted leather from its problematic Pará operations ended up in the warehouses of well-known Italian leather company Gruppo Mastrotto, which supplies to major global car manufacturers and furniture-makers. UK supermarkets also continue sourcing corned beef from JBS even as they previously pledged to drop some of its products, while major international banks repeatedly finance the beef giant despite its manifold failures on removing deforestation and human rights abuses from its supply chains.
The report, Cash Cow, exposes a recurring pattern of land grabbing, slave labour and cattle laundering carried out on the ranches of one of JBS's suppliers in the Amazon state of Pará, the Seronni family (1). The investigation also found JBS bought cattle from 144 ranches containing 10,000 football fields of illegal deforestation in 2020 in this state alone, contrary to its no-deforestation agreements with Brazilian prosecutors. JBS failed to monitor another 470 ranches of 'indirect suppliers' further up its supply chains for compliance with its prosecutor's agreement, where Global Witness found an estimated 40,000 football pitches of illegal Amazon clearance, and a total of 1,600 ranches containing 57,000 football pitches of deforestation, legal or otherwise (2).
Top-end Italian manufacturer Gruppo Mastrotto sourced leather from JBS's tannery in the Amazon state of Pará linked to this illegal deforestation, slave labour, land grabbing, and cattle laundering, Global Witness reveals (3). The Italian company sells leather to car manufacturers such as Volkswagen Group and Toyota and furniture producer Ikea (4). At the same time, in February 2022 UK supermarkets like Sainsbury's, Asda and Iceland offered beef products linked to JBS, despite some previously committing to not source from the company or from Brazil. Morrisons dropped a product containing JBS beef from its stores after Global Witness took our findings to the supermarket (5).
Meanwhile, huge banks and investors like HSBC, Barclays, Deutsche Bank, JP Morgan, Santander, and BlackRock continue backing JBS. Their financing flows to the company despite JBS's repeated failures to remove environmental and human rights abuses from its supply chain, contrary to many of these financiers' no-deforestation policies and climate commitments. Our report reveals that as of October 2021, investment companies controlled by HSBC, Barclays, Santander, Deutsche Bank, BlackRock, JP Morgan, and other EU and US-based financial institutions still held combined shares worth almost US$1 billion in JBS (6).
The customers of some of Europe's biggest and most prestigious banks and companies could therefore be exposed to deforestation and serious human rights abuses in JBS's supply chains.
These findings come against the backdrop of the rapidly accelerating destruction of the Brazilian Amazon, as deforestation reaches record levels (7). The dismantling of environmental policies and the weakening of environmental agencies under President Bolsonaro have been highlighted as key risks that may push the Amazon to an irreversible tipping point, with devastating consequences for indigenous peoples and local communities, the global climate and biodiversity (8).
As the Brazilian elections approach and crucial legislation on land grabbing is passing through congress, Amazon deforestation and indigenous rights have become a central issue in Brazil. A recent survey suggested almost 90% of Brazilians believe that it is necessary to conserve the Amazon forest because it is Brazil's greatest wealth (9).
This investigation follows Global Witness's previous exposé on JBS's links to deforestation and human rights abuses in the 2020 report, Beef, Banks and the Brazilian Amazon. Today's revelations of subsequent forest destruction and abuses shows that this is an ongoing and repeated pattern of behaviour by JBS and that it has not taken sufficient action to address the well-catalogued problems in its supply chains. JBS has also recently come under fire for an alleged 50% increase in its carbon emissions over the last five years, giving the company a carbon footprint larger than all of Italy and almost as large as that of the UK (10). Meanwhile, 2021 saw record revenues for the company, as it continues to fuel the climate crisis and profit from destruction (11).
Six months on from the Glasgow Leaders' Declaration on Forests and Land Use at COP26 and with key deforestation legislation being introduced and considered in the UK and EU respectively, our investigation is an urgent reminder of the importance of robust deforestation regulation that covers all forest-risk commodities including beef and leather, puts human rights protections front and centre and addresses the finance sector's role in funding destructive agribusinesses like JBS (12) (13).
Chris Moye, Acting Head of Forests Investigations, Global Witness, said:
"The Amazon is the world's largest remaining climate-critical rainforest, but it is being razed at alarming rates, enabled by forest-wrecking agribusinesses like JBS and propped up by the firms and banks that do business with them. While they make blockbuster profits, local communities suffer and the lungs of the planet continue to be decimated.
"Tainted beef and leather could be ending up on the dinner plates and in the products of UK and EU consumers, exposing them to forest destruction, slave labour and other abuses.
"If governments want to practice what they preached on deforestation at COP26, they need to follow up the commitments made at the conference with strong laws that make it illegal for all businesses, including financiers, to fuel deforestation and associated human rights abuses linked to the beef and leather trade.
"In the UK, we understand the government might exclude beef and leather from the initial phase of implementation of the Environment Act, despite these being the biggest source of the UK's overseas deforestation footprint. This report is a reminder of what a devasting decision that would be."
José Batista, Attorney for Brazilian NGO, the Pastoral Land Commission (CPT), which represents communities affected by deforestation, said:
"Banks that finance cattle ranching in the Amazon rainforest, or companies that buy meat directly from ranchers from this region, need to be careful and demand that the production is not linked to deforestation."
---
Notes to editor
JBS blocked the Seronni ranches after Global Witness approached it on the illegalities committed, claiming the farmers had dishonestly circumvented its no deforestation legal agreements with federal prosecutors. The company said it would also set up an Audit Committee to find out how this happened and will keep monitoring the case on an ongoing basis.
In response to our allegations that JBS bought cattle from 144 ranches containing 10,000 football fields of illegal deforestation in 2020 in the state of Pará, the company denied these claims. In response to our allegations on illegal deforestation linked to its 'indirect suppliers', JBS claimed it was implementing a system that would help monitor these suppliers for compliance with Brazil's forest law.
Gruppo Mastrotto admitted purchasing from JBS's tannery in the Amazon state of Pará linked to illegal deforestation, slave labour, land grabbing and cattle laundering but said they were small in volume and that it had since stopped buying from JBS.
Volkswagen Group, Toyota and furniture producer Ikea all claimed none of their leather came from any illegal deforestation in Brazil. When pressed whether they felt it was acceptable to buy leather from a company sourcing from tanneries linked to deforestation and human rights abuses, irrespective of the specific products they buy from it, all variously replied that it was either a matter for Mastrotto or that their policies require their suppliers to remove these abuses from their supply chains.
Sainsbury's and Iceland both claimed they engage with their suppliers to ensure they source their beef responsibly, while Asda simply failed to reply despite multiple requests for comment. Morrisons dropped from its stores a product containing JBS beef after Global Witness flagged this to the supermarket.
When asked if the findings in this report affected their continued exposure to JBS, the financial institutions named in our report variously claimed they were either engaging with the company to improve its performance, or requiring it remove deforestation from its supply chains faster. Others declined to comment or did not reply despite numerous requests
https://www.poder360.com.br/conteudo-patrocinado/protecao-da-amazonia-deve-ser-prioridade-de-candidatos-a-presidente-em-2022-aponta-pesquisa/
See the Insititute for Agriculture and Trade Policy's study on JBS's carbon emissions in April 2022 here: https://www.iatp.org/jbs-emissions-rising-despite-net-zero-pledge.
In response to the claims made about JBS's contribution to greenhouse gas emissions rising by 50% in the past five years, the company denied the accuracy of the numbers, saying the report used a "flawed methodology and grossly extrapolated data to make misleading claims"
In 2021, JBS's net revenue reached a record of 350.7 billion reais: https://www.reuters.com/article/jbs-results-idAFL2N2VO2MI
In the UK, the deforestation provision in the Environment Act aims to stop the UK's complicity in illegal global forest destruction but the UK government has indicated it may exclude beef and leather from the first round of implementation of the Act, despite those commodities accounting for the largest land area of UK's deforestation footprint overseas. An EU legislative proposal aimed at prohibiting the import of commodities linked to deforestation and forest degradation currently covers both beef and leather, though it excludes canned beef. The commodities included in the proposal may change as the legislation is considered by the European Parliament and national governments. Both the UK and EU legislation fail to fully respect the international human rights of local communities and indigenous peoples and do not address the role of the financial sector, despite calls from parliamentarians, affected communities and civil society for the law to be strengthened.
The Glasgow Leaders' Declaration on Forests and Land Use saw 141 governments pledge to halt and reverse forest loss and land degradation by 2030. However, the agreement lacks teeth and risks being a reiteration of previous failed commitments on deforestation: https://www.globalwitness.org/en/press-releases/cop26-glasgow-leaders-declaration-on-forests-and-land-use-risks-being-a-reiteration-of-previous-failed-commitments-on-deforestation/
You can find our full recommendations here: Recommendations
We approached all relevant parties for comment. You can find their responses in the full report: Cash Cow
Related Dodgy Deals
Companies
There are no companies active for this item now.