Under the spotlight: Chinese banks' risky agribusiness portfolio
New Global Witness analysis shows Chinese banks are pouring billions into destructive agribusiness linked to global deforestation, highlighting huge gaps in environmental and social risk management
2021-06-07
Global Witness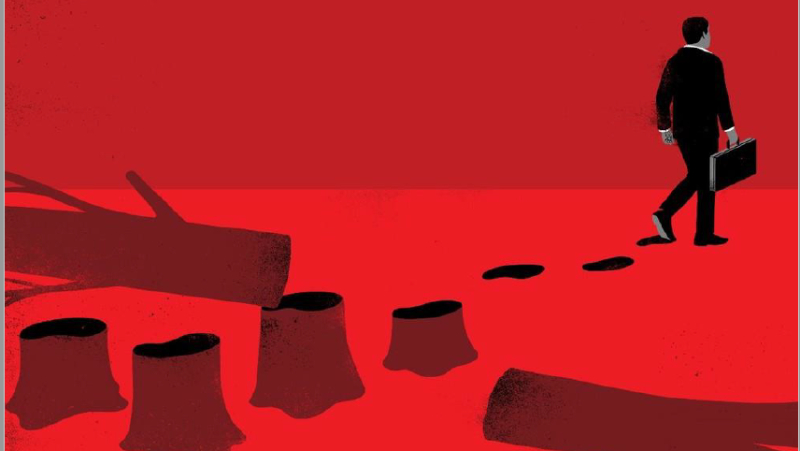 "Under the spotlight" report cover. Photo: Global Witness.
2021-06-07
Global Witness
Global Witness reveals today that Chinese banks are funnelling billions into agribusinesses driving global deforestation and are failing to take adequate measures to ensure their money is not contributing to environmental destruction.
This news comes against the backdrop of the upcoming revision of China's law for commercial banks. Plagued by recent corruption and mismanagement scandals, the Chinese financial sector needs better regulation not only to tackle governance issues but also to address the major gaps in environmental and social risk management exposed in our analysis.
As forests are being destroyed at alarming rates around the world, our analysis shows Chinese financial institutions provided over USD 22.5 billion between January 2013 and April 2020 to major companies producing and trading commodities at high risk of driving deforestation - palm oil, soy and beef, pulp and paper, rubber, and timber. Just five of the biggest Chinese commercial banks accounted for 45% (USD 10.25 billion) of the total figure.
In particular, Chinese banks are providing a lifeline to agribusinesses and commodity traders involved in the palm oil sector and Brazilian beef and soy production, which are the commodities with the highest deforestation risk. Our analysis of the specific companies they chose to finance shows many of them have problematic track records on deforestation and human rights abuses.
According to our research, the companies receiving large sums from Chinese banks include COFCO, Tianjin Julong, Wilmar, ADM, Bunge, and JBS. With all these businesses, there are at a minimum clear red flag around their possible links to environmental and social damage, and in some cases, publicly available evidence of their links to forest destruction, land grabbing and other abuses, revealed by Global Witness, Greenpeace, Mighty Earth and others. Despite these warning signs, Chinese financial institutions have continued bankrolling these companies' operations.
This failure to safeguard against environmental and social risks is at odds with the country's climate commitments and green finance policies, which the country's banks are supposed to align with. Failing to align with these policies has led to lawsuits and administrative fines against some Chinese banks, highlighting the increasing pressure these financial institutions are under to take into account their environmental and social impacts and the legal and financial risks they could incur if they do not.
Chinese banks' huge investments in forest-risk commodities also undermine the country's bid to be a global leader on sustainable finance, having established and recently relaunched a G20 Sustainable Finance Working Group with the US as a co-chair.
Major Chinese commercial banks are the world's largest banks by total assets and their investment choices therefore have major global ramifications for climate change, of which deforestation is one of the key drivers. A recent analysis places China as the second largest backer in the world for sectors linked to forest destruction. As well as being vital carbon sinks and helping cool our planet, forests are also home to indigenous and local communities, are the site of unparalleled biodiversity and help prevent the spread of further zoonotic diseases like Covid-19, which pass from animals to humans.
Moreover, cutting down forests has an impact on regional water cycles and climate and any degradation in growing conditions in countries like Brazil could threaten China's food security as it is by far the biggest destination of Brazilian soy and beef.
With the concentration of forest-risk financing in a small number of Chinese commercial banks and the Chinese law for commercial banks due to be revised later this year, the country is in a unique position to reduce its financial sector's global deforestation footprint quickly and effectively.
Global Witness is calling for Chinese banking regulators and policymakers to use the proposed legislative revision to explicitly require the country's banks to ensure they are not financing businesses linked to environmental and social damage.
Beibei Yin, Senior Forests Campaigner at Global Witness, said: "While it is well known that China is one of the world's largest consumers of agricultural commodities such as soy, beef and palm oil that drive deforestation globally, the fundamental role of the Chinese financial sector in bankrolling companies producing and trading such commodities has been much less scrutinised."
"Our new analysis highlights that Chinese banks are pumping billions into agribusinesses which are some of the worst offenders when it comes to driving deforestation. The companies that major Chinese banks chose to finance suggest that the banks have done little or no due diligence to safeguard against their exposure to environmental and social harms."
"With Xi Jinping's bold commitment to become carbon neutral by 2060, China's aims to be a global leader on sustainable finance and the country hosting the UN Summit on Biodiversity later this year, China needs to put its money where its mouth is by ensuring that Chinese banks are not financing agribusiness that fuels deforestation, the climate crisis and biodiversity loss."
"The proposed revision of the Chinese banking law this year provides a crucial opportunity to ensure that the Chinese banking sector is aligned with the country's green ambitions. If China were to stop its banks from financing forest destruction, it would demonstrate global environmental leadership and help future-proof Chinese investments."

Notes to Editor:
1. Global Witness's analysis of the Chinese financing of forest-risk commodities from January 2013 and April 2020 is based on data provided by Forest and Finance, a global coalition of non-governmental organisations. Our analysis was based on data accessed in January 2021.
2. In October 2020, the People's Bank of China, China's Central Bank, and a major banking regulator, launched a public consultation on its draft revision proposal of the law for commercial banks. Global Witness' analysis pointed out the proposal fell well short of China's green ambitions. The revision of this law is now expected this year.
3. Two of China's main commercial banks, the Industrial and Commercial Bank of China and Bank of China, are the biggest Chinese financiers of forest-risk commodities, providing $3.66bn and $2.91bn respectively. These banks are among the worst performing banks worldwide in a ranking created by
Forest 500. This ranking assesses the deforestation policies of the 500 most influential companies and financial institutions in forest-risk commodity supply chains. 4. Palm oil, soy and beef were the three commodities that led to the most forest being replaced from 2001 to 2015, according to the World Resource Institute, which monitors global tree cover loss.
5. Climate-critical tropical ecosystems like the Amazon and Cerrado are being threatened by the massive increase in deforestation in Brazil in recent years, driven by soy and beef production, which our analysis shows Chinese banks have heavily invested in.
6. The risks posed by all agribusinesses cited here are detailed in our main report here.
7. $2.1bn USD of the money from Chinese banks went to COFCO, China's largest agricultural processing and trading company, for its palm oil operations. Our analysis suggests that COFCO has failed to exclude suppliers that have been in breach of another palm oil giant Unilever's sourcing policy dating back as far as 2010, and therefore could be guilty of deforestation.
8. The five companies that received the most financing from Chinese banks for their soy and beef operations in Brazil were all found to be exposed to deforestation, according to Mighty Earth. They are COFCO, Cargill, Bunge, ADM and LDC. Combined, these five companies were found to be linked to 161,018 hectares of forest clearance since October 2017.
9. Though Chinese companies received most of the financing from Chinese banks, the banks also provided significant funding for some of the biggest global names in the palm oil, soy and beef sectors. They include Wilmar, the world's largest palm oil trader, JBS, the biggest meat producer in the world and ADM and Bunge, two US agribusiness giants, among others. These companies are widely documented to have a poor environmental and social track record. Wilmar was exposed by the investigative group Greenpeace since 2007 for its role in forest destruction. JBS has been repeatedly linked to environmental and social harms and in 2020 Global Witness exposed how JBS was found to have bought cattle from at least 327 Amazon ranches in which illegal deforestation occurred. In 2020, Global Witness also exposed how ADM and Bunge sourced from Indonesian palm oil mills that have been accused of violating local community land rights, including seizing community-owned land, attacking community members, and causing serious environmental degradation.
10. In 2018, a Chinese NGO brought a landmark case against two Chinese banks for financing a polluting enterprise. Various Chinese banks have received administrative fines for financing companies that have failed environmental inspections.
11. We wrote to some of the companies named in the report but didn't get a response. This document compiles previous responses made by companies named in the report.
There are no active company profiles for this item now.