New report: Three years after the Paris climate summit, French banks are financing more coal
---
2018-11-26
Paris, France
Les Amis de la Terre
---
Lorette Philippot, Private finance campaigner, Friends of the Earth France. Tel: +33 6 40 18 82 84.
---
Share this page:
---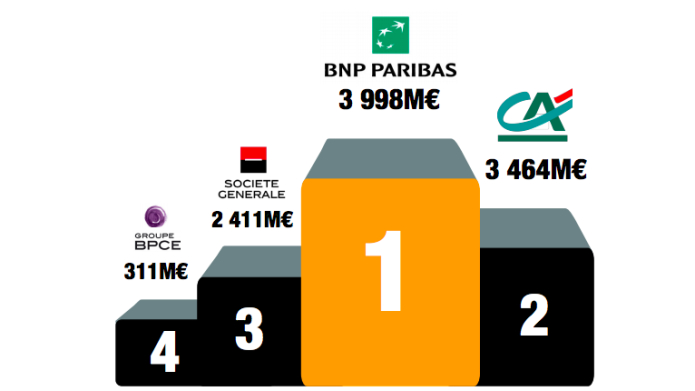 The top four French financiers of 120 coal developer companies since COP21 . Photo: Friends of the Earth France
In a report published today, Friends of the Earth France has called on French banks to immediately review their coal policies and introduce exclusions for companies developing new projects in this sector. The NGO has criticised the weakness of the current commitments of BNP Paribas, Société Générale, Crédit Agricole and Natixis which, since 2016, have provided more than EUR 10 billion in financing to companies which are gambling against compliance with the Paris Agreement on climate change. This figure represents an increase of 52% in coal financing from the banks compared to the three years prior to COP21.

As global finance institutions gather this week in Paris with the stated goal of building a sustainable financial system, the new report 'COP21 + 3, French banks still in coal', published today by Friends of the Earth France, reveals that French banks are still supporting the construction of new coal-fired power stations by massively financing the companies which are promoting these projects.

Global capacity for coal-fired electricity generation has increased by 92 gigawatts since the adoption of the Paris Agreement in 2015 and 1380 projects are still planned today worldwide. According to new financial data, BNP Paribas, Crédit Agricole, Société Générale and Natixis have granted more than EUR 10 billion in financing since COP21 to the 120 companies most aggressively involved in the construction of new coal-fired power plants. This total is 52% more than the EUR 6.7 billion the banks provided in the three years prior to COP21.

This is due to the sectoral policies of the banks which strictly exclude only project financing, yet at the same time have only very low criteria for corporate financing. BNP Paribas, which accounts for almost EUR 4 billion in loans and issues of shares and bonds to the 120 companies, has taken measures which are clearly insufficient to directly restrict its support to companies which are highly active in the sector or which plan to increase their coal capacity.

Lucie Pinson, advisor to Friends of the Earth France's private finance campaign, commented:

"French banks are refusing to exclude a certain number of companies based on the argument that instead they will support them in their efforts to realise the energy transition. We say that this should only apply for companies which are really trying to transform themselves in order to align with the 1.5°C trajectory.

"Those companies which are determined to build coal projects, which respected scientific and political authorities have repeatedly described as being strictly incompatible with the Paris Agreement, must be immediately jettisoned by French banks. To refuse to do so is to be responsible for the development of the sector responsible for the highest CO2 emissions and signals the failure of the climate objectives adopted in 2015 by the international community."

While project finance has historically accounted for less than 10% of financing for the coal sector, the share of corporate finance provided for the construction of new coal plants is expected to grow due to the huge reputational risks associated with coal. This is particularly the case in Europe, where 66 projects are still planned, while all efforts should be aimed at the closure before 2030 of the 275 coal power plants in operation.

Lorette Philippot, leading the private finance campaign at Friends of the Earth France, said:

"With EUR 1.8 billion and EUR 1 billion respectively in financing for European developers of new coal plants since COP21, BNP Paribas and Société Générale are the third and tenth largest international banks supporting companies blocking Europe in its energy transition. Among their customers are the German company RWE and the Czech company CEZ, whose coal activities 500 kilometres from Paris or Katowice, where COP24 will take place, threaten our climate, our health and even whole villages with destruction.

"The recent IPCC report on the consequences of warming to 1.5°C has shown that we have to accelerate our exit from fossil fuels. It is criminal to continue to finance not only coal companies, but also companies involved in tar sands and shale gas, as Crédit Agricole and Société Générale also continue to do."

Published a few days before Climate Finance Day and COP24 in Poland, the report calls on banks to review their policies: French banks must commit to align their activities with a 1.5°C trajectory, immediately exclude companies which are expanding their activities in the coal sector or which are heavily active in or exposed to coal, and condition their support to other companies based on the adoption by 2020 of a detailed plan for the closure of their coal infrastructure.

Key figures from the report:
More than 1380 coal-fired power plants are still planned worldwide, including 66 in Europe, which, if built, would increase overall installed capacity by more than 33%.
120 companies aggressively developing new coal plants account for 68% of the global pipeline of new coal-fired power plants and constitute the Coal Plant Developers List (CPDL).
Since COP21 and the adoption of their coal commitments, BNP Paribas, Société Générale, Crédit Agricole and Natixis have increased their financing to the 120 coal developers from EUR 6.7 billion between 2013 and 2015 to EUR 10.25 billion between 2016 and 2018.
BNP Paribas has recorded nearly EUR 4 billion in loans and issues of shares and bonds to these companies since COP21.
While Crédit Agricole mainly finances Asian companies, BNP Paribas and Société Générale finance European coal developers, with respectively EUR 1.8 billion and EUR 1 billion in financing.
BNP Paribas and Société Générale finance companies, such as Germany's RWE and Uniper or the Czech Republic's CEZ, which are developing their mines and coal plants in Europe and which are openly blocking the continent's exit from coal.
Oxfam France on Saturday published a report 'French banks, fossils take the lead' on French banks' financing of all fossil fuel sectors (coal, oil and gas) and renewable energy.
Notes:

1. Financial research conducted by the independent research consultancy Profundo, commissioned by Friends of the Earth France, urgewald, BankTrack, Re: Common and Rainforest Action Network.
Related Dodgy Deals
Companies
There are no companies active for this item now.