The battle to stop Line 3 is heating up on the ground and across the US
Activists around the US join national day of action to end financing for tar sands pipelines like Enbridge's Line 3
2020-12-14
Maaike Beenes – BankTrack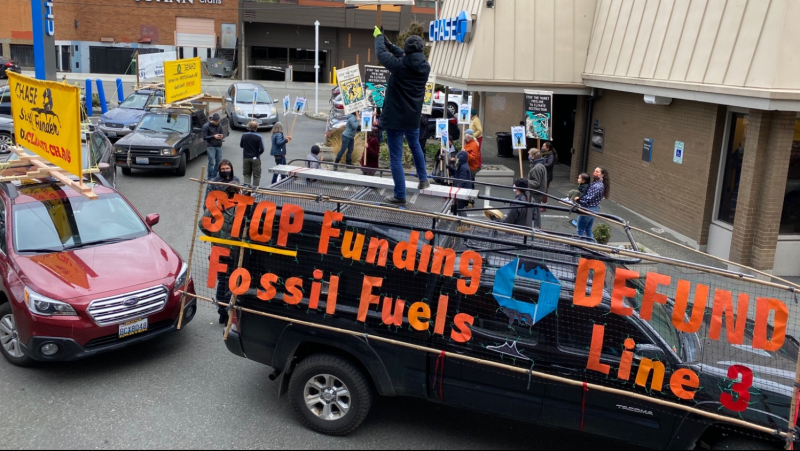 Protest in Seattle to defund the Line 3 tar sands pipeline. Photo: 350 Seattle
2020-12-14
Maaike Beenes – BankTrack
Just days earlier the Canadian company Enbridge started construction on the Minnesota stretch of the Line 3 replacement project. But although construction has now started, protests continue, there are still lawsuits pending, and Enbridge will face ongoing resistance. In the meantime, major banks are still funding Enbridge, facilitating the construction of Line 3. They too are under increasing pressure from activists including local Indigenous groups to end their financing of the Enbridge and all other tar sands projects.
#Portland Oregon showed up outside Chase branches today with a fire truck hung with a banner, "Chase: We need action, not words! Defund Fossil Fuels!"#StopLine3 #StopTheMoneyPipeline pic.twitter.com/L80lkobNc0

— Stop the Money Pipeline (@StopMoneyPipe) December 12, 2020
Another problematic pipeline
With the Line 3 Replacement Project, Enbridge wants to modernize the existing Line 3 pipeline, which transports tar sands from Alberta in Canada to Wisconsin in the US. The Minnesota stretch is the only section that still needs to be built. Enbridge intends to abandon its existing Line 3 pipeline, leaving the corroding pipe in the ground with a lasting legacy of contamination. The replacement Line 3 would take a new route, crossing pristine wetlands, headwaters of the Mississippi River and through some of the largest and most productive wild rice beds in the world.
In addition to posing a serious environmental threat to these unique ecosystems, the pipeline also violates Indigenous rights, including the right to Free and Prior Informed Consent and local Ojibwe tribes' Treaty rights, such as the rights to hunt, fish, gather medicinal plants and wild rice and to preserve sacred or culturally important sites. Line 3 would violate these rights by endangering the natural environment that the Ojibwe depend on, both by the damage that will be done during construction but also in case the pipeline leaks.
And it is well known that all pipelines leak. A 2017 Greenpeace US publication used historical data on oil spills in the US and estimated that Line 3 "could see 51 significant spills over a 50-year lifetime". The tar sands oil being transported by Line 3 is the worst type of oil for the climate. Canadian tar sands emit about 31% more greenhouse gases over their entire life cycle than average North American crude. In addition, electricity use to power the pipeline and move the oil through it "makes Enbridge the largest energy consumer in Minnesota". All in all, Line 3 is estimated to contribute more to climate change than Minnesota's entire economy.
Given these destructive impacts on the environment and people, it is difficult to see the recent pledge by Enbridge for net-zero emissions by 2050 as anything other than shameless greenwashing. The pledge does not cover the emissions caused by the burning of the oil transported by its pipelines and Enbridge has said it actually expects an increase in oil demand in the near future
Major international banks still funding Enbridge
But despite the well known opposition to the pipeline and the environmental consequences it will have, many international banks continue to finance Enbridge. There is no project financing associated with the Line 3 replacement project; in this case, the banks providing general corporate financing to Enbridge are in effect funding the project. As of November 2020, at least 31 banks from the USA, Canada, Europe and Asia are funding Enbridge through credit facilities or the underwriting of bond issuances. See also Banking on Climate Change 2020.
By continuing to finance Enbridge, they are facilitating the environmental destruction and violation of the rights of Indigenous peoples. This also poses significant reputational risk for the banks themselves. Investing in new tar sands infrastructure while the world is trying to transition to a green economy also risks leaving the banks with massive stranded assets. The tar sands industry in particular is in heavy weather: since 2018 producers of Canadian tar sands oil have operated at a loss, resulting from oil prices lower than the costs associated with the highly energy intensive extraction process.
It also goes against many of the guidelines these banks have themselves agreed to. For example, TD only recently committed to net zero by 2050. Wells Fargo, Scotiabank and TD have all stated they follow Performance Standard 7 of the International Finance Corporation, which requires Free, Prior and Informed Consent (FPIC) from affected Indigenous peoples. The ongoing protests and direct action are clear evidence this has not been the case with Line 3.
All financial institutions should therefore decline to participate in Enbridge's upcoming credit facility renewals and cut ties with Enbridge if it continues with the construction of Line 3. They should also immediately stop financing projects and companies that fail to respect human rights, including Indigenous peoples' treaty rights and the right to FPIC. This includes ensuring that human rights standards are applied to projects that are funded via general corporate finance, such as Line 3. They should end support for tar sands expansion projects and companies expanding tar sands, as a step toward ending support for all fossil fuel expansion projects and companies; and commit to phase out business relations with the entire tar sands sector, as a step toward phasing out support for fossil fuels overall.
Enbridge and its funders under fire for Line 3
Environmental and Indigenous groups have opposed the Line 3 replacement project since the very start. Protests and lawsuits, led by Honor the Earth, the Red Lake Nation and the White Earth and Mille Lacs bands of Ojibwe, have resulted in significant delays for Enbridge. In June 2015, a protest march against tar sands in St Paul, Minnesota, drew over 5000 people. In December that year, 'water protectors' occupied the Enbridge office in Duluth. Resistance camps were set up in Minnesota in February 2017 and in the second half of 2017, non-violent direct actions in Wisconsin delayed the construction of Line 3. Indigenous groups have also released their own impact assessments of the project to show the limitations of impact assessments done by Enbridge itself.
Even the State of Minnesota sued against the pipeline. The Department of Commerce said that Enbridge had not proven that demand for Line 3's oil will be sufficient. And even as construction started on the final stretch, several tribes are still in court to try and stop the pipeline.
The funders of Enbridge have also come under pressure and the day of action against Line 3 this weekend was just the latest in a string of actions against banks and insurers across the US. Financial institutions should have already been warned by the global public outcry over the Dakota Access Pipeline in 2016 and 2017. They have also been informed of the issues surrounding Line 3, including by a coalition of NGOs, including Honor the Earth, Rainforest Action Network, Sierra Club, Urgewald and BankTrack, that called on banks to stop financing Enbridge in 2017 and 2018. Earlier this year, a group of Indigenous women and organizations wrote to bank CEOs about Line 3 and other problematic pipelines and on 2 October, more than 500 people joined an online rally with Indigenous and community leaders.
Live from the Stop Funding Tar Sands — Digital Rally @zhaabowekwe calls for collective action to #StopLine3 https://t.co/pGbzwOKnki pic.twitter.com/jwJ35F5Agl

— Indigenous Environmental Network (@IENearth) October 2, 2020
Will banks side with people and planet?
After the protests against the Dakota Access Pipeline in 2016, a number of banks did indeed distance themselves from the project loan and from Energy Transfer Partners (the company behind the pipeline). And at least 22 global banks now have in place policies excluding finance for tar sands projects (including pipelines), sometimes extending to the companies involved in those projects from financing. In February 2019, a number of important international banks dropped off an Enbridge loan renewal, including Barclays, BNP Paribas, Credit Suisse, Deutsche Bank, Export Development Canada, JP Morgan Chase, Mizuho, Scotiabank and Sumitomo Mitsui Financial Group.
The banks backing Enbridge are still willing to fund environmental destruction and human rights violations. But they are fast becoming laggards, even in the notoriously slow-to-react financial industry. Research by the Institute for Energy Economics and Financial Analysis showed that just the first half of 2020 saw a "doubling in oil sands and/or Arctic drilling exclusion policies, with 23 significant global financial institutions announcing restrictions".
Instead of clinging to an industry of the past, Enbridge's banks should withdraw from all ​business​ ​relationships with​ ​Enbridge​ ​​and​ ​its​ ​subsidiaries,​ ​including corporate​ ​level​ ​finance​ ​and​ ​revolving​ ​credit​,​ ​until it​ ​ceases​ ​expanding​ ​tar​ ​sands​ ​operations. The same applies to all tar sands and pipeline companies. Banks will have a perfect opportunity to do just that early next year, when a USD 2 billion loan to Enbridge is up for renewal. We will see then whether these banks will make good their green talk and stop funding Enbridge.
There are no active project profiles for this item now.
There are no active company profiles for this item now.