'Nuclear banks no thanks' coalition demands banks to stop financing nuclear energy
Nuclear disaster in Japan is a sad and urgent reminder of the inherent risks of nuclear energy
2011-03-15 | Nijmegen
BankTrack
Jan Beránek, Head of the Nuclear Campaign, Greenpeace International. T: +31 6 51 10 9558
Johan Frijns, coordinator BankTrack. T: +31 612421667,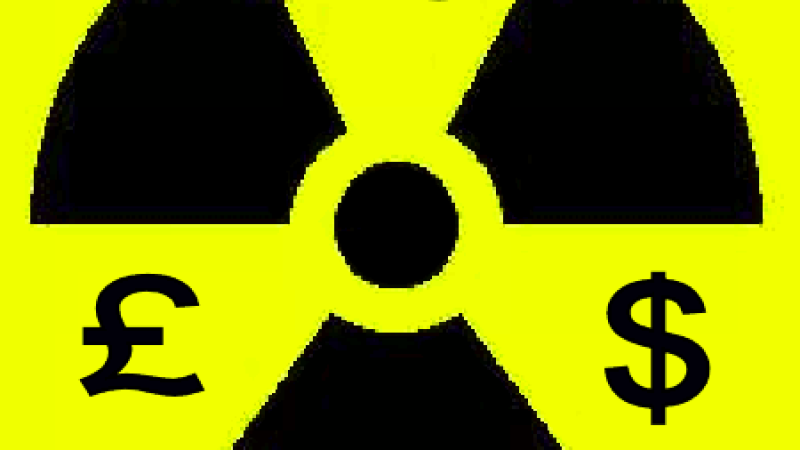 Photo: -
2011-03-15 | Nijmegen
BankTrack
Jan Beránek, Head of the Nuclear Campaign, Greenpeace International. T: +31 6 51 10 9558
Johan Frijns, coordinator BankTrack. T: +31 612421667,
In light of the deepening Nuclear Crisis in Japan, the 'Nuclear banks, no thanks' coalition issued the following statement:
"Today our thoughts and concerns are with the Japanese people, who instead of being able to concentrate on recovering from the devastating earthquake and tsunami, are now forced to deal with a new man made crisis caused by nuclear power stations running amok.
The unfolding nuclear disaster in Japan has shattered all claims of nuclear proponents that nuclear energy is a safe and reliable source of energy. The events should also be a warning to any bank investing in the nuclear sector of the huge risks they run in doing so.
"The dramatic situation at multiple nuclear reactors at once proves that nuclear reactors are a dirty and dangerous power source, and will always be vulnerable to the potentially deadly combination of human error, design failure and natural disaster" said Jan Beranek, Head of Greenpeace International Nuclear Campaign.
BankTrack and partners reject the claim that the world needs nuclear power to combat climate change. The choice between nuclear and fossil fuel as the source of energy for the future is a false one. The coalition urges banks to stop financing nuclear energy and fossil fuels and to support energy efficiency and renewable energies development, as part of an urgently needed energy revolution.
Recently, banks have been invited to finance a number of nuclear projects in countries where the nuclear industry has been trying to gain some space, after it lost much of its power and markets in the US and the EU during the previous decades.
The Jaitapur nuclear power plant project , on the west coast of India is planned in an area crossed by three tectonic faults, with potential earthquakes able to reach seven on the Richter scale. The project faces strong protest of local communities, with hundreds of people arrested by Indian authorities. The Angra III nuclear power plant project In Brazil raises similar concerns, with no risk analysis carried out in its planning. The project is widely opposed by Brazilian environmental groups.
As the disaster continues, nuclear investments will suffer another hit, as nuclear energy policies around the work are urgently being reviewed. In Europe, Switzerland and Germany already suspended nuclear power plants approvals and life-extension processes. Chancellor Angela Merkel said "the events in Japan have taught us that something, which all scientific data suggested to be impossible, could become a reality after all". Reports also indicate that India's nuclear investment dreams are being threatened with some banks deciding not to participate in the Jaitapur project.
"If banks ever needed another argument why being involved in financing nuclear energy is a inherently risky business, the Japanese disaster delivers it to them. Any bank still fuelling the nuclear industry with their loans and investments should read the writing on the wall and make a turnaround, away from nuclear, towards renewable energy", says Yann Louvel, energy coordinator of BankTrack.
For more information on bank exposure to the nuclear sector please visit www.nuclearbanks.org
---
The coalition is a cooperation effort of civil society groups aimed at exposing and halting the involvement of commercial banks in the nuclear sector. It includes, amongst others; BankTrack, Greenpeace International, Greenpeace France, Les Amis de la Terre (France), Urgewald (Germany), Antiatomszene (Austria), CRBM (Italy), WISE (Netherlands) and the Nuclear Information and Resource Service (United States)
http://www.greenpeace.org/international/en/campaigns/climate-change/energyrevolution/#2
Banks that have been approached to finance Jaitapur are BNP Paribas, Citigroup, Crédit Agricole, Deutsche Bank, HSBC, JP MorganChase, Natixis, Santander, Société Générale and Standard Chartered. See: http://www.banktrack.org/show/dodgydeals/jaitapur_nuclear_power_plant
A consortium of six banks has already responded to the tender for Angra 3 financing, including BBVA, BNP Paribas, Crédit Agricole, Crédit Mutuel, Santander and Société Générale. see:http://www.banktrack.org/show/dodgydeals/angra_3_nuclear_power_plant
http://www.globalpost.com/dispatch/news/regions/europe/germany/110314/nuclear-germany-japan-merkel
http://www.bloomberg.com/news/2011-03-14/japan-earthquake-threatens-singh-s-175-billion-nuclear-dream.html
http://sg.news.yahoo.com/german-bank-pulls-jaitapur-nuclear-project-greenpeace-20110315-022653-794.html