Gulf Coast communities fighting the massive buildout of fracked gas exports
A Banking on Climate Chaos 2022 case study
2022-04-05
BankTrack, Rainforest Action Network & Sierra Club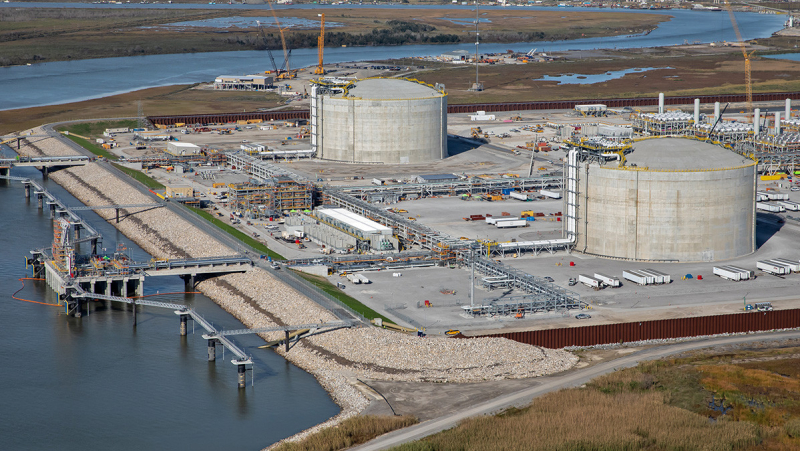 Venture Global's Calcasieu Pass LNG Export terminal in Cameron Parish, Louisiana . Photo: Photo: Julie Dermansky, flight provided by SouthWings
2022-04-05
BankTrack, Rainforest Action Network & Sierra Club
The Gulf Coast is the region in the southern United States which borders the Gulf of Mexico. For generations, the oil and gas industry has polluted the air, land, and water, undermining the health and safety of Gulf Coast communities, repressing efforts by local activists to resist further development, and cementing the stranglehold of extractive industry in the region. Across the Gulf Coast, communities — disproportionately communities of color — face the additional and increasing burdens of climate-driven natural disasters, like hurricanes and flooding, which are exacerbated by the emissions from those same dirty fossil fuel industries.
Building on years of growth in the region, fossil fuel companies have continued their destruction in communities along the Gulf Coast. Nearly 20 new and expanded export facilities are currently proposed to liquefy and ship fracked gas (known as LNG) from Texas and Louisiana to foreign markets. Today, there are seven fully operational LNG export facilities in the United States. If the fossil fuel companies get their way, that number will increase to 33 in the next few years, with 25 located in the Gulf of Mexico alone.
These new projects pose a severe threat to Gulf Coast communities who already bear the burden of decades of industrial pollution and environmental racism. These projects would exacerbate the negative health impacts that frontline communities face, exposing them to more toxic pollutants and degrading air and water quality in surrounding areas.
Expanding gas export facilities in the Gulf would make it nearly impossible to avert the worst consequences of the climate crisis. In fact, if the 18 proposed new or expanded gas export facilities in the Gulf Coast were to be completed, they would add nearly 1.5 billion metric tons of greenhouse gasses per year. This is equivalent to the annual emissions from over 320 million cars or over 370 coal plants.
The Gulf Coast is home to many threatened and endangered species including ocelots and the Rice's whale. New and expanded gas export projects would threaten habitat for these species and many others by destroying acres of sensitive marshes, critical wetlands, and coastal prairies. This destruction would also threaten the livelihoods of communities dependent on tourism.
Despite the clear dangers, and commitments by major banks to reduce financed emissions, many have continued to pour money into the expansion of gas export projects, directly enabling the pollution of communities and destruction of ecosystems along the Gulf Coast. The six largest US banks alone — JPMorgan Chase, Citigroup, Wells Fargo, Bank of America, Morgan Stanley, Goldman Sachs — have poured US$ billion into LNG from 2016-2021. By far the worst among them in this sector is Morgan Stanley, which is the world's largest banker of LNG, and has poured US$ 13 billion into LNG projects and companies since 2016, 55% more than the second-place bank.
Photo: Rebekah Hinojosa, Sierra Club
But Gulf Coast communities have been fighting back. From the Rio Grande Valley in Texas to Lake Charles, Louisiana and so many other places along the Gulf Coast, frontline leaders have organized their communities to resist these projects every step of the way. Despite powerful opposition from fossil fuel companies and their financial backers, Gulf Coast communities will not allow their homes to become sacrifice zones.
In March, 120 organizations sent letters to the six biggest American banks urging them to stop lending and support for new and expanded gas export facilities, citing environmental justice and climate concerns as well as rising home heating costs for American communities being driven by the rise in exports. You can make your voice heard too: Tell America's largest banks not to fund dangerous new fracked gas exports.
Featured in Banking on Climate Chaos 2022
Published in March 2022, the Banking on Climate Chaos report assesses big banks' financing for fossil fuels. The report features a selection of case studies that highlight how this financing harms local communities, who are fighting back. The case studies tell the story of how these projects put the health and safety of local communities at risk, noting the top companies and just a few of the banks in this report's scope that are supporting each destructive project. Learn more about these case studies directly from the impacted communities here.
There are no active project profiles for this item now.