ING faces protests and tough questions over fossil fuel financing at its 2022 AGM
BankTrack's Maaike Beenes reports on disruption and demands for stronger climate action at the AGM of the largest Dutch bank
2022-04-25 | Amsterdam
BankTrack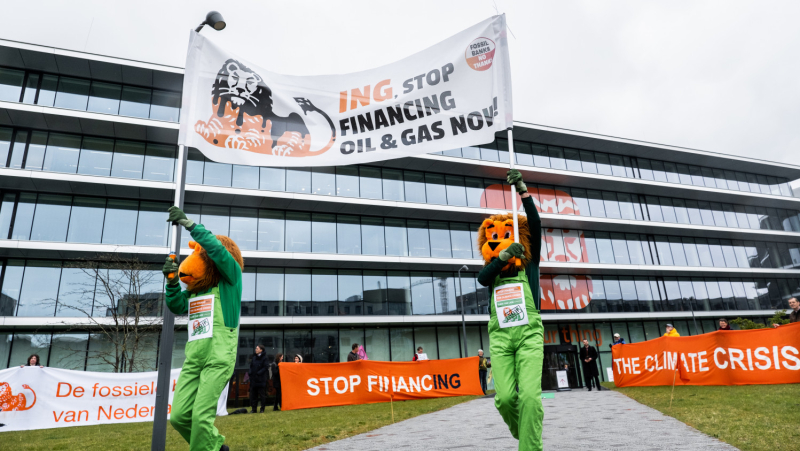 Protest outside the 2022 AGM of Dutch bank ING. Photo: Fossielvrij NL / Laura Ponchel
2022-04-25 | Amsterdam
BankTrack
A new commitment made in March this year by Dutch bank ING to exclude all finance for new upstream oil and gas projects did not prevent its AGM today being targeted by protesters and critical shareholders. Their main grievance? ING will continue to finance oil and gas companies that intend on expanding their operations.
ING makes new commitments but also increases fossil fuel financing
To its credit, ING actively seeks to follow international best practice when it comes to fossil fuel financing. When the International Energy Agency (IEA) produced its first ever 1.5°C-aligned climate scenario in 2020, ING acted quickly to update its own climate plans to align with this new scenario, rather than the 2°C-aligned pathway it had followed earlier. In May 2021 the IEA concluded that reaching net-zero greenhouse gas emissions by 2050 means "there is no need for investment in new fossil fuel supply". In March of this year ING responded with a commitment to stop all financing for new upstream oil and gas projects – an important policy step that makes it an example to many of its international peers.
At the same time, however, nothing in this new commitment prevents ING from financing the oil and gas companies that plan and execute those new projects, even though that is exactly where the bank would have the most impact. Despite findings that, for the world to stay on track to reach the 1.5°C goal, global fossil fuel production must decline annually by 6% per year between 2020 and 2030, in 2021 alone ING provided US$ 939 million in financing to 100 key fossil fuel expansion companies. It was also among the 10 banks with the largest increase in financing for the fossil fuel industry as a whole, growing from US$ 6.24 billion in 2020 to US$ 10.75 billion in 2021.
Only a small portion of fossil fuel expansion is financed through project-specific lending. Most commercial bank funding for fossil fuel expansion is instead in the form of general corporate loans or bond issuances. When taking into account that over 80% of oil and gas companies have plans to expand their fossil fuel activities, any general corporate financing to companies without robust 1.5C-aligned climate plans is likely to contribute to that expansion. That is why, although INGs move to exclude upstream oil and gas projects might be commendable, it nevertheless remains insufficient for the bank to address the core of its climate impact.
Read our analysis of ING's new policy here. In 2021, we also commented on ING's climate report and its Terra approach to financed emissions reduction targets, here.
Protestors removed
AGM visitors were welcomed by activists from FossielVrij, Milieudefensie and BankTrack, who had laid out a green carpet. FossielVrij recently also launched a petition calling on ING to stop financing fossil fuels. Inside, Extinction Rebellion activists disrupted the meeting, blowing alarm whistles and demanding ING take much stronger action to reduce its fossil fuel financing. Chairman Hans Wijers had them removed from the room, saying he 'apologised on behalf of these people' for the disruption. However, when the meeting resumed, the evasive answers from the board to questions from BankTrack and others about its fossil fuel financing indicate it continues to be necessary to push ING to do better.
Board responds evasively to BankTrack questions
It was precisely this disconnect between its new commitment to exclude new upstream oil and gas projects and the ongoing financing of the fossil fuel industry in general that BankTrack sought to address in our questions to the board at today's AGM. The answers we received from CEO Steven van Rijswijk were worryingly evasive.
Watch our questions and the response here:
Our questions were:
How many projects has ING financed over the last years that would now be ruled out under the new policy? And how many projects does ING project to refuse financing for in the coming years?
Van Rijswijk flatly refused to answer the question, leaving doubts about the actual impact of the new policy commitment on financing decisions. However, when pushed by another shareholder on whether ING should in fact be supporting new oil and gas exploration in the North Sea, given the need to become independent from Russian oil and gas, van Rijswijk defended the importance of taking climate action now. He said that there will always be a reason not to act, but that ING had decided to align its financing with the goal of net zero by 2050 and the IEA's conclusion that there should be no new oil fields, and that it will stick to that decision.
Does ING know how many of its clients in the fossil fuel industry are expanding their upstream fossil fuel activities?
The question remained unanswered.
Based on its recognition of the IEA's conclusion that there can be no expansion of oil and gas, will ING stop financing such companies if they don't submit a plan to stop those expansion plans, and by what deadline?
The CEO responded that ING wants to support all of its customers to transition to a renewable economy. He maintained that companies in some 'hard to abate' sectors are struggling to transition, and ING can best influence them to move in the right direction by remaining in open dialogue, rather than losing its leverage by ending the client relationship.
So while ING took some positive steps this spring, open-ended engagement processes without clear requirements and hard deadlines for clients to deliver robust transition plans will not be enough to push many companies into transition - especially clients for whom exploration is their core business. ING needs to recognise that clients like exploration company Tullow Oil, actively exploring for oil and gas in dozens of countries including Central America and Africa, that are dedicated to expanding the fossil fuel industry, have no future in a 1.5C aligned world.