The 2023 Global Oil & Gas Exit List: Building a Bridge to Climate Chaos
96% of the 700 upstream companies on GOGEL are still exploring or developing new oil and gas fields. 1,023 companies are planning new LNG terminals, pipelines or gas-fired power plants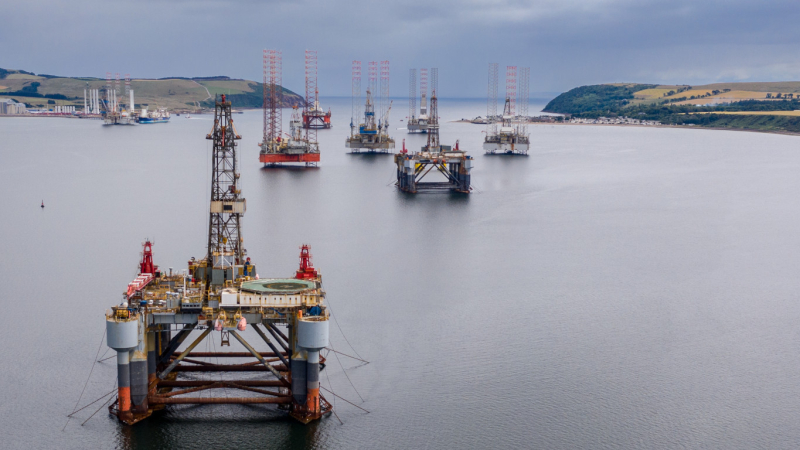 Photo: urgewald
Today, Urgewald and more than 50 partners published the second update of the Global Oil & Gas Exit List (GOGEL). GOGEL is a public database that provides a detailed breakdown of the activities of oil and gas companies worldwide. It covers 1,623 companies active in the upstream, midstream or gas-fired power sector. Companies listed on GOGEL account for 95% of global oil and gas production.
In the midst of the climate crisis, 96% of the 700 upstream companies on GOGEL are still exploring or developing new oil and gas fields. And 1,023 companies are planning new LNG terminals, pipelines or gas-fired power plants. "The magnitude of the industry's expansion plans is truly frightening. To keep 1.5 °C alive, a speedy, managed decline in both oil and gas production is vital. Instead, oil and gas companies are building a bridge to climate chaos," says Nils Bartsch, Head of Oil & Gas Research at Urgewald.
Where it all starts: Exploration
According to the 1.5 °C roadmap issued by the International Energy Agency (IEA) in 2021, exploration for new oil and gas reserves is no longer required and delays the energy transition. Since 2021, the industry's annual capital expenditure on oil and gas exploration has, however, risen by more than 30%. Over the past 3 years, oil and gas companies in our database spent a total of US$ 170.4 billion on exploring for new oil and gas reserves that we cannot afford to burn.
GOGEL lists 384 companies whose average capital expenditure on exploration exceeded US$ 10 million between 2021 and 2023. The top 7 exploration companies are China National Petroleum Corporation – CNPC (US$ 5.9 billion), CNOOC (US$ 3.2 billion), Saudi Aramco (US$ 2.8 billion), Pemex (US$ 2.6 billion), Sinopec Group (US$ 2.4 billion), Pioneer Natural Resources (US$ 2.1 billion) and Shell (US$ 2.0 billion).
Reckless expansion upstream
According to GOGEL, 539 companies are preparing to bring 230 billion barrels of oil equivalent (bboe) of untapped oil and gas resources into production. These short-term expansion plans severely jeopardize efforts to limit global temperature increase to 1.5 °C. Latest findings show that even if all coal extraction would magically end overnight, we would still need to leave almost 20% of oil and gas resources in approved and producing fields in the ground to remain within the carbon budget for 1.5 °C.
The 7 companies with the largest short-term expansion plans are Saudi Aramco (16.8 bboe), QatarEnergy (16.5 bboe), Gazprom (10.7 bboe), Petrobras (9.6 bboe), ADNOC (9.0 bboe), TotalEnergies (8.0 bboe) and ExxonMobil (7.9 bboe). These 7 companies are responsible for one-third of global short-term oil and gas expansion.
Expansion in 'frontier' countries: How global players create new fossil dependencies
Companies on GOGEL are exploring or developing new oil and gas resources in 129 countries. TotalEnergies (53 countries) tops the list of companies expanding in the highest number of countries, followed by Shell (41 countries), Eni (40 countries), ExxonMobil (39 countries), BP (29 countries), Petronas (27 countries) and Chevron and Repsol (25 countries each). Almost one-third of the countries where TotalEnergies is exploring and developing new oil and gas resources are frontier countries such as South Africa, Namibia, Mozambique or Papua New Guinea. These countries currently have little or no oil and gas production. Instead of transitioning, oil and gas majors are driving new countries into fossil fuel dependency.
"Oil and gas companies like TotalEnergies, Shell, and their local partners are spending billions of dollars to lock African countries into a fossil gas future. Gas is not a viable energy option for Africa. It is dirty, expensive and most new projects will take 5 – 7 years to build before they can make any contribution to energy security. What we need is a just transition to affordable and renewable energy for all," says Leanne Govindsamy from the South African NGO Centre for Environmental Rights.
You can read the whole media briefing here.
The 2023 GOGEL can be downloaded at www.gogel.org.
There are no active company profiles for this item now.