Major banks are failing Vietnam by violating Equator Principles commitments in financing coal power projects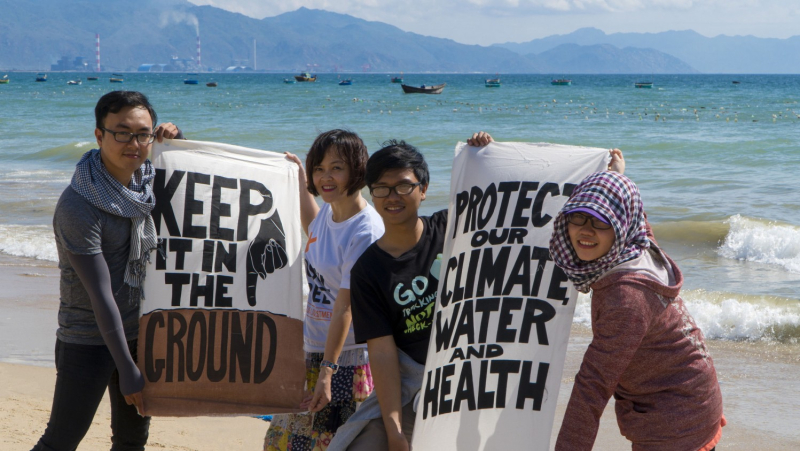 Vietnamese campaigners, in background Vinh Tan complex. Photo: 350.org
Market Forces, working with Vietnamese community organisations and other international NGOs, has found that Equator Principles signatory banks are violating those principles in their involvement in syndicates funding five Vietnamese coal-fired power stations. In doing so, they are failing the people that the principles seek to protect.
The six Equator banks cited by the new report are: DZ Bank, HSBC, Mitsubishi UFJ Financial Group (MUFG), Mizuho Financial Group (Mizuho), Standard Chartered and Sumitomo Mitsui Banking Corporation (SMBC).
The Equator Principles (EPs) are a global set of voluntary standards that financial institutions sign on to – so that in financing large scale projects, they don't do harm to people and the environment.
The EP violations identified in the report include:
Failure to ensure that the project sponsors disclose information key for communities to evaluate the impacts of proposed power stations, whether through Environmental and Social Impact Assessments (ESIAs) or other means.
Failure to require compliance with Vietnamese Law on Environmental Protection.
Failure to ensure that the sponsors explore alternatives to the projects or by conducting alternatives analyses themselves.
All 94 Equator Principles financial institutions are meeting on 16 October 2018 to review the EPs and make some much needed and long overdue changes.
These principles are far from perfect in their current form. But, if they are to protect the people most affected by the Vietnamese coal-fired power projects, the banks that have signed up to them must be held accountable.
The other 88 financial institutions have a responsibility to ensure not only that they follow the EPs themselves, but also that their fellow signatories do so.
Australia's big four banks – ANZ, Commbank, NAB and Westpac – are all EP members.
Market Forces is calling on the big four and all other banks to ask them to pull their fellow banks into line, or risk the integrity of the Equator Principles altogether.