Japanese Banks ill-Equipped to Reform Banking Practices in Line with the Paris Agreement
2017-10-12 | Tokyo, Japan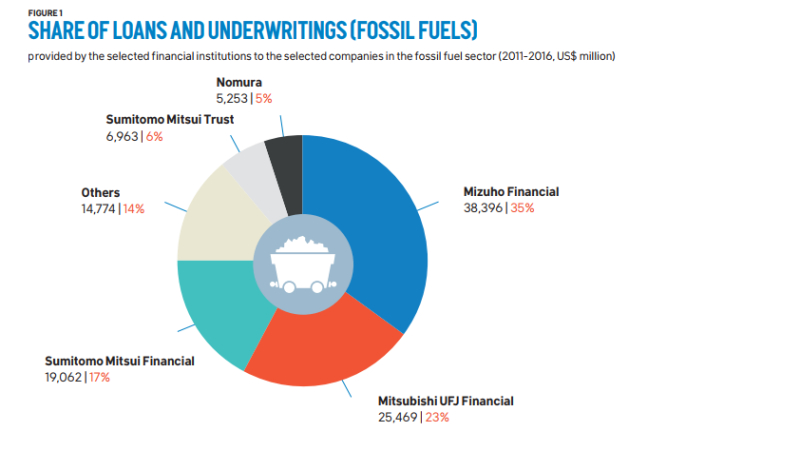 Share of loans and underwritings (Fossil Fuels) provided by the selected financial institutions to the selected companies in the fossil fuel sector (2011-2016, US$ million). Photo: 350.org Japan
2017-10-12 | Tokyo, Japan
350.org Japan has revealed how Japan's seven biggest banks are inadequately prepared to meet the rising demand for environmentally responsible banking practices. Six of seven banks responded with dissatisfying answers to the My Bank My Future petition which urged banks to stop funding fossil fuels and nuclear power in line with the Paris Agreement.

The petition letter, signed by over 1000 individual account holders and delivered on September 22, urged the recipient banks to
i) disclose investments and lending to fossil fuel and nuclear-related companies,
ii) commit to investment and lending policies in line with keeping global warming below 1.5-2 degrees Celsius, and
iii) stop funding fossil fuels and nuclear power projects, and transition these funds towards investments in renewable energy and energy efficiency instead.
In response to the petition, Japan's three major banks- Mitsubishi Tokyo UFJ, Mizuho Bank and Sumitomo Mitsui Banking Corporation, explained that they have taken measures such as adopting environmentally and socially responsible principles for project loans and expanding financing for renewable energy projects. However, research conducted by 350.org Japan indicates that all seven banks are heavily involved in financing fossil fuel related companies that exacerbate climate change and none of the banks have policies to restrict such finance.
While the three major Japanese banks have adopted the Equator Principles to assess and manage environmental and social risk in financed projects, all are also major funders of the Dakota Access Pipeline project. This project has caused verifiable environmental damage and inflicted human rights abuses on the local population. This points to the limitations of such frameworks, which do not explicitly restrict finance for carbon-intensive projects or companies nor have adequate safeguards to respect the rights of Indigenous Peoples.
Shin Furuno, 350.org Divestment Campaigner stated, "The largely inadequate responses to this petition proves that Japan's Banks are yet to take climate risk seriously. Japan's financial sector needs to step in line with the Paris Agreement and commit to investment and lending policies to keep global warming below 1.5-2 degrees. More and more customers expect banks to make responsible investments in a safe future."
On November 6, 350.org Japan will commence a month-long "Let's Divest" campaign calling on individuals and companies to switch their bank accounts to "Earth Friendly Banks" that do not fund fossil fuels or nuclear. The campaign aims to collect 100 personal and 5 organizational divestments by December 12, the two-year anniversary of the Paris Agreement, to encourage banks to divest from fossil fuels and nuclear and transition finance flows towards a 100% renewable energy society.
​Download the full report: Energy Finance in Japan: Funding Climate Change and Nuclear Risk