HSBC and Standard Chartered accused of "rank hypocrisy" for financing of highly polluting coal projects whilst publicly supporting Paris Climate Agreement
Two major British banks are helping to finance coal-fired power stations that will emit more carbon dioxide than the annual emissions of 69% of the world's countries, a new Global Witness report reveals
2018-07-23 | London
Global Witness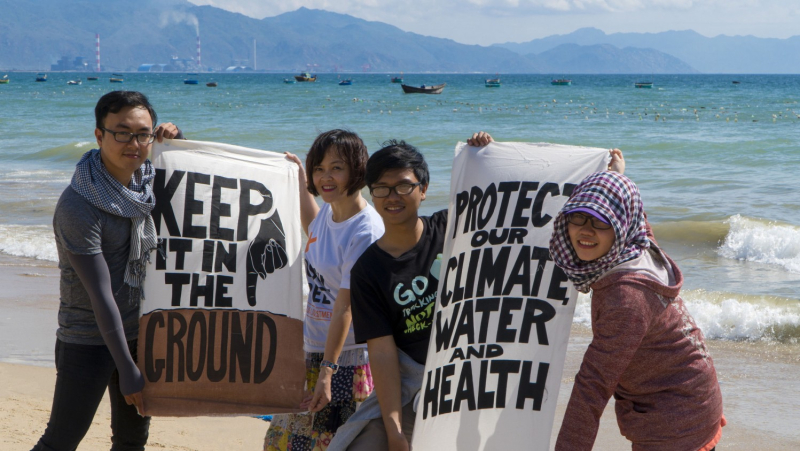 Vietnamese campaigners, in background Vinh Tan complex. Photo: 350.org
2018-07-23 | London
Global Witness
HSBC and Standard Chartered are in line to finance six coal plants in Vietnam and Indonesia, expected to have annual C02 emissions of 44 million tonnes. This is despite HSBC and Standard Chartered's public support for the Paris Climate Agreement. HSBC recently announced a new coal policy that allows coal financing in Indonesia, Vietnam and Bangladesh until 2023. There are indications that Standard Chartered will adopt a similar policy as they reassess their coal policy this summer.
Stuart McWilliam, Climate Change Campaign Manager at Global Witness, said:
"The consequences could be dire if Standard Chartered decide to follow HSBC's approach. These plans will be terrible for the climate and will contribute to thousands more deaths from toxic air. These loans create an increasing risk for investors. For these banks to take this kind of action whilst publicly supporting the commitments made in the Paris Climate Agreement is rank hypocrisy.
"Both banks should urgently join the growing group of major banks worldwide who are ending all support for coal power."
The Global Witness briefing published today states that:
Coal power makes poverty worse in developing countries, rather than alleviating it
Harvard University research shows that 70,000 people will die in South East Asia every year from air pollution by 2030, if current coal plant expansion plans go ahead
The wasted capital involved in these coal plants could amount to US $15.3 billion, creating an increasing risk for HSBC and Standard Chartered's investors
HSBC and Standard Chartered are ignoring overwhelming scientific evidence that expanding coal power is incompatible with achieving the goals of the Paris Agreement
Global Witness is urging HSBC and Standard Chartered to cancel their planned involvement in these plants and join the Royal Bank of Scotland and 15 other international commercial banks, which have committed to stop financing coal plants anywhere in the world.
Notes to editors:
The briefing, "The coal power financing problem at HSBC and Standard Chartered," is available here: https://www.globalwitness.org/documents/19388/Times_Global_Witness_HSBC_Stand_Chart_coal_briefing_18_July_2018.pdf
The 2017 Harvard University study on air pollution deaths from coal power is available here: https://pubs.acs.org/doi/pdf/10.1021/acs.est.6b03731
BankTrack, a finance NGO, maintain a list of banks that have ended direct finance for new coal mines and plants: https://www.banktrack.org/page/list_of_banks_that_ended_direct_finance_for_new_coal_minesplants