Dutch-based banks continue to finance deforestation and land-grabbing
2018-07-02
Friends of the Earth Netherlands
service@milieudefensie.nl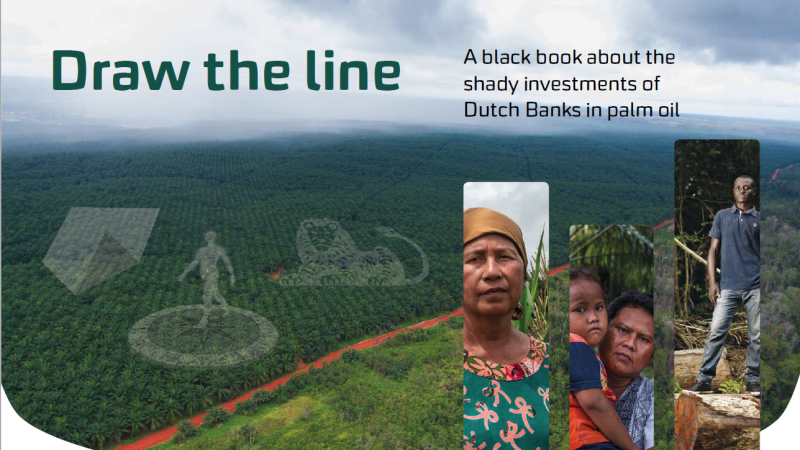 Photo: Friends of the Earth Netherlands/Milieudefensie
2018-07-02
Friends of the Earth Netherlands
service@milieudefensie.nl
Dutch-based ABN AMRO, ING and Rabobank are structurally involved in scandals concerning destruction of rainforest and land-grabbing in Asia and Africa. Although these banks have promised improvements for years, these never materialize. Friends of the Earth Netherlands (Milieudefensie) is calling on the banks to cease financing the industrial palm oil sector.
'International banks such as ABN AMRO, ING and Rabobank have simply failed to prevent abuses', says Rolf Schipper of Milieudefensie. 'By financing palm oil companies, these banks pave the way for serious human rights violations. Thousands have lost their homes, local communities have been intimidated or imprisoned. Large swathes of forest have been cleared or burnt down. It is time for the banks to fulfil their sustainable banking promises, and to withdraw their investments in the industrial palm oil sector as soon as possible.'
Black book: 100+ palm oil scandals
In the 'Black Book' Draw the Line, Milieudefensie identifies more than 100 scandals in which major Dutch international banks are currently involved or have been involved. With their publication, Milieudefensie is illustrating the gigantic scale of the problems for the first time. The 118 scandals involve 14 palm oil companies in 9 countries in Asia and Africa.
Liberia: relinquishing land under the threat of guns
Milieudefensie and Friends of the Earth Liberia (Sustainable Development Institute) investigated the palm oil industry and investors' involvements in Liberia. Palm Oil Company Golden Veroleum Liberia (GVL) is taking the local community's land without their consent. 'Guns in hand, armed police forced us to consent to the taking of our land', states a resident of Liberia. Golden Veroleum Liberia has ignored a 'stop-work order' for the contested plots of land by the Roundtable on Sustainable Palm Oil (RSPO). Instead, GVL continues to clear land, field research has shown.
No protection for residents
'In the forests of Liberia, "might is right" ', says James Otto of Friends of the Earth Liberia (the Sustainable Development Institute). 'Local people are being trampled by major palm oil companies, and the government has not raised a single finger to protect them. GVL does not let anyone stand in its way.'
This week, James Otto is in the Netherlands to sound the alarm with the Dutch-based banks ABN AMRO and Rabobank. These banks are financing parts of Golden Agri-Resources, the primary investor of GVL.
Banks have known for over fifteen years
Milieudefensie has been addressing the banks since 2001 about the abuses at play in the palm oil sector. The banks, however, refuse to acknowledge the structural nature of the palm oil sector's issues. Rolf Schipper points out, 'Banks have known what is happening ever since. And yet they continue to pump money into these dubious companies.'
Schipper: 'Milieudefensie calls on Dutch customers to contact their banks and ask them to stop these devastating investments via drawtheline.eu.'
Rolf Schipper also wants the Dutch government to commit to stricter regulations at the European and international level.
Schipper calls upon the European Union and its members states 'to ensure a binding UN Treaty that includes the financial sector and gives access to justice for victims of corporate abuse. We need rights for people, and rules for business.'
Download the full reports
There are no active company profiles for this item now.