Defund TotalEnergies: a new campaign targets the company's financial supporters
25 NGOs are launching an international campaign to urge finance to stop being complicit in TotalEnergies' oil and gas expansion
2023-05-16 | Paris
Reclaim Finance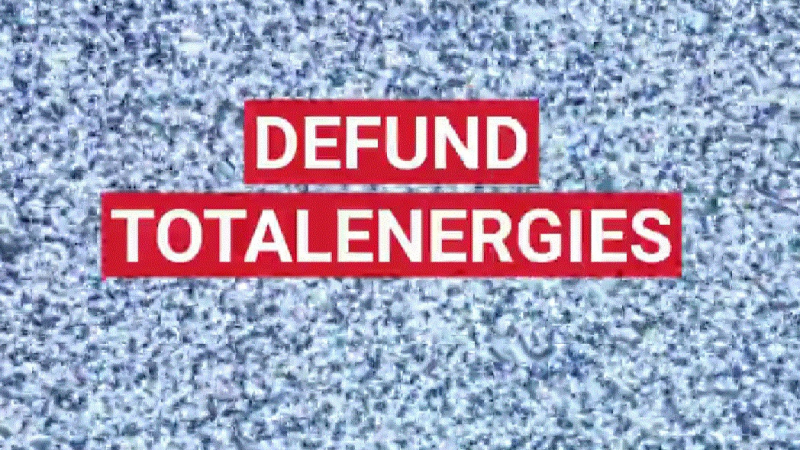 Photo: Screenshot via Reclaim Finance on Twitter
2023-05-16 | Paris
Reclaim Finance
25 NGOs are launching an international campaign to urge finance to stop being complicit in TotalEnergies' (1) oil and gas expansion. The coalition includes organizations working against the French oil company's projects around the world, as well as NGOs specializing in the responsibility of banks, insurers and investors in the fight against climate change. Together, they intend to bring together their expertise and skills to force financial actors to stop giving new support to the French company, as long as it has not given up developing new fossil fuel projects.
The "Defund TotalEnergies" campaign targets the major financial players, banks and investors (2), who continue to provide the financial services essential to the major to maintain its operations and develop new fossil fuel projects (3).
"Behind TotalEnergies and its climate projects are banks and investors. It's time they were held accountable for the damage the French oil major has done to people, biodiversity and the climate. We are determined to put all our expertise at the service of the Defund TotalEnergies campaign and the communities mobilized on the front line against the oil and gas projects developed by TotalEnergies." Lucie Pinson, Director of Reclaim Finance
The Defund TotalEnergies campaign is being launched at the height of the season of general meetings of financial players and major companies. Community representatives from Argentina, Uganda, Senegal will attend those of Crédit Agricole, BNP Paribas and Societe Generale (4), the top three financiers of the French major to which these banks have granted nearly US$ 23 billion since 2016. These representatives will call on their management to make any new financial services to TotalEnergies conditional on stopping the development of new oil and gas projects (5).
"The fact that oil giant TotalEnergies is a French player, a Paris Agreement country, is not ironic: it is criminal. French banks, insurers and investors have a historical and moral obligation to lead the way towards renewable energy. That is what climate justice is all about. And yet, despite their own climate commitments, they continue to give more money to TotalEnergies. They may not be funding EACOP directly, but they will remain complicit in TotalEnergies' crimes as long as they put money on the table without any strings attached." Hilda Flavia Nakabuye, climate activist and founder of the Fridays for Future Uganda movement
Beyond the EACOP project, TotalEnergies plans to develop numerous hydrocarbon projects, including offshore drilling and shale gas projects. As the seventh largest company in the world to plan new oil and gas fields in the short term, these projects will contribute to the emission of approximately 2.3 gigatons of CO2e, the equivalent of what France emits in six years (6). Far from diversifying away from fossil fuels, TotalEnergies plans to allocate by 2030 only one third of its investments to what it calls "low-carbon" energies, including liquefied natural gas and gas-fired power generation.
"The impact of the Papua LNG project developed by TotalEnergies will be disastrous both for the environment, being located in an area of high biodiversity, and for local communities: the majority of landowners will be left out in the cold. Many communities on the islands of Papua New Guinea are already underwater due to rising sea levels. Oil, gas and coal must stay in the ground! And that won't happen until banks stop financing liquefied natural gas terminals." Peter Bosip, Director of the Centre for Community Rights and Environmental Law (CELCOR)
First banker of the French company, Crédit Agricole will be notably challenged by the NGO Avaaz, partner of the campaign, in a petition (6). The petition calls on the CEO of the Crédit Agricole Group, Philippe Brassac, to redirect the funding currently given to fossil fuel expansion towards renewable energy and to push TotaleEnergies to abandon the EACOP project. According to a survey conducted by the NGO, 4 out of 10 Crédit Agricole customers say they might consider closing their account if the bank continues to invest in companies developing new oil and gas projects.
"The tide is turning: citizens are not fooled and have become aware of their power as customers and are holding their banks to account.The mobilization is gaining momentum ahead of Crédit Agricole's Annual General Meeting, and the question is simple for its CEO Philippe Brassac: will he stand with his customers, or will he continue to sabotage the group's climate commitments by maintaining his support for TotalEnergies' oil and gas expansion?" John Senior, Campaigner at Avaaz
TotalEnergies will hold its general meeting on May 26. Defund TotalEnergies is calling on the group's shareholders to vote against the company's management and its climate plan but in favor of the resolution calling on the French company to significantly reduce emissions from the consumption of its products.

Notes
NGO signatories include 350.org, Green Connection, Earthlife, Bloom, Friends of the Earth, CELCOR, AnsvarligFremtid, Urgewald, Avaaz, ANEEJ, Recommon, Banktrack, Bank on Our Future, GreenFaith, Friends of the Earth US, RAPEN, Toxic Bonds, Texas Environment, Gulf Cost Guard, Australian Parents 4 Climate Action, Laudato Si Movement Earthworks, Stop EACOP, JA! FOE Moçambique (Justiça Ambiantal), Both Ends, Reclaim Finance.
The Defund TotalEnergies website will be accessible from Tuesday 16 May at 5pm.
Since 2016, the top five banks supporting TotalEnergies are Crédit Agricole, BNP Paribas, Société Générale, Barclays, Citi. The five largest investors are Crédit Agricole Group (Amundi and FCPE TOTALENERGIES FUND), BlackRock , Vanguard Group, Capital Group Cos, Norges Bank.
Reclaim Finance, AGM 2023: what about social and climate justice, May 2023
Almost all of the largest financiers and half of TotalEnergies' 30 largest investors have made commitments to achieve carbon neutrality by 2050 along a 1.5°C trajectory. However, none of them have committed to stop providing new capital or financial services to TotalEnergies until the company commits to stop developing new fossil fuel generation and transmission projects. A few banks have committed to no longer providing project financing for new oil (Crédit Agricole) and gas fields (HSBC and BNP Paribas), but this type of financing represents only a small part of the total support provided to TotalEnergies. Finally, the additional measures announced last week by BNP Paribas should only have a minor impact on oil and gas majors such as TotalEnergies.
Based on calculations by Reclaim Finance, using resources identified in the assessment and development process and allocated to TotalEnergies by Rystad Energy, and the calculation parameters of the International Energy Agency and the BP Statistical Review of World Energy 2022. France's emissions of 408 MtCO2e selected are the pre-estimates of French greenhouse gas emissions for the year 2022 calculated by the Centre interprofessionnel technique d'études de la pollution atmosphérique (CITEPA) and published in March 2023.
Avaaz petition, May 13, 2023
Original press release can be found at this link.