Campaigners take action as part of Global Call to end Japan's fossil fuel finance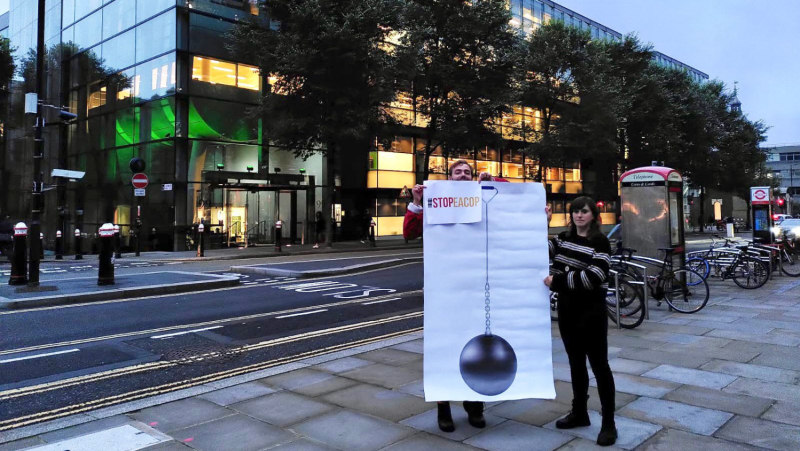 Photo: Fossil Banks No Thanks
As part of this week's Global Call on Japan, Fossil Banks No Thanks mailed DIY wrecking balls to SMBC, MUFG and Mizuho bank offices worldwide. The message was clear: Japanese banks need to choose between wrecking their fossil finance, or continuing to wreck the climate.
Supporters in Düsseldorf and London also visited SMBC branches in person to make sure they got the message. DIY wrecking balls were posted through the offices' letterboxes, and in London campaigners carried out an action outside the branch.
The week-long Global Call to end Japan's fossil fuel finance (1-7 October) saw a coordinated effort by groups in Japan, Indonesia, Italy, Bangladesh, USA, Australia and UK, among others. Campaigners urged Japan to stop funding dirty fossil fuels and end support for Indramayu and Matarbari (Phase 2) coal power projects. The week of actions coincided with a few key events, such as the Pre-COP meeting in Milan.
Why Japanese banks?
Three of Japan's top banks, SMBC, Mizuho and MUFG, are among the worst fossil financiers in the world. MUFG and Mizuho rank 6th and 8th in the world, pumping $147 billion and $123 billion into the industry respectively between 2016 and 2020. SMBC's financing of fossil fuels has risen steadily since 2016, and in 2020 it put $28 billion into fossil fuels.
SMBC is also one of three key financial advisors for the East African Crude Oil Pipeline (EACOP). The project, on the cusp of being built by TotalEnergies and the China National Offshore Oil Corporation (CNOOC), would be the world's longest heated oil pipeline. It threatens to displace thousands of families and farmers, risks water resources and wetlands in Uganda and Tanzania, and would run through key biodiversity hotspots.