Call to Dutch investors: get out of TotalEnergies
Dutch civil society draws attention to EACOP on Total's investor day
---
2022-09-28
Utrecht/Amsterdam
BankTrack, Both ENDS, Fair Finance Guide Netherlands, ING Fossielvrij & Milieudefensie
---
Cindy Coltman,
Senior policy officer,
Both ENDS,
+316 2552 4361
---
Share this page:
---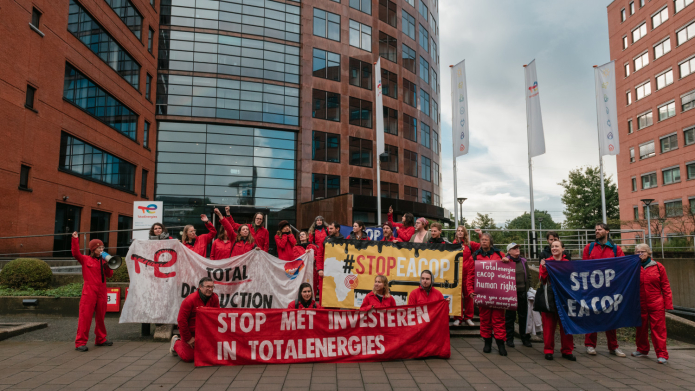 Action in front of The Hague TotalEnergies office. Photo: Dorotea Pace
On Wednesday 28 September, Dutch civil society organisations organised a protest at the offices of oil giant TotalEnergies in The Hague, drawing attention to the problems surrounding the East African Crude Oil Pipeline (EACOP) in Uganda. They are calling on investors to get out of TotalEnergies because of this project, which is causing human rights violations and serious environmental pollution. Two weeks ago the European Parliament passed a resolution against the human rights violations linked to EACOP.

Dutch investors collectively own $2,1 billion* worth of TotalEnergies' shares and bonds. Examples include pension funds ABP, BPL, PMT and PFZW, insurers Aegon and Allianz and ABN AMRO Bank. The campaigning organisations, including BankTrack, Both ENDS, the Fair Finance Guide, Fossielvrij NL and Friends of the Earth NL, believe that these investors are partly responsible for the human rights violations and environmental pollution caused by TotalEnergies, and have sent a letter to all investors urging them to withdraw from this oil company.

Actions against TotalEnergies over Ugandan EACOP project
In addition to these letters to Dutch investors, the organisations held a protest action at TotalEnergies in The Hague. This took place on Wednesday 28 September, the day of TotalEnergies' investor day. At the same time, actions will take place at TotalEnergies' headquarters in Paris and at the location of the investors' day in New York. The campaigning organisations expect the oil company to tell its investors a green and sustainable story. To show that this does not match reality, they are telling the real story today. Following the large protests earlier this year in France, the campaigners were dressed in red overalls. Music and speeches focused attention on the abuses surrounding TotalEnergies' EACOP project in Uganda.
Cindy Coltman, Both ENDS: "For this pipeline, oil will be extracted in the vulnerable Murchison Falls nature reserve, and the pipeline will then pass many important freshwater sources, such as Lake Victoria. There will be oil spills, with all the consequences. Thousands of people will be forced to move for it, and many more will lose their livelihoods because of the environmental damage. We have seen how that can end up in the Niger Delta in Nigeria. EACOP is fast becoming a repeat of this disaster."
Barbara Oosters, Fair Finance Guide: "In Uganda, activists are intimidated, arrested and prosecuted if they speak out against EACOP. It is important that here, in the Netherlands, France and the US, we make our voices heard. We are therefore pleased that the European Parliament has passed a resolution condemning the human rights violations associated with this project. We call on Dutch investors to listen to the real story today, address TotalEnergies and draw their conclusions.
Isabelle Geuskens, Friends of the Earth NL: "TotalEnergies and its financiers are making countries like Uganda dependent on fossil fuels at a time when rich countries are focusing on transition. This eventually increases Uganda´s financial vulnerability. Ugandans are already suffering the effects of climate change caused by our fossil footprint, and now our companies are also actively undermining their energy transition by fuelling fossil dependency."
Investors should stop funding TotalEnergies
Hiske Arts, Fossil Free NL: "More and more citizens, trade unions and civil society organisations are calling for sustainable, ethical investments. TotalEnergies is not an ethical company and certainly not a sustainable company - even though they claim they are. It is time investors opened their eyes to what TotalEnergies is doing in East Africa: a climate and human rights disaster."
Henrieke Butijn, BankTrack: "Fortunately, more and more investors and financiers are recognising that investing in and financing TotalEnergies really can no longer be responsible. Already 20 banks and 15 insurers have distanced themselves from the EACOP project and Dutch asset manager ACTIAM has even distanced itself completely from TotalEnergies because of projects like EACOP and their activities in Mozambique and Myanmar. Hopefully the other Dutch investors will follow this good example."
Note to editors: This press release is endorsed by Both ENDS, Extinction Rebellion NL, Milieudefensie, Social Tipping Point Coalition, SOMO, TNI, Fossielvrij NL, Eerlijke Geldwijzer, BankTrack, Reclame Fossielvrij, Scientists for Future, Groen Pensioen and Greenpeace NL.
*Appendix: Full list of investors from the Netherlands in TotalEnergies, as of July 2022. Research by Profundo:
| | |
| --- | --- |
| Investor | Value of shares and bonds in US$ (July 2022) |
| Allianz | $ 531,300,429 |
| Algemeen Burgerlijk Pensioenfonds (ABP) | $ 404,230,000 |
| Pensioenfonds Zorg en Welzijn (PFZW) | $ 255,053,936 |
| Aegon | $ 206,268,986 |
| Pensioenfonds Metaal en Techniek (PMT) | $ 175,582,300 |
| Goldman Sachs (NN asset management arm was bought by Goldman Sachs) | $ 140,224,629 |
| Bedrijfstakpensioenfonds voor de Bouwnijverheid (BpfBOUW) | $ 95,303,463 |
| Van Lanschot Kempen | $ 65,129,514 |
| Pensioenfonds PGB | $ 63,641,500 |
| ABN Amro | $ 46,645,852 |
| BPL Pensioen | $ 38,733,441 |
| ASR Nederland | $ 34,872,169 |
| Pensioenfonds Detailhandel | $ 31,046,736 |
| Cardano Group | $ 25,956,570 |
| Pensioenfonds voor de Woningcorporaties (SPW) | $ 9,057,356 |
| Menzis | $ 2,847,704 |
| Pensioenfonds Rail & Openbaar Vervoer | $ 0,961,260 |
| ING Group | $ 0,949,000 |
| Pensioenfonds Vervoer | unknown |
| Philips Pension Fund | unknown |
| PNO Media | unknown |
| VGZ | unknown |
| Grand total | $ 2,127,804,845 |
Related Dodgy Deals
Projects
There are no projects active for this item now.
Companies
There are no companies active for this item now.