Australian and French banks target of protests on both sides of the world for investing in Australian coal projects
---
2014-02-26
Melbourne and Paris
Market Forces and Les Amis de la Terre
---
For more information and comment, please contact:
In Australia, Julien Vincent, Market Forces Lead Campaigner - +61 (0)419 179 529
In Australia, Charlotte Wood, 350.org Australia Campaigns Director - +61 (0)427 485 233
In France, Lucie Pinson, Friends of the Earth France Private Finance Campaigner - +33 (0)9 72 43 92 62
climate@banktrack.org
---
Share this page:
---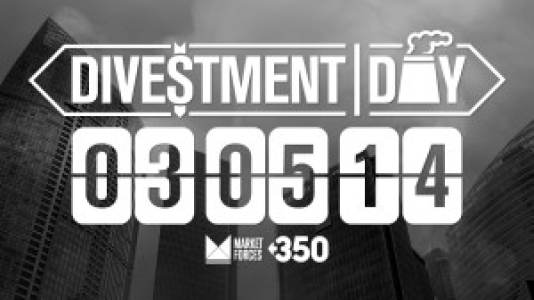 Photo: -
Environmental groups in Europe and Australia are planning actions that target major investors in Australian fossil fuel projects, as companies seek finance for new major coal mines this year.
In Australia, campaign groups Market Forces and 350.org have announced plans to shift hundreds of customers out of the 'big four' Australian banks in protest over their roles as leading lenders to the fossil fuel industry. On the 3rd of May customers of ANZ, Commonwealth Bank, NAB and Westpac will be encouraged to "divest" in an effort to convince the major banks to avoid further loans to fossil fuels.
The role of major lenders to fossil fuels has been made clearer by the release of an online interactive map, showing which institutions have loaned the most to the fossil fuel industry in Australia since 2008. ANZ was top of the list, having loaned $6.5 billion to coal, gas and oil companies and projects since 2008. Commonwealth Bank was second ($5.0 billion loaned since 2008), and NAB third ($4.4 billion). Westpac, who recently won the most sustainable firm award in Davos, was seventh on the overall list, having loaned just under $3 billion.
The public action comes in response to recent approvals of coal projects, including ports that would dredge and dump 3 million tonnes of cubic metres of spoil in the Great Barrier Reef World Heritage Area.
"Our governments have failed us, and now it's up to Australians to take action that ensures their money won't be used to fund these new dirty fossil fuel projects", said Market Forces Lead Campaigner Julien Vincent.
Charlotte Wood, 350.org Australia Campaigns Director said "In 2014, the fossil fuel industry will be fighting harder than ever to get a raft of new expansion projects off the ground - from Maules Creek mine in New South Wales's Leard State Forest to coal and gas ports on the Great Barrier Reef - they'll be turning to our banks to help them out".
"If our banks won't divest from fossil fuels then it's time for us to divest from them and put our money into financial institutions who aren't funding community, climate and ecosystem devastation."
"If history is any guide, the big four banks will be critical in determining the future of coal and gas projects that are currently on the table. This makes customers of the big four banks very powerful, and if they don't want their money helping to destroy the Reef and drive climate change, there's never been a better time to speak up", said Mr Vincent.
Yann Louvel, Climate and Energy Campaign Coordinator with BankTrack international network said "This information leaves banks nowhere to hide: their dodgy deals are out in public and communities on different sides of the planet are working to stop these sorts of dirty coal loans happening again".
For instance, French bank Société Générale loaned AU$1.3 billion to fossil fuel projects and companies in Australia since 2008 and is assisting Indian conglomerate GVK look for finance for its recently approved Alpha Coal project, a 30 million tonne per year coal mine in the as yet untapped Galilee Basin region of Australia.
Friends of the Earth France Private Finance Campaigner Lucie Pinson said: "In France, we are mobilising against Société Générale and its involvement in the Alpha Coal project in the Galilee Basin. The support of the French bank to such destructive projects on the other side of the world is not acceptable and we will keep opposing it, starting with a new national day of action on March 15".
The interactive map can be found at www.marketforces.org.au/banks/map
Related Dodgy Deals
Projects
There are no projects active for this item now.