BankTrack 2021: Eleven successes & highlights
---
2021-12-22
BankTrack
---
Share this page:
---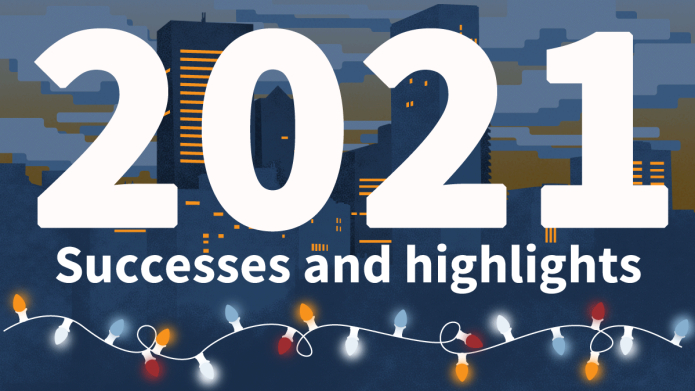 Photo: BankTrack
As 2021 draws to a close, we look back on a year in which the volume of campaigning pressure on banks was truly dialled up to 11. Finance was a central focus at both the UN's Kunming conference on Biodiversity in October and the Glasgow climate conference in November, and both events – but particularly Glasgow – saw concerted pressure from campaigners and the public on the need for financial institutions to stop bankrolling these escalating global crises.
The reaction from the banks, however, has fallen far short of expectations. On climate, banks have almost universally rallied around the idea of 2050 net-zero targets for their financed emissions. While this represents at least some recognition of the 1.5 degree climate target of the Paris agreement, we cannot applaud any bank that still allows itself to keep financing new oil and gas extraction projects, new pipelines, and companies with fossil expansion plans that will bring this target fully out of reach. As 2021 ticks over to 2022, the number of years we have left to halve global emissions drops from nine to eight. The bank-funded expansion of the fossil fuel industry must stop now.
We also, of course, look back at a second year of a global pandemic that right now does not look like it is going to go away anytime soon. This health crisis is deeply intertwined with the other global crises we face, and in response to this, we at BankTrack have been reflecting on our work and reformulating our mission.
Starting in the new year, BankTrack will put all its energy into challenging commercial banks to act decisively and urgently to help tackle four interrelated global emergencies: stopping the climate crisis from further unfolding; ending the ongoing destruction of nature and the loss of plant and animal species; stopping the widespread violation of human rights, and preventing the world from entering an era of pandemics.
Below we highlight some of the successes and most highlights of the year gone by, from pressuring banks to stop financing the fossil fuel industry, to holding banks accountable for human rights violations connected to their finance, to seeking banks to help protect the world's remaining forest and wilderness areas.
We wish you a restful break, before we return in 2022 with renewed determination to keep the campaigning volume cranked up.
- The BankTrack team
Our 2021 successes and highlights
---
---
"Fossil Banks, No Thanks" platform launched
In May, BankTrack launched fossilbanks.org, a new campaign platform that brings together organisations and campaigns from all over the world pressuring commercial banks to stop financing the fossil fuel industry. Together this platform delivered a message to banks from over 210 groups calling for action to stop fossil fuel finance in advance of the Glasgow COP.
---
BankTrack research finds 200+ "Equator Compliant" fossil fuel projects since Paris
In the lead-up to COP, we showed how Equator Principles (EP) signatory banks financed at least 200 fossil fuel projects since 2015's COP. This is despite the EPs including a commitment for signatories to support the Paris Agreement.
---
---
Banks challenged to act on biodiversity ahead of Kunming
In the run-up to the UN's biodiversity conference in Kunming, China, we joined partners in sending an open letter calling on 55 private sector banks to take concrete action to help protect biodiversity and safeguard the rights of Indigenous and local communities, including by adopting a "No Go" policy for high biodiversity areas.
---
FMO decides not to finance Honduran bank FICOHSA
BankTrack and others welcomed the Dutch development bank FMO's decision to rule out a US$60 million loan to Ficohsa, a Honduran commercial bank linked to numerous human rights controversies, following our joint advocacy.
---
---
ANZ launches human rights grievance mechanism in a first for the global banking sector
A precedent-setting move from ANZ made the Australian bank the first large commercial bank to adopt a human rights policy that gives communities harmed by ANZ-financed projects a real path to justice.
---
Banking on Climate Chaos: Fossil Fuel Finance Report 2021
For the 11th year running, we contributed to this flagship report on the state of bank fossil fuel finance, which continues to be referenced in the media throughout the year. The numbers are sobering: even in a pandemic-induced recession, fossil fuel financing was higher in 2020 than 2016, and has increased year-on-year for those companies most responsible for expanding the industry.
---
---
UN confirms banks' human rights responsibilities when shares are held for clients
In a letter to BankTrack and OECD Watch, the UN confirmed that banks do have responsibilities when it comes to impacts of companies in which they hold shares on behalf of clients. The advice followed a Swiss decision to reject parts of a complaint against UBS on its finance for a company aiding China's mass surveillance of Uighurs.