New report on climate commitments of Turkish banks
350.org assesses policies of 17 Turkish banks
2022-11-14
350.org Turkey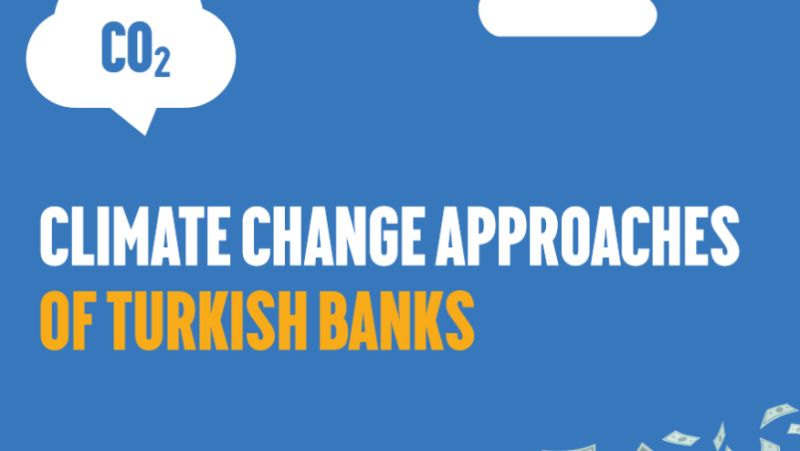 Photo: 350.org Turkey
2022-11-14
350.org Turkey
350.org Turkey has turned its focus to Turkish banks' approach to climate change. With the release of a report titled "Approach of Banks in Turkey to Climate Change", 350.org Turkey is calling on banks not to provide financing for fossil fuel investments, especially coal.
The Approach of Banks in Turkey to Climate Change report evaluates Turkey's 17 largest banks in five criteria related to climate change: Fossil fuel assets/investments, clean energy investments, targets for "Net Zero", targets for carbon footprint and "carbon neutrality", ESG (Environmental, Social, Governance practices) and similar ratings.
Eight banks in Turkey announce they will not finance coal
According to the report, eight banks in Turkey have announced that they will stop financing coal projects, though the rest have not made any commitments. While approximately half of the banks have set targets to be "carbon neutral" and/or "net zero", information on whether the rest have set a target date for this is not available. Banks that have set targets have not released any information about their short-term plans to support these long-term targets. The report draws attention to the fact that the "Sustainability Committees" established under various titles in almost every bank continue to work hard, but that sustainability reports produced by these committees are not uniform and do not use consistent metrics. At the same time, it is clear that there is not enough data on how these reports and/or the information provided are audited.
Efe Baysal from 350.org Turkey states that banks have a huge responsibility in creating a fair economy and a habitable planet in the fight against the climate crisis: "Banks pulling financial resources from fossil fuels, especially coal, is a crucial step towards stopping projects that contribute to the climate crisis and pollute the air, water and soil. At the same time, on the journey towards Turkey's 2050 net-zero target, fundamental changes are taking place in the financial system to transform the energy sector, which accounts for the largest share of emissions."
People to Banks: Don't Fund the Climate Crisis with Our Savings!
The "Smoke-Free Money Zone" petition launched by 350.org Turkey in recent months aims to remind banks of the power of individuals' deposits in banks. Bank customers realize the combined financial power of the balances in their accounts and are asking their banks to step away from coal. Baysal continued: "Bank customers have the right to demand that their savings be used in a way that leaves the planet habitable for future generations. Individuals have the power to stop their banks from funding the climate crisis. With this campaign, we want the banks that have not yet taken steps towards existing coal to make a clear commitment. We want them to end their existing fossil fuel investments, announce target dates for net zero, and announce all their measurable, auditable, long-term and short-term plans."
The full report can be downloaded here.