The City of London, home of coal finance
Just six months before it hosts the crucial COP26 summit, the UK's climate leadership has been called into question by a damning new report from Reclaim Finance
2021-05-04
urgewald & Reclaim Finance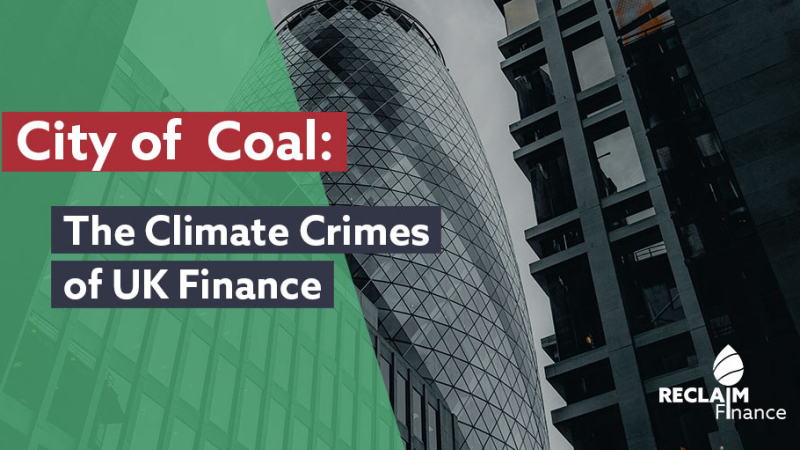 City of Coal: The Climate Crimes of UK Finance. Photo: Reclaim Finance and Urgewald
2021-05-04
urgewald & Reclaim Finance
Just six months before it hosts the crucial COP26 summit, the UK's climate leadership has been called into question by a damning new report from Reclaim Finance. Produced in collaboration with German NGO Urgewald, the report reveals the City of London to be the biggest center for coal finance in Europe, with banks and investors alike running amok in their support for the most polluting fossil fuel.
Despite making much-trumpeted net-zero commitments, the five main UK banks analyzed (1) provided USD 56 billion of support to companies on the Global Coal Exit List (GCEL) between October 2018 and October 2020 (2). The picture was little rosier for UK investors, who likewise held USD 47 billion in GCEL companies in January 2021. Underlining the extent to which the UK finance sector is failing on coal, the report reveals widespread support for companies expanding coal power among top banks and investors.
UK, climate leader?
The findings will come as a blow to the reputation of the British government, which has loudly touted its own climate credentials in the run up to hosting COP26. Just two weeks ago, the UK government claimed to be "leading the world in tackling climate change", while Chancellor Rishi Sunak this month launched the UK Centre for Greening Finance and Investment.
But a comparison with financial institutions in COP21 host France is enough to dispel these illusions. Our analysis finds that 19 French financial institutions have robust coal policies, in comparison with none in the UK; likewise only one UK financial institution (M&G) plans to exclude coal mine and plant developers, against 26 in France. How can you be a climate leader when your own influential financial center is actively supporting the expansion of coal? Indeed, the situation becomes almost farcical when you consider that the UK is co-founder and co-chair of the Powering Past Coal Alliance.
The banks and investors exposed
The City of London clearly hasn't got the memo. This is true above all for the 'terrible trio' of Barclays, HSBC and Standard Chartered, which together made up over 94% of coal financing from UK banks. Top of the pile, once again, was Barclays, whose AGM takes place tomorrow, with over USD 27 billion of lending and underwriting to GCEL companies over the last two years, placing it in the top 10 globally (and top 5 for coal lending). Next up is HSBC, singled out for having funneled over USD 15 billion into coal companies in two years, including ongoing direct support for coal infrastructure in Bangladesh. Standard Chartered, meanwhile, is the largest supporter of coal plant developers (USD 4.7 billion). Climate crisis, what climate crisis?
Leading UK investors are likewise doubling down on coal support, with 17 lacking any public coal exit policy whatsoever. Top dog is Legal & General with USD 7.1 billion in coal companies, including the likes of BHP Group. Another of the chief villains is Schroders, whose lack of global coal phase-out policy has contributed to it becoming the biggest investor in coal plant developers, with USD 1.1 billion of support. On the insurance side, the report exposes deep flaws in Lloyd's of London's coal policy.
Less talk, more action
The report's findings are yet another nail in the coffin of the net-zero delusion. All of the banks and most of the investors considered have made net-zero commitments, yet their coal financing continues apace. What's more, the biggest culprits even signed up to the new Net-Zero Banking Alliance.
In place of glossy, distant yet ultimately vapid commitments, the report lays out a series of steps for financial actors to take in the short-term to decarbonize the entirety of their portfolios. Chief among them is strong coal exclusion policies and the threat and follow-through of divestment. Financial institutions' excuses for inaction just don't cut it, as the report lays out.
Six months remain before COP26 – six months to turn this around and enforce a genuine exit from coal on the road to Glasgow. Shareholders should use upcoming AGMs to send a message in favor of real climate action, starting with Barclays tomorrow. If these institutions don't change, they can be expected to be targeted by climate campaigners all the way up to November, and beyond.

Notes:
1) The five banks are Barclays, HSBC, Standard Chartered, NatWest and Lloyds Banking Group.
2) The full methodology behind the Global Coal Exit List is available here. Figures for banks refer to a two year period between October 2018 and October 2020. Figures for investors refer to investments as of January 2021.