Standard Chartered's 2022 AGM dominated by shareholder alarm over fossil financing
2022-05-04 | London
Neil Simpson – BankTrack
Neil Simpson, Volunteer 'Banks and Climate' campaign, BankTrack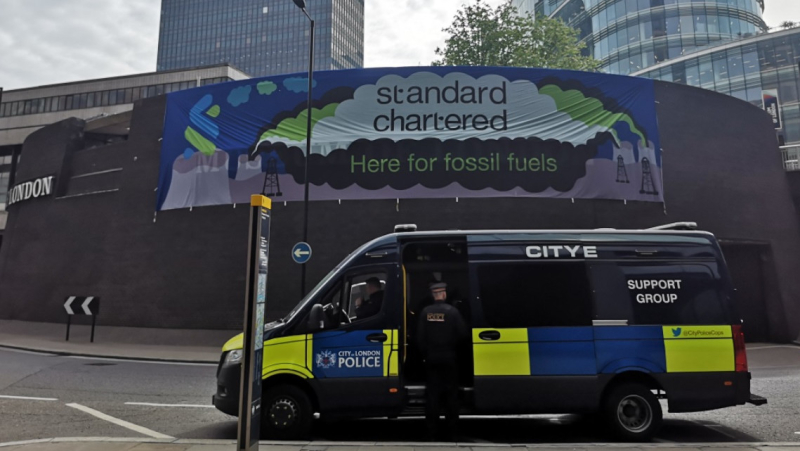 Protestors send a big message to Standard Chartered at its 2022 AGM. Photo: Market Forces
2022-05-04 | London
Neil Simpson – BankTrack
Neil Simpson, Volunteer 'Banks and Climate' campaign, BankTrack
Standard Chartered faced activist disruption and a barrage of climate-related questions at its AGM in London today, as shareholders made their feelings known regarding the bank's fossil fuel financing activities. With the bank yet to rule out finance for the dangerously polluting East African Crude Oil Pipeline, BankTrack was there to confront the board.
Shareholder rebellion
The AGM was derailed as it began by protestors from Money Rebellion, a financed-focussed offshoot of Extinction Rebellion. The group had snuck devil masks into the room and began chanting "Standard Chartered please just stop it, life on Earth before your profit" as they donned the masks. The group stalled Group Chairman José Viñals' opening remarks for 10-15 minutes, shouting questions like "what will you tell your grandchildren?". They also directly challenged the legitimacy of board member Byron Grote, whose executive CV includes companies such as BP and Standard Oil. Money Rebellion refused to leave and were eventually removed physically by a large security team, one-by-one.

More from @XRebellionUK and @money_rebellion inside Standard Chartered AGM today - London

Full livestream: https://t.co/pN4GEjcI1I#MoneyRebellion #DefundClimateChaos #StandardChartered #Barclays #NetZeroBanking #ExtinctionRebellion #EndFossilFuels #ClimateJustice pic.twitter.com/TWoXm88DsV

— XRUK Live (@XRUK_Live) May 4, 2022

Tough questions
Board members then faced a barrage of climate-related questions from shareholders, which almost dominated the meeting's second half. These questions came from campaign group representatives, such as ShareAction and Market Forces, as well as concerned individuals such as a father who cited the climate anxiety that his children were experiencing for prompting his attendance.
Shareholder questions were almost entirely fielded by Viñals and Standard Chartered's Group Chief Executive Bill Winters. During his responses, Winters conceded that "we value the opinions of those who think we can do better", indicating the bank's willingness to listen to external experts when formulating its financing policies. On the other hand, Viñals claimed that "we can do a better job" than the International Energy Agency (IEA) in setting Standard Chartered's net-zero-by-2050 plans. Viñals' claim was in reference to the IEA's assertion that there must be 'no new oil and gas fields approved for development no new coal mines or mine extensions' by 2021, if the world is to reach net-zero carbon emissions by 2050. Viñals seemed to be casting doubt on this IEA assertion. This also puts him at odds with the Standard Chartered net-zero-by-2050 pathway, which was published in October 2021 and is 'based on the best data currently available and aligns to the International Energy Agency's Net Zero Emissions by 2050 scenario (NZE).'
Standard Chartered's supposed adherence to the IEA's NZE is further contradicted by its own fossil fuel financing activities: As per this year's annual Banking on Climate Chaos report, Standard Chartered provided more than USD 1 billion in financing for 100 key oil, gas, and coal companies expanding fossil fuels in 2021 alone. That figure rises to USD 10.7 billion for the period 2016-2021.
Pipeline decisions
Picking apart these contradictions were at the heart of BankTrack's question to the board, which concerned the proposed East African Crude Oil Pipeline (EACOP). TotalEnergies and the China National Offshore Oil Corporation are currently seeking finance for this project, which would facilitate the extraction of approximately 1.7 billion barrels of recoverable oil from Hoima city in Uganda. If completed, the pipeline would run to the port of Tanga in Tanzania, covering 1,445 km and be the longest heated oil pipeline in the world. Standard Chartered is currently establishing whether or not the bank will finance this pipeline.
Our questions for the board were:
Do you agree that the East African Crude Oil Pipeline would assist in adding enormous amounts of additional greenhouse gas emissions to the atmosphere, which would exacerbate the climate crisis, particularly in the communities and markets in which you operate?
A decision by you to finance the East African Crude Oil Pipeline would contravene the International Energy Agency's Net Zero Emissions by 2050 scenario, which is a source that you publicly claim to adhere to. Specifically, EACOP would run against the IEA's assertion that there must be 'no new oil and gas fields approved for development' by 2021. Given how seriously you take climate change, can you confirm that you will be following the IEA's assertions and declining to finance EACOP?
As per the board's responses to other climate crisis-related questions it faced, Viñals would not be drawn into the specifics of its EACOP deliberations. Instead, he simply stated that "in terms of economic and social impact, in terms of people, biodiversity, and climate we will make sure things are consistent according to our commitment to achieve the transition to net zero."
Other banks seem less confused on what is the right thing to do here: Fifteen banks have already refused to finance EACOP, including Barclays, ANZ, HSBC, and UniCredit. Viñals' vague answer is concerning, considering that this pipeline represents a monumental expansion of the fossil fuels industry. The world must rapidly decarbonise in order to hit the unilaterally acknowledged goals of the Paris Agreement, which makes a project such as EACOP completely untenable.
It's time for new targets
In response to Standard Chartered's fossil financing activities and apparent disregard for its own climate commitments, a shareholder resolution was submitted by campaign group Market Forces. If voted in by shareholders, the resolution would force the bank to "set, disclose and implement a strategy to manage its fossil fuel exposure", to "no longer provide financing where proceeds would be used for new or expanded fossil fuel projects", and to set "short-, medium-, and long-term targets to reduce fossil fuel exposure". Before and during the AGM, the board urged shareholders to vote against this resolution. The results of the vote are yet to be announced – stay tuned for Market Forces updates.