Social and environmental organizations worldwide urge Domtar stakeholders to reject US$2.8 billion Paper Excellence deal, stressing social and environmental concerns
2021-06-24
Environmental Paper Network
Sergio Baffoni, Indonesian Rainforest Campaign Coordinator, Environmental Paper Network, +49 162 3812528 (CET)
Aidil Fitri, Executive Director, Hutan Kita Institute, +62 812 7110385 (WIB)
Maggie Martin, Senior Forest Campaigner, Rainforest Action Network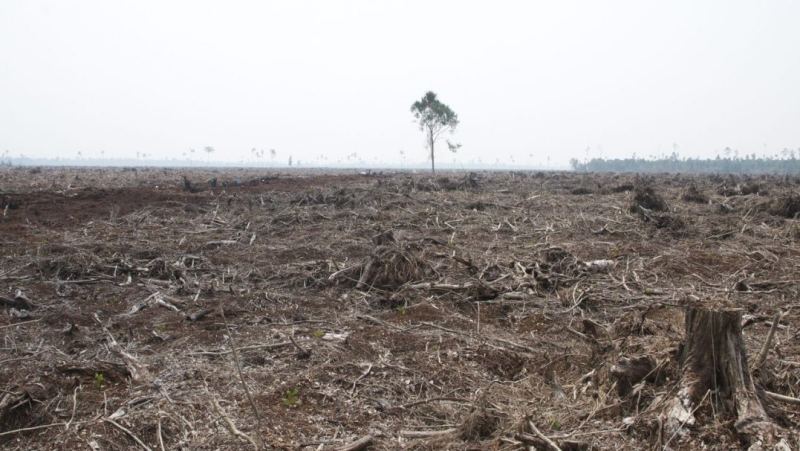 Trashed peatland in Indonesia. Photo: Environmental Paper Network
2021-06-24
Environmental Paper Network
Sergio Baffoni, Indonesian Rainforest Campaign Coordinator, Environmental Paper Network, +49 162 3812528 (CET)
Aidil Fitri, Executive Director, Hutan Kita Institute, +62 812 7110385 (WIB)
Maggie Martin, Senior Forest Campaigner, Rainforest Action Network
More than 65 organizations from North America, Indonesia and all over the world joined together today in an open letter urging Domtar shareholders, financiers, and customers to oppose the proposed acquisition of the company by rival Paper Excellence. The open letter details why the acquisition represents a grave reputational and financial risk for Domtar and for any company currently doing business with Domtar, by linking the company to a corporate empire associated with human rights and environmental abuses.
Paper Excellence Canada Holdings Corp. is controlled by Paper Excellence B.V. incorporated in the Netherlands, which is controlled by the Widjaja family via companies in the Virgin Islands and Malaysia. It controls Canadian and French pulp mills, and marketing companies distributing APP products in Japan, Italy, Australia, UK, France and Spain.
The acquisition will connect Domtar to the notorious conglomerate Asia Pulp & Paper (APP) of Sinar Mas Group (SMG), one of the world's largest paper companies, in a nearly 3 billion USD all cash buyout. There is clear evidence linking APP and SMG to 30 years of deforestation, forest and peat fires and the destruction of wildlife habitat in the 2 million hectares of land under their control in Indonesia. These fires, and the company's peat development have contributed to extensive greenhouse gas emissions. Reports also point to conflicts with local communities related to land grabbing, forest clearance and pulpwood plantation development in Sumatra and Kalimantan, Indonesia.
Paper Excellence is related to APP and its parent company Sinar Mas Group, via their family business ownership. These, and hundreds of associated companies – many of them incorporated in tax haven countries – are tied by a complicated and opaque corporate structure, with different companies often being managed by members of the same family. Although a complex corporate structure obfuscates the connection between the Paper Excellence Group and APP, strong evidence indicates the two groups operate as a deeply integrated production-marketing conglomerate with the same family business as owner.
"Allowing the acquisition of Domtar by Paper Excellence would put at risk shareholders credibility: funds raised by Paper Excellence to facilitate the purchase are associated with unacceptable business comprising a legacy of deforestation, reported human rights violations, and significant CO2 emissions," said Sergio Baffoni, Indonesia Rainforest Campaign Coordinator for EPN-International.
Moreover, by voting in favor of the acquisition and thereby selling their shares, shareholders will significantly reduce, if not virtually eliminate, their ability to influence sustainability and human rights commitments in these geographies.
"Domtar's customers and financiers are facing financial and reputational risk associated with the severe social and environmental violations by the conglomerate controlling Paper Excellence," said Maggie Martin, Senior Forest Campaigner for Rainforest Action Network.
The full letter can be found here. See the original press release here.
Background information – Severe social and environmental impacts linked to APP – Sinar Mas Group and Paper Excellence
There are no active company profiles for this item now.