Norway's wealth fund dumps 23 palm oil companies under new deforestation policy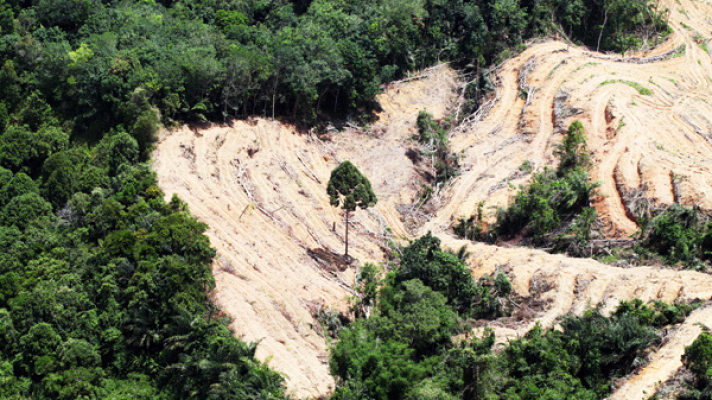 Deforestation for palm oil production in Borneo. Photo: Photo by Rhett A. Butler
Norway's $700 billion pension fund continues to divest from companies linked to tropical deforestation, selling stakes in 23 palm oil producers last year, reports Rainforest Foundation Norway, an activist group that has led the campaign for divestment.
The move by the Norwegian Government Pension Fund Global (GPFG) — the world's largest sovereign wealth fund — came after it revised its investment guidelines to include deforestation as a portfolio risk.
"In the first quarter of 2012 we sold our stakes in 23 companies that by our reckoning produced palm oil unsustainably," said the fund in its annual report. "Before reaching this decision, we reviewed a number of companies contributing to tropical deforestation through their involvement in the palm oil industry in Malaysia and Indonesia."
In 2012 the fund sold stakes in some of the world's largest palm oil companies, including Astra International, Golden Agri-Resorces, Indofood Agri Resources, Kuala Lumpur Kepong, Ta Ann Holdings, United Plantations, and Wilmar International, among others. Most of the firms are based in Malaysia, Indonesia, and Singapore.
Overall Norway's pension fund reduced its palm oil industry investments by more than 40 percent, according to Rainforest Foundation Norway.
"This is a major step forward and a victory for the remaining rainforests. One of the world's biggest investors sends a clear signal to the oil palm industry that its destructive practices are unacceptable," says Nils Hermann Ranum at Rainforest Foundation Norway. "The Norwegian Pension Fund now confirms that the oil palm sector is responsible for severe environmental damage on the rainforest."
The fund now has about $450 million invested in the palm oil sector. It has shifted some investment into palm oil producers which the fund believes offer better environmental policies, including boosting its stake Malaysia's Sime Darby by four-fold in 2012. However Rainforest Foundation Norway wasn't particularly enamored with the fund's choice in that company.
"Sime Darby is infamous for illegal land clearing, violent clashes with local communities, illegal forest fires and for threatening the last orangutan habitats," said Ranum. "Sime Darby is also expanding into the African rainforest, an extremely worrying trend in the oil palm industry. This does not merit increased Norwegian public investments."
Nonetheless Rainforest Foundation Norway called on other investors to take heed of the fund's moves.
"This move by the GPFG is a victory for the environment and for those who have fought for this over years. Now other investors should follow the example," said Ranumm adding that he hoped the fund would apply the policy to other sectors that drive deforestation.
"Now that GPFG has proved that it takes rainforest destruction caused by the oil palm industry seriously, we are eager to see a similar approach towards other industries responsible for massive rainforest destruction, like oil and gas, mining, timber and pulp."
Glenn Hurowitz, an environmentalist from the Center for International Policy, agreed that the fund's move could push others to follow.
"Other sovereign wealth funds and private sector financial institutions are going to face significant pressure to follow Norway's lead and ensure they're not financing deforestation and abuse of local people in the palm oil industry," Hurowitz old mongabay.com. "Capital is the lifeblood of the palm oil industry and if major palm oil companies want access to global capital markets, they're going to have to prove they're not driving the destruction of the world's remaining forests."
The fund's divestment comes as the palm oil industry faces headwinds from increased scrutiny of its environmental record, slowing demand, and ramped up production from other countries. Palm oil prices are about a third below where they stood two years ago, yet the crop remains the most profitable form of agriculture across large swathes of the tropics.
Forest conversion for oil palm in Borneo. Photo by Rhett A. Butler
Palm oil production has emerged as one of the biggest drivers of deforestation in Southeast Asia over the past twenty years. Researchers estimate that about a quarter of recent deforestation and half of peatlands destruction in Indonesia is the result of oil palm plantations. Accordingly, environmental groups are campaigning to shift oil palm expansion to non-forest lands or avoid its use entirely.
Deforestation accounts for roughly ten percent of global carbon emissions from human activities. It is also one of the leading threats to many charismatic animal species, including orangutans, Asian rhinos, and the Sumatran tiger.
Since 2009 Norway has been world's largest financial supporter of rainforest conservation, pledging 3 billion krone per year ($522 million) to the cause. Its sovereign wealth fund — a product of Norway's oil revenue — is independent of that commitment, which falls under its foreign aid budget.
List of companies dropped by Norway's Government Pension Fund Global
Astra Agro Lestari Tbk PT, Indonesia, (2011)
Astra International Tbk PT, Indonesia (2012)
Bakrie & Brothers, Indonesia (2011)
Bakrie Sumatera Plantations Tbk PT, Indonesia (2011)
Barito Pacific Tbk PT, Indonesia (2010)
Berjaya Corp Bhd, Malaysia (2012)
Boustead Holdings Bhd, Malaysia (2012)
First Resources Ltd, Singapore (2012)
Genting Plantations, Malaysia (2012)
Golden Agri-Resorces Ltd, Singapore (2012)
Hap Seng Plantations Holdings, Malaysia (2011)
IJM Plantations Bhd, Malaysia (2011)
Indofood Agri Resources Ltd, Indonesia (2012)
IOI Corp Bhd, Malaysia (2011)
Kim Loong Resources Bhd, Malaysia (2011)
Kuala Lumpur Kepong Bhd, Malaysia (2012)
Medco Energi International, Indonesia (2011)
Oriental Holdings Bhd, Malaysia (2010)
Perusahaan Perkebunan London Sumatra, Indonesia (2011)
PPB Group Bhd, Malaysia (2011)
Sampoerna Agro, Indonesia (2010)
Sarawak Oil Palms Bhd, Malaysia (2011)
Ta Ann Holdings Bhd, Malaysia (2012)
Tradewinds Plantations Bhd, Malaysia (2011)
TSH Resources, Malaysia (2011)
United Malacca Bhd, Malaysia (2010)
United Plantations Bhd, Malaysia (2012)
Wilmar International Ltd, Singapore (2012)
WTK Holdings Bhd, Malaysia (2012)
YNH Property Bhd, Malaysia (2010)


Read more at http://news.mongabay.com/2013/0311-norway-divestment.html#MMIezFrX60359rc9.99
There are no active company profiles for this item now.