New report: HSBC a 'crucial link in the chain' of Palestinian oppression says War on Want
2017-07-12
War on Want
Liz McKean Campaigns and Policy Director at War on Want, +44 (0) 7983 550728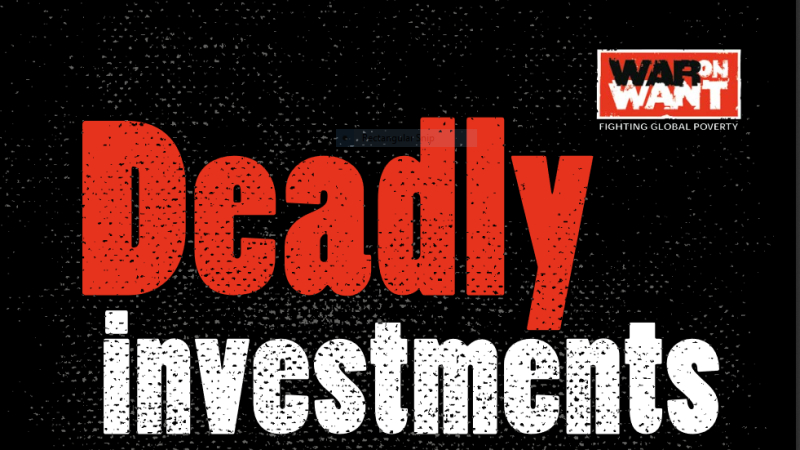 Deadly investments: UK bank complicity in Israel's crimes against the Palestinian people. Photo: War on Want
2017-07-12
War on Want
Liz McKean Campaigns and Policy Director at War on Want, +44 (0) 7983 550728
Some of the UK's best known banks and financial institutions are complicit in Israel's crimes against the Palestinian people according to a new report by War on Want. The report, Deadly Investments: UK bank complicity in Israel's crimes against the Palestinian people, exposes the business relationship between UK banks and financial institutions, and 19 companies known to supply Israel with weapons and technology used in the abuse of Palestinian human rights, including war crimes.
UK banks and financial institutions examined in the report hold shares worth over GBP 10.8 billion in companies that sell weapons, military equipment and technology to Israel, which is used to oppress Palestinians. Additionally, some of them facilitate loans to these companies. HSBC owns shares worth over GBP 831 million in military and technology companies such as BAE Systems, Boeing, Caterpillar and Raytheon that sell weapons and equipment to Israel. Raytheon's "bunker buster" bombs were used by Israel to target civilian homes during its 2014 assault on Gaza, while Caterpillar's specially modified bulldozers are used to demolish Palestinian homes in Israel and the occupied Palestinian territory.
War on Want's senior military and security campaigner, Ryvka Barnard, said: "UK high street banks are key players in the UK-Israel arms trade and make these deadly deals possible. Banks like HSBC are a crucial link in the chain of oppression, facilitating and profiting from the brutal military repression of Palestinians."
The report comes hot on the heels of UN guidance to the banking sector, published this month, clarifying that banks and financial institutions have responsibilities to "avoid causing or contributing to adverse human rights impacts" and "to prevent or mitigate adverse human rights impacts that are directly linked to their operations, products or services by their business relationships".
Barnard, continued: "HSBC makes much of its ethical credentials yet its contempt for human right rights couldn't be starker. HSBC's deals with arms companies make it complicit in the suffering endured by Palestinians. War on Want is calling for banks to divest from, and stop facilitating loans to, companies that sell weapons and security services to Israel. We also repeat our call for the UK government to implement a two-way arms embargo on Israel."
Campaigners have already taken up the campaign to pressure HSBC to end its complicity in human rights abuse. At the beginning of July 2017, campaigners held pickets outside HSBC branches in London, Brighton, Manchester and several other UK cities. Additionally, over 4,500 individuals have emailed the CEO of HSBC in reference to the findings of the report. War on Want expects this number to rise significantly as the report is published. Full text of report: Deadly Investments report (downloadable pdf).