New Report: Barclays - Banking on Apartheid
2022-07-14
Campaign Against Arms Trade, Palestine Solidarity Campaign & War on Want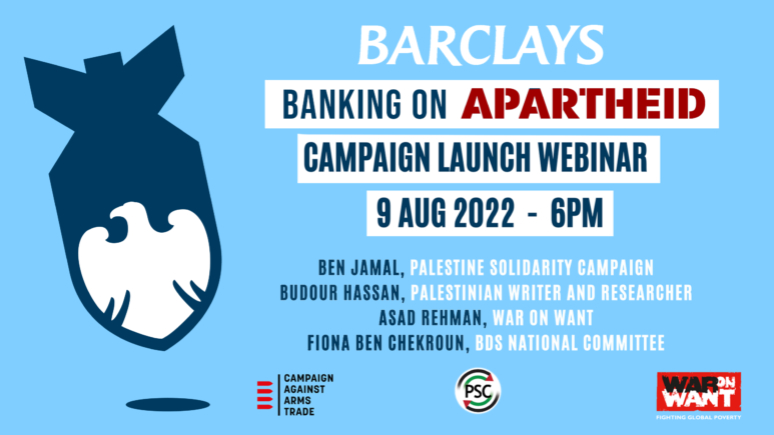 Photo: CAAT, PSC, War on Want
2022-07-14
Campaign Against Arms Trade, Palestine Solidarity Campaign & War on Want
Militarised violence against the Palestinian people is a central feature of Israel's occupation and apartheid regime – including the illegal Apartheid Wall, demolitions of Palestinian homes, brutal armed crackdowns on Palestinians protestors, and indiscriminate bombing campaigns of the Gaza Strip.
Financial institutions in the UK provide investment, loans, and other financial services to companies supplying Israel with weapons and military technology used to oppress the Palestinian civilian population.
We've uncovered that Barclays Bank, with high street locations across the UK, holds over £1 billion GBP in shares of 9 companies whose weapons, components, and military technology have been used in Israel's armed violence against Palestinians. In addition, Barclays provides over £3 billion GBP in loans and underwriting to these companies.
For example, Barclays holds shares in Elbit Systems, an Israeli arms manufacturer which provides 85% of the drones used by the Israeli military. Its subsidiaries provide 80% of equipment to Israel's land forces. Barclays also holds shares in General Dynamics, which produces gun systems that arm Israel's F-16 and F-35 fighter jets, utilised in Israel's repeated aerial bombardments of the besieged Gaza Strip.
By providing investment and financial services to these arms companies, Barclays facilitates the provision of weapons and technology for Israel's militarised repression of Palestinians, and lends legitimacy to those providing equipment for this purpose.
Palestinians are resisting Israel's oppression and are calling on people of conscience to act to end the complicity of governments, corporations, and financial institutions. This includes demanding the implementation of a comprehensive two-way military embargo with Israel.
Join Palestine Solidarity Campaign, War on Want, and Campaign Against Arms Trade, to tell Barclays to #StopBankingOnApartheid! Register here for our campaign launch webinar!
There are no active project profiles for this item now.
There are no active company profiles for this item now.