New coal report finds troubling loopholes in existing bank policies
Analysis shows broad compliance with credit exposure reduction commitments – but six biggest US banks still increased coal financing In 2017
2018-08-16
Rainforest Action Network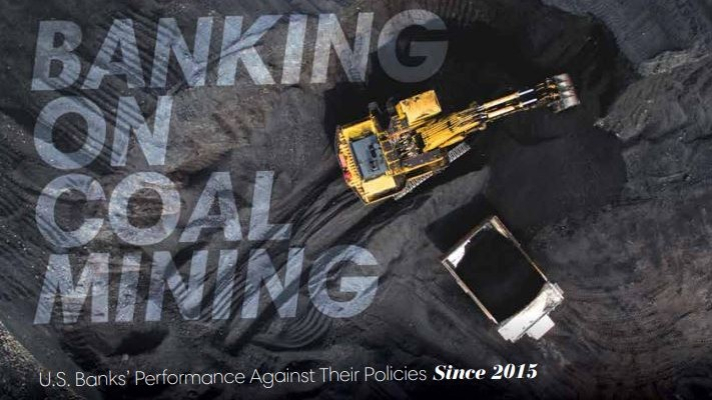 Photo: Rainforest Action Network
2018-08-16
Rainforest Action Network
Following Trump's inauguration, major US banks increased financing for coal, demonstrating loopholes in policies adopted in response to the Paris Agreement. A new report, published by Rainforest Action Network (RAN), analyzes the six biggest US banks and finds that 2017 was a year of major backsliding on coal mining finance, with banks increasing overall financing between 16% (Citi) and an incredible 3,014% (JPMorgan Chase) compared to 2016 – while at the same time appearing to comply with their recently adopted policies on the sector.
"The numbers show that US banks are in step with Trump's pro-coal agenda," said Patrick McCully, Climate and Energy Program Director at RAN. "With an administration that's pushing us backwards, financial institutions must do their part to limit warming to 1.5 degrees Celsius."
Bank of America, Citigroup, JPMorgan Chase, Morgan Stanley and Wells Fargo committed to reduce credit exposure to the coal mining industry, and Goldman Sachs instituted a narrower coal mining policy. These banks have so far not reported on their performance against their policies. The report approximates the banks' credit exposure to 50 top coal mining companies and calculates overall financing (lending and underwriting) to those companies.
The report also finds that the banks' policy commitments have significant loopholes. Despite banks' compliance with credit exposure commitments, they continue providing new financing to the coal industry – even significantly increasing this financing – so long as enough old loans come off the books at the same time. Of the five banks with exposure-reduction commitments, Bank of America, Citi and JPMorgan Chase limit that commitment to pure-play coal companies, which represent just half of production. In addition, policies on credit exposure restrict only certain types of loans. Underwriting and B-term loans account for more overall coal mining financing than on-the-books lending, but all US banks put little to no restrictions on these forms of coal financing.
"Solely reducing credit exposure is the wrong objective," said Jason Disterhoft, Climate and Energy Senior Campaigner at RAN. "Instead, banks should commit to year-on-year reductions of their overall financing, including all types of loans and underwriting services for all coal mining companies, with a declared zero date. We need a rapid phase-out of coal and stronger policies to get us there."
Download the report at ran.org/coal-report.