New briefing paper on RWE – Europe's worst polluter – for investors, insurers and banks
2018-12-16
Beyond Fossil Fuels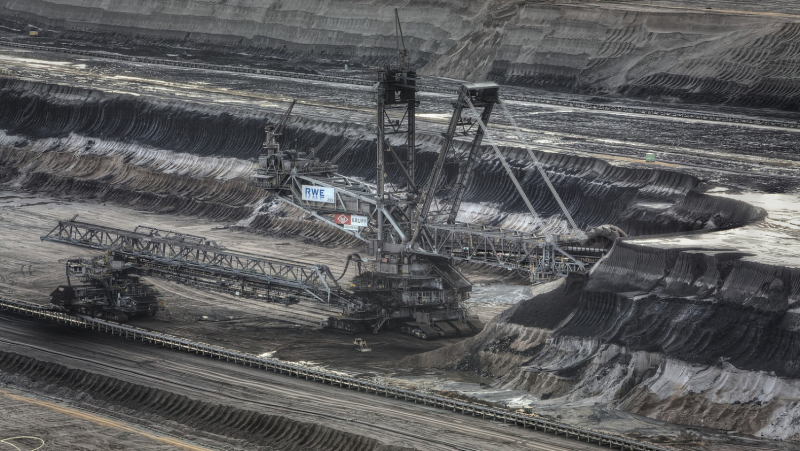 RWE's Hambach open-cast lignite mine. Photo: Frank Kehren via Flickr (CC BY-NC-ND 2.0)
2018-12-16
Beyond Fossil Fuels
Along with our partners in the Europe Beyond Coal campaign, BankTrack has contributed to a new briefing paper on RWE, Europe's biggest CO2 emitter. The briefing paper presents analysis and recommendations to assist investors, insurers and banks in achieving a coal phase-out from RWE.
While the recent IPCC report urges major efforts to limit global warming to 1.5°C, RWE is nowhere near having a company strategy in place which is in line with a 1.5°C world – indeed the company intends to hold on to its coal and lignite business until mid-century. The briefing therefore makes the case for financiers and investors to either divest from RWE immediately, or put RWE on notice of divestment if it does not provide a socially just plan to become 1.5°C compliant.
The Norwegian investor Storebrand has recently observed that "RWE shares are poisoned by coal – sell them off." This came in the wake of RWE's crackdown this autumn on Hambach forest protectors in western Germany. As Germany prepares itself for an accelerated coal phase-out via its Coal Commission, RWE has been intent on destroying the ancient Hambach forest and several villages to allow further mine expansion, a debacle which has severely damaged RWE's image across Germany and Europe more widely.
The new briefing gives an overview of RWE's power mix and existing coal power fleet and its outlook, the risks facing these power assets, pathways for how the utility might re-align its coal plant fleet to the UN Paris Climate Agreement, as well as the actions already being taken by investors, insurers and banks.
Also identified are RWE's top five bank supporters: Deutsche Bank, Goldman Sachs, BNP Paribas, Credit Suisse and Royal Bank of Scotland have collectively provided RWE with EUR 5.2 billion (loans and underwriting) since 2016. The Europe Beyond Coal campaign is calling on investors, insurers and banks to adopt 'no coal policies' in line with the 'principles and approaches for impactful public coal policies' which have been developed by the campaign.
Europe Beyond Coal is also calling on investors, insurers and banks to require RWE to:
● Commit to align its business model with the UN Paris Climate Agreement and, more concretely, to adopt a time-bound, climate science-based target built on a forward-looking climate scenario analysis.
● Publish a clearly articulated and detailed roadmap for the gradual closure (not sale) of its existing coal plants, ending at the latest in 2030, which incorporates just transition plans for affected communities and workers.
● Put an immediate end to capital expenditure into new coal plants and mines and any form of lifetime extension for existing coal plants.
● Commit to preserving the ancient Hambach forest and villages threatened by its Garzweiler mine.
There are no active project profiles for this item now.
There are no active company profiles for this item now.