ING still invests hundreds of millions in polluting coal companies
ING lends EUR 300 million to Eon fossil spin-off Uniper
2016-09-22 | Amsterdam
BankTrack and Fair Bank Guide Netherlands
Jules van Os, Fair Bank Guide Netherlands, tel: +31 651573683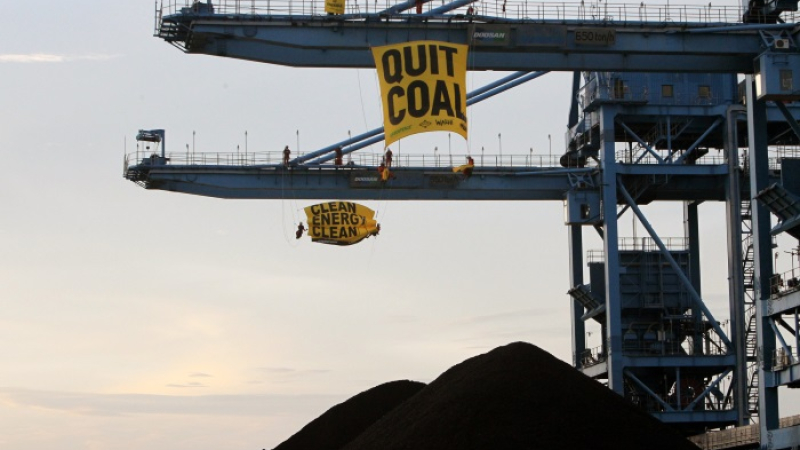 Photo: -
2016-09-22 | Amsterdam
BankTrack and Fair Bank Guide Netherlands
Jules van Os, Fair Bank Guide Netherlands, tel: +31 651573683
ING has granted a loan of EUR 300.1 million to Uniper, EON's fossil fuels spin-off, which made its stock market debut in Frankfurt last week. ING is the only Dutch bank investing in the company, which owns coal and gas power plants in various countries. ING also plans to finance a new coal power plant in Indonesia, contrary to its coal policy, which the bank revised last November to include a commitment not to fund new coal plants. The Fair Bank Guide and BankTrack call on ING to stop all financing to coal companies and to progressively phase out lending to fossil fuel companies.
Fair Bank Guide spokesperson Ike Teuling said: "ING is starting to look absurd, coming out with fine words in its new coal policy while extending loan after loan to coal companies. The bank is patting itself on the back for its recent sustainability ranking scores, but remains, unlike several other Dutch banks, essentially a fossil fuel bank. ING is making insufficient pace with the crucial transition to renewable energy, and is not contributing to an effective approach to climate change as agreed last year in Paris."
Uniper operates coal and gas power stations in the Netherlands, but also has interests for example in gas pipelines, storage facilities and gas fields in Russia. Uniper actively lobbies against closure of coal plants. The well-known German energy scientist Heinz-Josef Bontrup has expressed concerns that the spin-off is doomed from the start, as the company is not able to meet the rising demand for renewable energy. The company has been deliberately divested by its former parent company Eon, which is now fully focused on renewable energy generation.
Earlier this year ING Bank issued a new loan of EUR 100 million to Russia's largest coal producer.
Yann Louvel, Climate and Energy Campaign Coordinator for BankTrack, said: "At the end of 2015, on the eve of the UN Climate Summit, ING introduced a new policy on coal in which the bank clearly states it will not finance new coal plants. Then at the end of August 2016 it was announced that ING, with a consortium of five banks, will lend a total of USD 640 million for a new coal-fired plant in Indonesia, Cirebon 2. This is a flagrant violation of ING's new policy. ING must call off this deal ".
In recent years, ING Bank lent eight times more to fossil-based energy companies than to renewable energy companies, as shown by a research study by the Fair Finance Guide at the end of 2015.
The Dutch Fair Bank Guide and BankTrack call on ING Bank to further tighten its coal policy and not to provide any further credit to coal companies. ING must set clear targets on how the bank will contribute to limiting global warming to a maximum of 1.5 degrees, in accordance with the UN Climate Agreement.
There are no active project profiles for this item now.
There are no active company profiles for this item now.