Greenpeace block Barclays' HQ over dirty oil pipeline funding
Greenpeace UK volunteers take over the main entrance to Barclays HQ in London to protest the bank's refusal to stop funding tar sands pipelines
2018-07-19 | London
Hannah Martin, Oil Supply Lead, Greenpeace UK
hannah.martin@greenpeace.org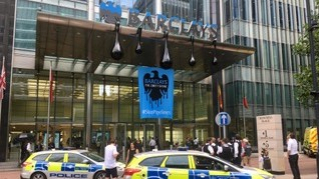 Photo: Greenpeace
2018-07-19 | London
Hannah Martin, Oil Supply Lead, Greenpeace UK
hannah.martin@greenpeace.org
Thursday 19th July, 2018. London. Today at 7.00am 40 Greenpeace UK volunteers have taken over the main entrance to Barclays Bank's corporate headquarters near Canary Wharf in London's docklands. The protest is against the bank's refusal to stop funding pipelines to take oil from Canada's tar sands to market in the USA and Asia.
Activists dressed as bankers are also inside the building, playing recorded messages from Barclays customers and affected communities in Canada to the bank's executives. Six climbers have scaled the entrance's portico, where they have recreated a tar sands oil leak dripping down from the bank's logo. The team are also hanging banners, decorating the bank with giant stickers and handing out leaflets to inform the staff about the impacts of the banks dirty funding decisions.
Since HSBC's recent change in policy, Barclays is the only UK bank still choosing to fund the three oil pipelines planned from Canada's Alberta province to Canada's Pacific coast, and the USA.
Hannah Martin, oil campaigner for Greenpeace UK, said -
"Barclays have been ignoring the damage their dirty funding decisions are doing to the world, and to Indigenous communities in North America, so we've brought a little taste of what they're trying to ignore right to their doorstep. Tar sands are a climate disaster. Tar sand produce more than twice the carbon of an average barrel of oil, and a tar sands oil spill is even worse than a normal crude oil spill - the oil sinks in water, making it almost impossible to clean up. We need to hold them to account for the damage they're causing."
Many of Barclays' customers have contacted Greenpeace to express their concern about what their bank is doing, and a Greenpeace petition asking Barclays to stop financing tar sands pipelines received 40,000 signatures in the first 24 hours, 12,000 of which were from Barclays' customers. Greenpeace activists are now relaying those concerns to Barclays executives through mobile sound systems.
Ocean Hyland, from the Tsleil-Waututh Nation in Canada's British Columbia province, is at the protest to tell Barclays about the threat to communities posed by the pipelines, one of which will end at the inlet from which her people took their name and much of their food. She said –
"Industrialisation poisoned our home, and we spent forty years repairing that damage, until finally, two years ago, we were able to safely eat clams harvested from the inlet again. A tar sands pipeline will increase oil tanker traffic in the inlet seven-fold, and put our inlet and all of our work at risk. I urge Barclays to reconsider its involvement in this project, and avoid funding the further destruction of my people and the planet."
ENDS
Notes
The oil leak sculpted by Hugo Farmer in collaboration with Emma Cork
The petition currently has around 130,000 signatories, around 30,000 of whom are Barclays customers
There are no active project profiles for this item now.