Fair Finance Guide launches in Sweden
Swedish banks score poorly on sustainability
2015-01-23 | Stockholm
Fair Finance Guide
For more comments and information about the results and Fair Finance Guide Sweden, please contact: Jakob König: jakob.konig@sverigeskonsumenter.se, +46 8-674 43 09, +46 73-037 92 93
For more comments and information about Fair Finance Guide International, please contact: Ted van Hees, International Coordinator, Oxfam Novib: Ted.van.Hees@oxfamnovib.nl, +31 (0)6 53 18 75 97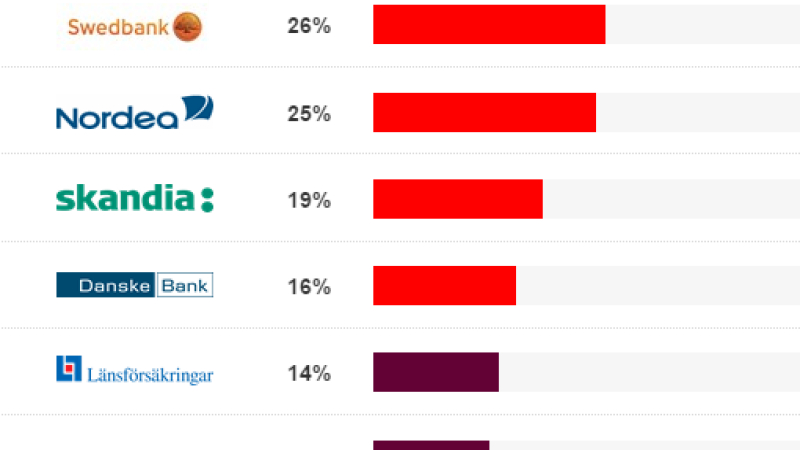 FFI. Photo: FFI
2015-01-23 | Stockholm
Fair Finance Guide
For more comments and information about the results and Fair Finance Guide Sweden, please contact: Jakob König: jakob.konig@sverigeskonsumenter.se, +46 8-674 43 09, +46 73-037 92 93
For more comments and information about Fair Finance Guide International, please contact: Ted van Hees, International Coordinator, Oxfam Novib: Ted.van.Hees@oxfamnovib.nl, +31 (0)6 53 18 75 97
The seven largest banks in Sweden have weak sustainability and social responsibility policy guidelines for their investments, an extensive first assessment conducted by the Swedish Fair Finance Guide coalition has concluded.
The findings were published on the Swedish Fair Finance Guide website which launched on 21 January. The website provides an accessible tool for bank customers to judge the policies of their banks and to take action on that basis.
"For a long time it has been difficult for consumers to get an independent and comparable view of how their banks really act on these issues. With the Fair Finance Guide they get a better insight, can make more informed choices and request changes", says Jakob König, project leader at the Swedish Consumers' Association.
The results were presented and discussed in a public event attended by civil society groups, bank representatives, media, and the Swedish Minister of Financial Markets and Consumer Affairs.
The Fair Finance Guide is an international civil society initiative that aims to focus public attention on the policies of banks, with the aim of instigating a race to the top among banks to achieve better sustainability, social, and human rights standards. In addition to Sweden, the Fair Finance Guide is currently active in six other countries: Belgium, Brazil, France, Indonesia, the Netherlands and Japan.
"Swedish bank policies are far from providing clear sustainability requirements for their investments. There is a great deal of improvement needed. Bank customers expect and demand this. Some banks are better than others but, in general, no bank scores highly", says Jakob König.
The Swedish banks commit to only 22% of Fair Finance Guide's list of widely accepted international standards and conventions. This implies that they lack many of the most important principles when investing. SEB is the bank that commits to the most principles, with a score of 43%. Handelsbanken scores lowest with 13%.
The assessed banks receive the lowest scores in the themes of biodiversity, climate change, and energy. They score highest on human rights but the average score in this area still does not reach 50% of the principles.
"Our study shows that if bank policies are weak and do not provide clear guidelines, this could lead to investing in companies and projects around the world which run counter to international targets for climate change or are associated with violations of human rights", warns Jakob König.
The banks' scores are published on Fair Finance Guide Sweden's interactive website. Bank clients can now easily check their banks on different sustainability issues and communicate their satisfaction or dissatisfaction with those policies, with the option of switching to a more responsible bank.
An updated assessment is scheduled for the fall of 2015. "By then, we hope that banks would have made many improvements in their policies", says Jakob König.