Duty of Care: Total served formal notice for its activities in Uganda
2019-06-27
Friends of the Earth France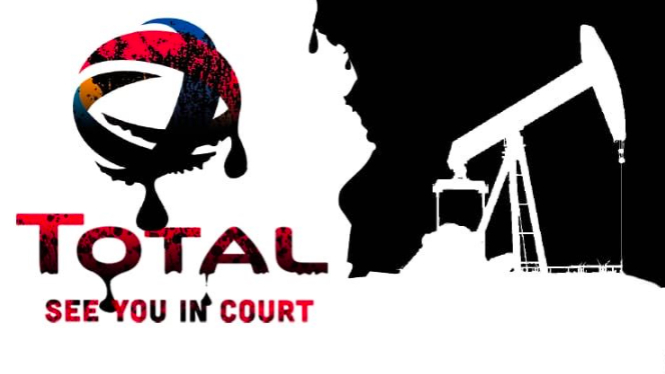 Photo: Friends of the Earth France
2019-06-27
Friends of the Earth France
This week four Ugandan campaign groups – AFIEGO, CRED, NAPE / Friends of the Earth Uganda and NAVODA – along with Friends of the Earth France and Survie filed a legal notification with the French oil and gas multinational Total concerning its oil extraction and infrastructure activities in Uganda. These activities include the USD 3.5 billion East African Crude Oil Pipeline (EACOP) which the company is developing, with financial assistance from commercial banks Sumitomo Mitsui of Japan and a Ugandan subsidiary of South Africa's Standard Bank (see BankTrack's Dodgy Deal profile of EACOP).
The groups have taken this first legal step following their assessment that Total has failed to address the human and environmental impact of its Ugandan operations as required by France's Corporate Duty of Corporate Vigilance regulation. This is the first case in which this regulation, established in 2017, has been invoked in relation to the foreign activities of a subsidiary of a major French business group, and may lead to a formal court summons.
Total has been asked to:
Fill the gaps in its vigilance plan, which currently does not include any identification of risks or specific measures concerning its activities in Uganda, specifically the 1,445 kilometre EACOP project planned to run from Hoima in Uganda to the port of Tanga in Tanzania;
Implement effectively this vigilance plan, including the measures that Total already provides in documents related to its activities in Uganda.
As a result of this legal notification being served, Total has a maximum period of three months to comply with the requests of the organisations. If it fails to meet its obligations under the Corporate Duty of Corporate Vigilance regulation, victims can then bring the issue before a judge.
A field survey into the EACOP project, carried out by the six organisations, has revealed that this mega project involves:
The expropriation of tens of thousands of people who have already lost their homes, their agricultural lands and their crops, in return for clearly insufficient compensation that they have been forced to accept often under pressure and intimidation;
Considerable risk to biodiversity and water resources, as the project is located largely within the Murchison Falls Nature Park, and includes a network of pipelines that will pass under the Nile and cross ecologically sensitive areas in a region with high seismic risk;
A clear impact on the climate, with a production of about 200,000 barrels per day, and the world's longest heated (electrified) pipeline for transporting oil over 1445 kilometres to the Tanga port in Tanzania.
Dickens Kamugisha, director of AFIEGO and present in Paris as the legal notification was issued, commented:
"The situation on the ground is dramatic, with thousands of people already deprived of access to their livelihood, and also tens of thousands of other people soon to be affected. It is very difficult for us to defend the rights of the people in the face of the injustices created by oil companies like Total who continue to associate with our government. Our judicial system does not allow us to oppose a giant like Total. The remedies we filed in Uganda against the state and other oil companies are failing, and NGOs like ours who challenge these economic interests have been attacked and threatened with closure by the government."
The four Ugandan organisations which have taken part in the issuing of this formal notice to Total are keen to seize the opportunity granted under French law to defend their rights. For the groups involved, the challenge is to put an end to the impunity allowed until now due to the lack of a link of legal responsibility between a parent company and its subsidiaries, subcontractors and suppliers.
Further challenges have been experienced by the groups while conducting research (collection of information and testimonies) in Uganda. Those involved in the field investigations into the EACOP project, including a French national, have been harassed to prevent them from accessing the area concerned and to make contact with the affected populations.
Nevertheless, the six organisations are determined to lead this legal battle and have asked for global support via a website launched for the occasion, totalautribunal.org.
Pauline Tétillon, co-president of Survie, explained:
"Total, no stranger to exploitation in many African countries, hopes to develop a mega-oil project which would result in the eviction of tens of thousands of people and threaten serious environmental impacts in a natural park in the heart of the Great Lakes region. For us, it is absolutely clear that we have to try to prevent it."
Juliette Renaud, Lead campaigner at Friends of the Earth France on multinational regulation, concluded: "We have fought for years to achieve this binding law on multinationals in order to defend affected communities. Today a new judicial battle begins: Total must answer for its actions. This first case will be a real test to see if this law finally allows us to prevent human and environmental catastrophes."
There are no active project profiles for this item now.
There are no active company profiles for this item now.