CSOs react to African Development Bank's statement rejecting claims of potential pipeline funding
2020-04-24
BankTrack, 350.org, Africa Institute for Energy Governance & Inclusive Development International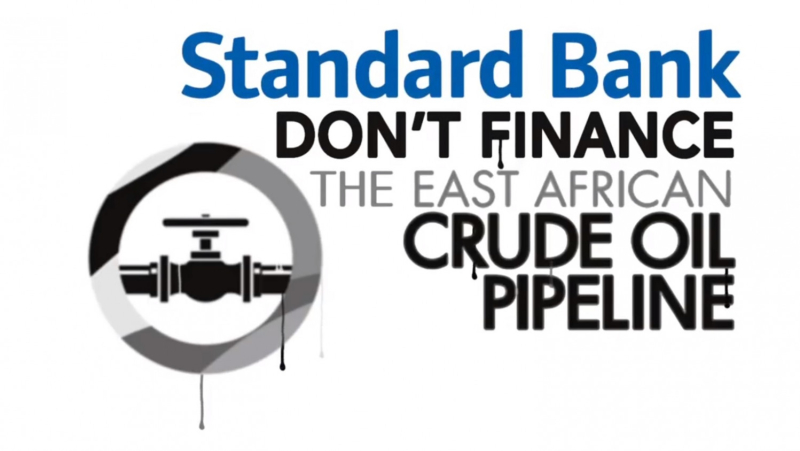 Photo: 350.org
2020-04-24
BankTrack, 350.org, Africa Institute for Energy Governance & Inclusive Development International
The African Development Bank (AfDB) has released a press statement rejecting claims of financial support to the controversial East African Crude Oil Pipeline (EACOP) estimated to cost $3.5 billion. This statement is seen as a direct response to a letter urging the Bank to reject funding the pipeline, signed by more than a hundred civil society groups, and an East African article questioning the bank's decision to fund the project.
In response, 350Africa Managing Director, Landry Ninteretse said:
"The statement is very peculiar in its wording where AfDB says it 'has not provided financing to any private sector company for upstream oil or gas pipeline projects in East Africa and hasn't made any commitment in that regard.' However, the bank does not explicitly state that it would end funding for any oil and gas project. AfDB has consistently stated that it is firmly committed to promoting renewable energy. In September 2019, the President of the Bank said that coal has no place in Africa and that the future is in renewables. The question is why can't AfDB state openly that there is no place for oil and gas in Africa?"
Africa Institute for Energy Governance (AFIEGO)'s CEO, Dickens Kamugisha said:
"Currently, the world is grappling with the impacts of climate change. In East Africa in particular, flash floods, mudslides, rising water levels especially of lakes such as Lake Victoria and others are being seen. These climate change impacts have resulted in deaths, increased spending on disaster management, displacement of poor communities and others. Construction of the EACOP will make climate change worse as it is estimated that the pipeline will result in the release of over 33 million tonnes of carbon emissions per year. To protect the environment and people, it is best that banks support clean and affordable renewable energy projects that will meet the needs of the poor including women and children."
Inclusive Development International Executive Director, David Pred said:
"We are relieved to hear that AfDB will not provide financing for the East African pipeline. This project would not only fuel climate change and pose massive environmental and social risks to communities across the region, but the collapse of global oil prices demonstrates that it's also economic folly for any country to be betting their development future on oil production. Uganda and Tanzania should seize this moment of clarity to abandon this project and instead pursue an alternative investment in the development of clean, renewable fuels to power East Africa."
BankTrack Researcher, Ryan Brightwell said:
"This announcement from the AfDB that it will not be financing EACOP and "sees renewable energy as the future" should send a strong signal to South Africa's Standard Bank and Japan's Sumitomo Mitsui Banking Corporation (SMBC) – the banks still planning to arrange a purported $2.5 billion loan for this dirty pipeline. These banks are taking tremendous risks backing a project which will exacerbate the climate crisis in the teeth of growing community opposition, at a time of immense oil price volatility. They should take this opportunity to recognise the truth of what AfDB is saying, pull out of EACOP and refocus their energy finance on helping this region to realise its renewable energy potential."
Planned to run from the shores of Lake Albert, in Uganda, to the port city of Tanga, in Tanzania, the pipeline is expected to cause large-scale displacement of communities and negatively impact protected environments, water sources and wetlands. Concerns have been raised on the impact of oil extraction on Lake Albert fisheries and the disastrous consequences of an oil spill in Lake Victoria that would affect millions of people (in approximately 8 countries) that rely on the two lakes and their watersheds for drinking water and food production.
There are no active project profiles for this item now.