Climate: Crédit Agricole plan is a step forward but more action needed on gas
Crédit Agricole S.A. details its intermediary targets and action plans to reach carbon neutrality by 2050 on 5 sectors
2022-12-06 | Paris, France
Reclaim Finance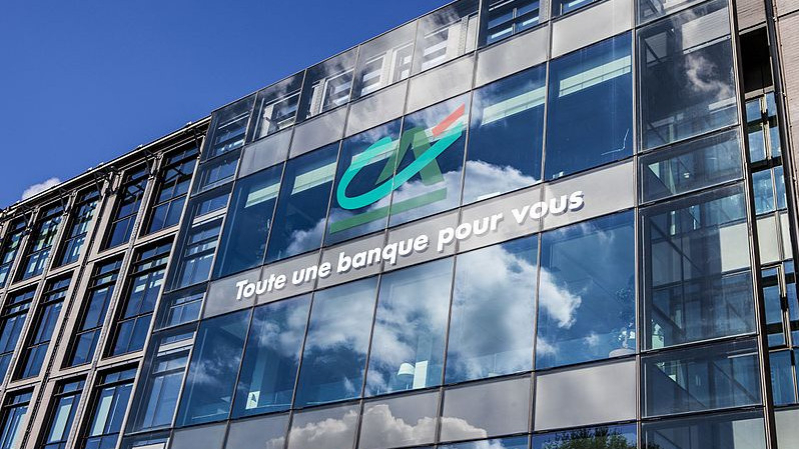 New headquarters of Credit Agricole S.A. in Montrouge. Photo: CA SAfr via Wikimedia Commons
2022-12-06 | Paris, France
Reclaim Finance
The French bank Crédit Agricole Group has announced new commitments to decarbonize as part of its climate strategy, including measures to support renewable energies and to withdraw from fossil fuels. But the new policy only commits to stop financing new oil and non-gas production projects, which does not match the International Energy Agency (IEA) net zero scenario referenced by the bank. Reclaim Finance calls on Crédit Agricole to stop financing new gas extraction projects and to raise the level of requirements for its clients in terms of divestment from fossil fuels.
Crédit Agricole today confirmed its commitment to reducing the carbon footprint of its portfolio by announcing decarbonisation in the cement, commercial real estate and power generation sectors, having set decarbonisation targets for the automotive and oil and gas sectors last June (1). This follows on from the commitments made in the framework of the Net-Zero Banking Alliance (NZBA) and the Glasgow Financial Alliance for Net Zero (GFANZ) to limit global warming to 1.5°C.
Following the announcement, Crédit Agricole becomes the first major French bank to stop all direct support for new oil fields, if no binding measures are taken against oil and gas companies (2). The bank has announced that it will be more selective and restrictive in its support for gas-fired power plants (3).
Lucie Pinson, Director of Reclaim Finance, said: "It is important that a major player in the Paris financial market like Crédit Agricole is making progress on ending the expansion of fossil fuels and decarbonizing the economy, but it still has a lot of work to do, especially on gas, to fully align itself with science."
Unlike other French (Crédit Mutuel, La Banque Postale) or foreign (ING, BBVA, Commerzbank) players, Crédit Agricole has still not committed to stopping financing the expansion of gas production (4). This is a key recommendation of the United Nations to meet the 1.5°C objective and a conclusion of the IEA's Net Zero scenario (5), to which Crédit Agricole refers, including in its evaluation of companies (6).
In addition, Crédit Agricole is committed to tripling its financing for renewable energy by 2030, which is close to the IEA's Net Zero scenario.
Notes:
These targets are in addition to an oil and gas target announced by Crédit Agricole in June and slightly modified today. The lack of detail makes it impossible to accurately assess the level of ambition of this target.
The majority of financial support to the energy sector is in the form of general corporate support (loans, equity grants, etc.) and not project finance.
Crédit Agricole announces a target of 58% reduction in CO2e emitted per kWh by its customers, from 224 gCO2e/kWh to 95 gCO2e/kWh in 2030. This target appears to be generally aligned with the IEA's Net Zero Scenario (NZE), but it is an intensity target (gCO2eq/kWh), whereas the NZE's projected reduction in emissions from the power sector is in absolute emissions (MT CO2).
See the Oil and Gas Policy Tracker.
The IEA confirms in its latest World Energy Outlook 2022 report the absence of new gas production projects and new LNG terminals (apart from those confirmed in 2022), and forecasts a decline in gas-fired power generation after reaching a peak in 2025.
Crédit Agricole says it wants to analyze companies' transition plans on their performance against the IEA's NZE scenario and on their "strategy of divesting from carbon-based energies and investing in decarbonization". It is difficult to assess the impact this announcement will have on general financing to companies in the sector.
From www.reclaimfinance.org.
Curious about the net zero commitments of Crédit Agricole? See our NZBA Tracker for more detail.