Chinese banks rule out Carmichael coal mine!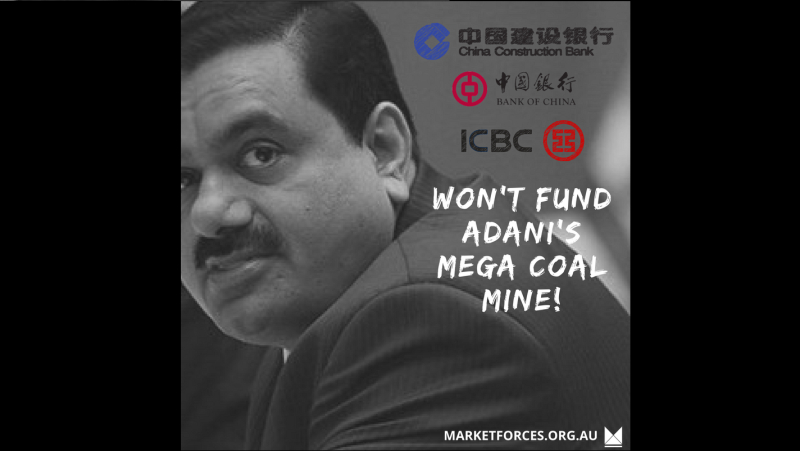 Photo: Market Forces
Three Chinese banks in five days have moved to rule out financial support for Adani's massive Carmichael coal mine project!
It began on Friday evening, when Market Forces received a statement from a spokesperson for China Construction Bank that said:
"China Construction Bank is not involved with, nor considering involvement with, the Adani Carmichael Mine project."
They elaborated to confirm that the bank:
"...are not considering involvement now, nor will they be considering involvement in the future."
Then on Sunday afternoon, the Industrial and Commercial Bank of China released this statement, saying:
"ICBC has not been, and does not intend to be, engaged in arranging financing for this project."
Finally, Bank of China issued a statement on Tuesday afternoon, saying "Bank of China has not, and does not intend to, provide funding for the Adani Carmichael Mine project".
The significance of ICBC, CCB and Bank of China
Industrial and Commercial Bank of China, Bank of China or China Construction Bank are massive – among the biggest commercial banks in the world by assets.
All three banks are also current lenders to China Machinery Engineering Corporation, the company Adani has been negotiating with to become part of their Carmichael coal mine and rail project.
Losing these banks takes a huge amount of potential finance off the table and the fact that these banks are the top three commercial lenders to coal mining, says a huge amount about how environmentally damaging and reputationally risky the Carmichael project is.
View this post and share the news on the Market Forces website!