Big European financial institutions invest heavily but turn a blind eye to human rights abuses in Qatar
2022-11-07
Fair Finance International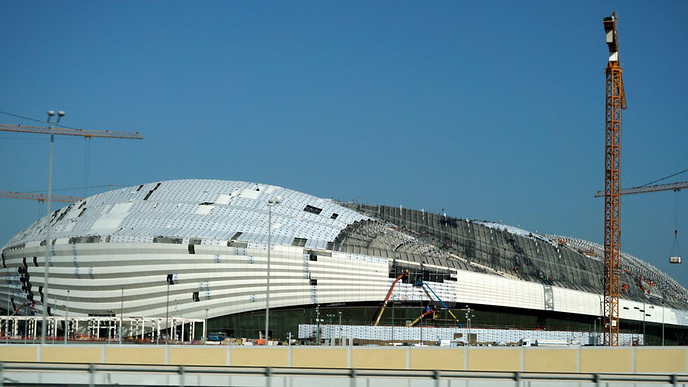 Al Janoub stadium, formerly Al Wakrah - first World Cup 2022 stadium. Photo: Matt Kieffer via Flickr (CC BY-SA 2.0)
2022-11-07
Fair Finance International
A new report by Fair Finance International shows that almost half (47%) of the financing to construction and hospitality companies in Qatar - two sectors with documented high risks of human rights violations – is provided by European banks, pension funds and insurance companies using the savings and premiums of European citizens.
The construction boom preceding the World Cup has been made possible by European financial institutions, which provided financing for construction and hospitality companies active in Qatar, as well as directly to the State of Qatar. Financial institutions provided loans and underwritings with a total value of USD 85.7 billion, to the selected construction and hospitality companies in the report since early 2019 with almost half (47%) of the total identified financing being provided by European financial institutions. Deutsche Bank alone accounts for 42% of the European financing, with USD 15.7 billion. Qatar holds a 6.1% stake in Deutsche Bank through its former prime minister Sheikh Hamad bin Jassim al-Thani.
The biggest European investor in construction and hotel companies active in Qatar and in Qatari sovereign bonds is Allianz with over USD 4 billion. The Norwegian Government Pension Fund has over USD 3.3 billion in investments in the companies, while Commerzbank has been another significant financier providing loans of USD 1.3 billion to construction and hotel companies in the country.
"European financial institutions have used money of European citizens in financing construction and hospitality companies around the World Cup in Qatar while paying scant attention to the well-documented human rights violations being perpetrated in those sectors. Furthermore, none of the financial institutions were able to share evidence that they use their influence to enable access to remedy for victims of harm in Qatar as part of their engagement with the selected companies; remedy and justice the victims and their families deeply deserve", says FFI Project Lead Kees Kodde.
The report found that investors held USD 178 billion worth of investments in the form of share - and bondholdings in the selected companies, along with Qatari sovereign bonds, with European financial institutions accounting for almost one quarter of these investments. Among the investors involved, 30 German, 5 Norwegian, and 16 Swedish financial institutions were identified as having invested in the shares and/or bonds of the selected hospitality and construction companies, and/or in sovereign bonds issued by the Qatari government.
"The findings of the report proves the need to integrate the human rights responsibility of the financial sector into the ways of working of the sector and in the proposed new European Union law on Corporate Due Diligence. The current EU proposal leaves the financial sector off the hook", added Kodde.
Access the report and its recommendation in full here.
Note for editors: For more information or an interview, please contact Kees Kodde Project Lead of Fair Finance International at kees.kodde@oxfamnovib.nl or +31 6-53623818
Fair Finance International (FFI) is an international civil society network of over 100 CSO partners and allies, active in 15 countries, that seeks to strengthen the commitment of banks and other financial institutions to social, environmental and human rights standards.
As a global network we use a rigorous methodology to assess, report on, and campaign for more responsible investment policies & practices. By benchmarking the investment policies and practices of financial institutions in critical areas such as human rights and climate impact, we enable consumers and policy holders to demand more socially responsible, fair, and sustainable investments.