BankTrack publishes 2019 Annual Report
---
2020-05-14
BankTrack
---
Share this page:
---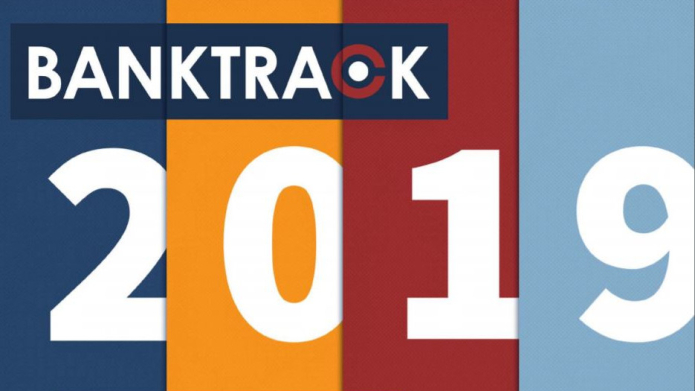 Annual Report 2019. Photo: BankTrack
BankTrack today releases its Annual Report over 2019, detailing how we worked towards our mission to stop banks from financing harmful business activities, promote a banking sector that respects human rights and contributes to just societies and a healthy planet, and to support others in civil society who share these aims.
At the time of writing, 2019 seems a world away. With the world currently in lockdown due to the coronavirus pandemic, it is hard to reconstruct our activities of 2019 without our view being coloured by what came next. Yet even without this crisis, we probably would have had to describe 2019 as a string of missed chances for the global banking sector, changes that seem all the more urgent from the perspective of 2020. It was a year when the sector repeatedly declined to do its share in combating the climate crisis, or take full responsibility for its contribution to the other urgent crises that besiege our world.
In 2019 the burgeoning global climate movement flourished like never before, with strikes, marches and direct protests on an unprecedented scale. BankTrack and our allies had a presence at the annual meetings of 17 of the largest bank financiers of the fossil fuel sector, our 'Fossil Banks, No Thanks!' banners flying at all their AGMs, urging the banks to commit to ambitious fossil fuel phase-out policies by the time of the Madrid Climate Summit. Yet, when that event arrived, not only did governments fail to reach the comprehensive agreement needed, almost all of the large global banks proved unwilling to even set out a plan to stop their support for the industry sector that is most responsible for fuelling the crisis.
2019 was also the year in which two major bank sustainability initiatives ended their review processes, with less than impressive outcomes. In the summer, the Equator Principles ended its near two-year revision process with the release of a set of new principles, 'EP4', that, while including some minor improvements in wording, in no way reflected the ambition level we sought when we launched our 'Equator Banks: Act!' campaign in 2017.
Even more disappointing was the launch of the UN-supported 'Principles for Responsible Banking' (PRBs) in September in New York. Billed as a game-changer which would align the business activities of all adopting banks with the Sustainable Development Goals and the goals of the Paris Climate Agreement, the event turned out to be first and foremost a PR opportunity, allowing banks to flaunt their new 'principles' without having to make any firm corresponding commitments until up to four years from now.
At BankTrack we gave our utmost to turn these events around. We led hundreds of organisations in engaging with the Equator Principles and PRBs from the start of the process until the end. We continued exposing bank financing for fossil fuels projects. We built a common platform supported by over 300 civil society groups to demand an immediate end to finance for new fossil fuel projects, which continues to inspire action around the world. We also published our third assessment of bank human rights policies, which was supported by investor groups managing over $200 billion. We've done what we can, but it is obvious that more efforts are needed to persuade banks to act with the same sense of urgency that drives us forward every day.
We are determined to step up our efforts in 2020. Supported by our funders, we have expanded our team to 10 people and developed ambitious campaign plans for 2020. Although the corona crisis is now forcing us to reconsider and reconfigure a substantial part of these plans, for example when bank Annual Meetings move online and street protests are called off, it will not stop us­ from continuing to hold banks to account for the impact of their investments.
While it remains to be seen how the corona crisis will develop in 2020, this crisis already clearly shows how closely intertwined the threats of pandemic, of climate change and ecosystem breakdown really are. Returning to a pre-pandemic state of normality is simply not an option if we want to prevent future disruptions of society, possibly on a much larger scale. Instead, it is time for all sectors of society, banks included, to use the pandemic as a portal to enter, and do their share to bring about a pandemic proof, climate proof new normality. We are fully committed to do our part.
I hope you enjoy reading this report over our activities in 2019. It is somewhat shorter than usual as produced in the middle of the corona outbreak, when our focus was on our immediate challenges. But we are proud of what we did in 2019 and we do want to share this with you.
Wishing you all the best in this time of crisis, and with gratitude for your support for our efforts,
Johan Frijns, Director, BankTrack