BankTrack condemns Japanese and Singapore bank financing of Batang coal project in Indonesia as reckless to people and climate
2016-06-06 | Nijmegen, The Netherlands
BankTrack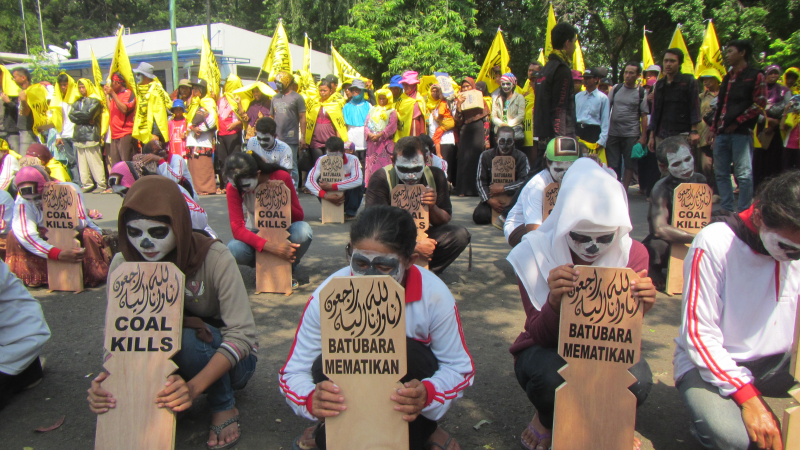 Photo: -
2016-06-06 | Nijmegen, The Netherlands
BankTrack
BankTrack today strongly criticised the announced support of the Japan Bank for International Cooperation (JBIC) and a number of Japanese and Singapore banks for the Batang coal power plant project in Indonesia, calling it 'a reckless move against people and climate'. JBIC's approval of a USD 3.4 billion loan agreement for the 2,000 MW project, joined by a string of commercial banks including Mizuho, Bank of Tokyo-Mitsubishi UFJ and Sumitomo Mitsui Banking Corporation, comes after five years of delays due to local opposition from farmers and fishermen in Batang .
The Batang project has raised major human rights concerns, as a result of the AMDAL process (Indonesia's version of the environmental impact assessment) ignoring strenuous local community resistance. More than 7,000 villagers had expressed concern about the proposed power plant, hundreds of local people have protested against the project in Jakarta. Some have refused to sell their land needed for the plant while in 2013 violent reprisals from local authorities and the military resulted in injuries to protestors.
Local people are also deeply concerned about the plant's impact on their livelihood and health. Many Batang farmers and fishermen protested to denounce that the project will destroy fertile agricultural land and pollute local coastal areas where more than 10,000 fishers earn their living . A Greenpeace report issued in 2014, 'The Human Cost of Coal', revealed that the toxic air emissions from the Batang plant would lead to the deaths of 800 people per year, or approximately 30,000 people over its expected operating life .
Community and health issues aside, Batang will also be one of the biggest coal-fired power plants in Asia and is expected to emit 10.8 million tonnes of CO2 per year from 2020 on, when it is planned to become operational. At the Paris climate summit last year, Indonesia pledged to reduce its emissions by 29% by 2030, yet if coal fired power plants continue to be built as planned, Indonesia's energy sector emissions could instead increase dramatically.
Yann Louvel, Climate and Energy Campaign Coordinator at BankTrack, commented:
"We strongly condemn the financing of the Batang project by Japanese and Singapore based banks. Their financing is completely at odds with their lofty commitments to promote human rights and help realise sustainable societies. The banks should have instead financed the development of Indonesia's huge renewable energy potential if they are in any way serious about achieving these goals, as we have been pointing out to them since 2014."
Johan Frijns, BankTrack's director, concluded:
''It is shocking to see Mizuho, Sumitomo Mitsui and Bank of Tokyo-Mitsubishi UFJ involved in financing this project. All three Japanese banks have adopted the Equator Principles, an investment standard supposed to prevent large, negative social and environmental impacts when financing projects, with Mizuho even the former chair of the Equator Principles Association. If such standards do not prevent adopting banks from putting their money into a project as blatantly destructive as Batang, what good are they? The very credibility of the Equator Principles as effectively helping to prevent climate change and human rights violations is at stake here.''
Notes for editors :
See the JBIC announcement on this page.
The full list of banks involved includes Japanese banks Sumitomo Mitsui Banking Corporation, Bank of Tokyo-Mitsubishi UFJ, Mizuho Bank, Sumitomo Mitsui Trust Bank, Mitsubishi UFJ Trust and Banking Corporation, Shinsei Bank and Norinchukin Bank, and two Singapore based banks, DBS Bank and Oversea-Chinese Banking Corporation.
On September 23, 2014, 87 Batang farmers took action by unfurling a message proclaiming "Food Not Coal," to oppose the construction of the plant in Ponowareng village. The banner, measuring 50 meters a side, was a reminder to the government to protect the community's productive agriculture and to highlight that their area was threatened by the development of the power plant. The following day, on September 24, 2014, fishermen used 48 boats to spell out "Tolak PLTU" ("No to Coal Power Plant") on the waters of the Ujung Negoro-Roban River to express their concerns that the proposed plant would threaten Batang's generations-old practice of rod-fishing, a critical source of livelihood for the fishermen on the north coast of Java.
The Human Cost of Coal report is available on this page.
There are no active project profiles for this item now.