As Human Rights Watch calls "apartheid" in Israel, Barclays again has questions to answer
BankTrack poses question at Barclays' AGM today
2021-05-05 | Nijmegen
BankTrack
Ryan Brightwell, Researcher & Editor: ryan@banktrack.org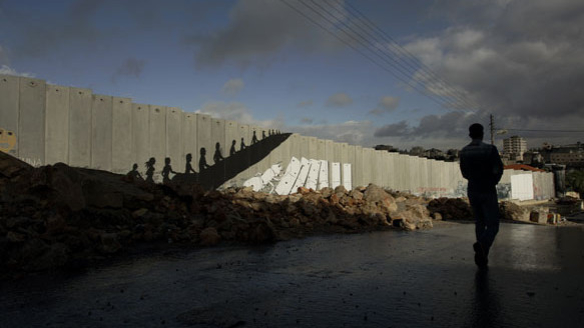 A Palestinian man walks next to a section of Israel's separation barrier, with graffiti painted by British artist Banksy, between Jerusalem and the West Bank town of Bethlehem Sunday, Dec. 2, 2007. . Photo: AP Photo/Emilio Morenatti via Flickr
2021-05-05 | Nijmegen
BankTrack
Ryan Brightwell, Researcher & Editor: ryan@banktrack.org
To a generation that grew up in the 1980s and especially in the UK, the name "Barclays" is associated with stubborn support for Apartheid South Africa. The British bank, whose AGM is held today, was forced to pull out of the country in 1986 after protests and a long-running student boycott against it. Now, some 35 years later, Barclays is deepening its connection with Israel at a time when use of the word "apartheid" to describe its treatment of the Palestinians is losing its taboo and becoming mainstream.
Late last month, Human Rights Watch declared for the first time that Israeli authorities are guilty of the crime of apartheid, as set out in international law in the 1998 Rome Statute to the International Criminal Court (ICC), and called on the ICC to investigate. This follows moves by the ICC earlier this year to open a formal investigation into alleged Israeli war crimes in the Occupied Palestinian Territories since 2014, with which Israel has said it will not cooperate.
Last year, Barclays became the leading underwriter in Israel, much of it in government bonds, leading a process to raise the state US$ 5 billion. In an interview with the CEO of Barclays Israel, Len Rosen, an Israeli business website states that Barclays has underwritten 15 deals for the State of Israel for a total of over US$ 13 billion in recent years.
This underwriting of Israeli government bonds includes no restrictions on the use of funds, meaning that Barclays is likely exposed to all actions now associated with ICC's investigation into possible war crimes. These actions have included settlement construction, systematic land confiscation and house demolitions of Palestinians, universally condemned by NGOs, UN bodies, the EU, the UK and more.
In addition, Barclays has underwritten bonds issued by the Israeli Electric Company, which provides electricity and builds infrastructure to serve illegal settlements constructed in the occupied Palestinian Territories (OPT), and is a key provider of financial services to Israeli banks listed in the UN database of businesses involved in Israel's illegal settlement enterprise. They, as well as the other Israeli banks, provide mortgages to Israeli settlers and financial services to construction of housing in Israeli settlements.
After being contacted by concerned activists working to support Palestinian town councils, BankTrack wrote to Barclays last year to ask for an explanation of how these business relationships square with the bank's commitment to respect human rights. In response, the bank told that it is "not able to comment on individual client relationships or transactions for reasons of client confidentiality", a line so common we have written a briefing paper dedicated to exposing it as a myth.
If Barclays sought client consent for such disclosures at the outset of high-risk business relationships, as the OECD has advised, it could indeed comment. Further, Barclays' response did not address any of the points we raised, and the bank did not respond at all to follow-up requests to discuss the issue.
Barclays' human rights policies and processes have seen the bank ranked as a "front runner" in BankTrack's own human rights benchmark. In a commitment to remedy adverse impacts that remains rare in the sector, the bank states: "Where we discover, or are made aware, that we have been associated with human rights violations we shall take steps to rectify the situation, taking account of the interests of those whose rights are being violated." The bank has been made aware; it should now follow through on its policy and make clear what steps it is taking to rectify the situation.
BankTrack submitted the following question to Barclays' 2021 AGM:
My name is Ryan Brightwell. I'm sending this question on behalf of BankTrack, the civil society watchdog on the impacts of the banking sector on the environment and human rights.
BankTrack ranked Barclays a "front runner" among banks on human rights in its 2019 Benchmark, including for having a commitment to rectify human rights violations it is associated with, where it discovers or is made aware of them.
However, when we approached Barclays last year regarding human rights impacts associated with its finance, the bank provided only a short response saying it is "not able to comment", and did not respond to further requests for discussion.
The issue was Barclays' exposure to entities on the UN's list of companies supporting illegal settlements in the Occupied Palestinian Territory, and Barclays role as the leading underwriter of bonds for the Israeli government.
The International Criminal Court earlier this year opened a formal investigation into alleged Israeli war crimes in the Occupied Palestinian Territories. Barclays' loans to Israel include no restrictions on use of funds, meaning that Barclays is exposed to actions now associated with the ICC's investigation into possible war crimes. This poses clear reputational and potentially legal risks to the bank.
How does Barclays plan to make sure it is not linked or contributing via its finance to the maintenance of illegal settlements, or to war crimes and the crime of apartheid as set out in international law? Will the bank commit to setting out its approach to meeting its human rights responsibilities in relation to its finance for Israel and for companies on the UN list? Thank you.
There are no active project profiles for this item now.