As a 20th anniversary gift, we've made the Equator Principles a complaints channel
2023-06-04 | Nijmegen
BankTrack
Ryan Brightwell, BankTrack: ryan@banktrack.org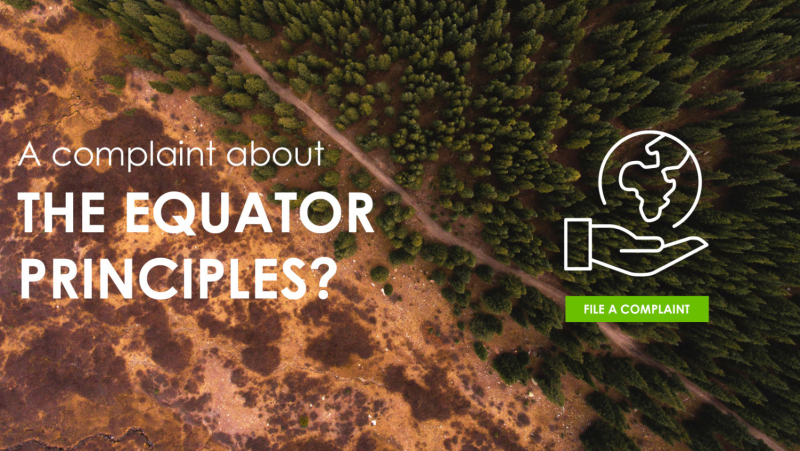 Photo: BankTrack
2023-06-04 | Nijmegen
BankTrack
Ryan Brightwell, BankTrack: ryan@banktrack.org
As a birthday gift to the Equator Principles on their 20th anniversary today, BankTrack has launched an online complaints channel for the framework. This follows two decades in which the Equator Principles, a bank-led initiative for managing environmental and social risk in project finance, have been in existence without such an essential mechanism in place.
The new online tool allows communities affected by large infrastructure projects financed by banks under the Equator Principles to raise complaints about environmental impacts and human rights violations that they consider have resulted from non-compliance with the Principles. When complaints are received, BankTrack will review these and send them to the Equator Principles Association, together with all Equator banks involved in financing the project. BankTrack will also support complainants where possible by seeking to ensure their concerns to be addressed by the financiers, and by publishing complaints made.
The complaints channel has been created to draw attention to the continued absence of an official grievance mechanism by which communities affected by Equator projects can bring complaints to the attention of its governing body, the Equator Principles Association (EPA) or to the Equator banks involved in financing the project.
BankTrack Executive Director Johan Frijns commented: "As well as being a fitting birthday present for the Equator Principles Association, this website will genuinely provide a platform for communities to raise problems they encounter as a result of bank financed projects with Equator banks and the EPA. But sadly, there is no firm guarantee this mechanism will indeed see complaints addressed. For that, we need the Equator Principles Association banks to step in and set up their own accountability processes, as they should have done 20 years ago."
UN human rights principles for businesses set out that industry initiatives such as the Equator Principles should ensure such grievance mechanisms are in place so that complaints can be raised when the commitments made are not met. While the Equator Principles Association has argued that projects financed under the Equator Principles are required to have project-level grievance mechanisms, Equator banks do not participate in these mechanisms and they do not allow complaints about whether banks have kept to their promises.
The complaints channel is especially necessary as some of the world's most controversial and damaging projects, including the Dakota Access Pipeline in the United States and the Agua Zarca hydroelectric dam in Honduras, have received financing under the Principles. TotalEnergies has also claimed its controversial East African Crude Oil Pipeline (EACOP) project in Uganda and Tanzania will comply with the Equator Principles.
Notes for editors
The Equator Principles (EPs) are a risk management framework, created and adopted by financial institutions, for determining, assessing and managing environmental and social risks in financing projects. Currently, 138 Equator Principles Financial Institutions (EPFIs) in 38 countries worldwide have officially adopted the EPs. They were formally launched in Washington, DC on June 4th, 2003. See www.equator-principles.com.
The complaints channel is available at www.equator-complaints.org.
The UN Guiding Principles on Business and Human Rights set out in Principle 30 that "Industry, multi-stakeholder and other collaborative initiatives that are based on respect for human rights-related standards should ensure that effective grievance mechanisms are available." The Commentary adds that such a mechanism should be able to assess compliance "when believe the commitments in question have not been met."
An open letter sent to the Equator Principles Association by 79 civil society organisations and partners in 2019, provides more detailed arguments regarding the reasons for, and benefits of, a grievance mechanism at the level of the Equator Principles Association.
For an analysis of the EACOP against the Equator Principles, see this briefing paper. For further information on the projects mentioned here and their financiers, see BankTrack's Dodgy Deal profiles on the Dakota Access Pipeline, Agua Zarca Dam and EACOP.