RWE financiers urged to join DekaBank call to stop destruction of Hambach forest
2018-09-19 | Nijmegen & Berlin
BankTrack, urgewald, Beyond Fossil Fuels & Les Amis de la Terre
Katrin Ganswindt, urgewald (German, English), +49 (0) 176 324 111 30, katrin@urgewald.org
Kathrin Gutmann, Campaign Director, Europe Beyond Coal (German, English),
+ 49 (0) 1577 836 3036, kathrin@beyond-coal.eu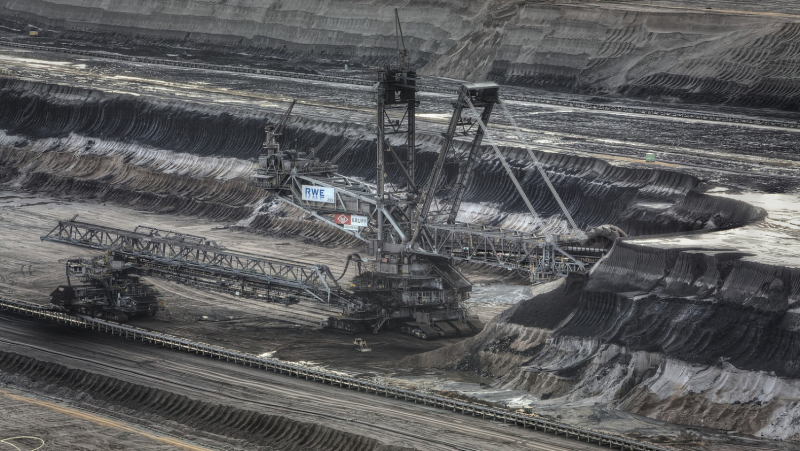 RWE's Hambach open-cast lignite mine. Photo: Frank Kehren via Flickr (CC BY-NC-ND 2.0)
2018-09-19 | Nijmegen & Berlin
BankTrack, urgewald, Beyond Fossil Fuels & Les Amis de la Terre
Katrin Ganswindt, urgewald (German, English), +49 (0) 176 324 111 30, katrin@urgewald.org
Kathrin Gutmann, Campaign Director, Europe Beyond Coal (German, English),
+ 49 (0) 1577 836 3036, kathrin@beyond-coal.eu
Following Dekabank's welcome public call on RWE to suspend clearing work at Hambach forest in Germany, European civil society campaigners are urging other financiers to follow suit and reconsider their financial ties with the coal utility.
German and European civil society organisations sent a letter last week to the 47 main financiers of RWE, asking them to reconsider their business with the company given its ongoing push to expand lignite mining at the cost of the forest and local villages . Since then the call has become more urgent, with a massive, heavy-handed police presence now on the site, clearing the way for RWE to continue clearcutting the ancient forest on October 14 .
RWE is forging ahead with its destructive plans despite admitting that the planned new lignite plant that would be fed by the mine is unlikely to be built, and while refusing to wait for the outcomes of the German Coal Commission, which was established by the German government to agree an end date and a pathway for a full coal phase-out. Both developments could eliminate the need for mine expansion.
Dekabank, one of RWE's main shareholders, is the first financier to react to the NGO call. In a tweet last Friday, Dekabank stated that "RWE should suspend clearing work until the final result of the coal commission currently meeting has been achieved."
Part of the Deka Group, one of Germany's major securities service providers, Dekabank continued: "As shareholders, we have no benefit from an escalation. On the contrary, we see the risk that RWE will unnecessarily jeopardise its reputation and future viability."
Katrin Ganswindt, from the German NGO urgewald, commented: "Such statements are an important signal to RWE and the coal industry. If RWE does not give in, Deka Investment will have to sell its RWE shares. The example of RWE also shows that Deka Investment must finally adopt comprehensive exclusion criteria for coal and arms investments as well as for other sensitive sectors."
Yann Louvel, Climate campaigner at BankTrack, continued: "This first answer from Dekabank is welcome and sets a precedent for other financiers to make public their reaction to the latest provocation of RWE. Given the latest developments and the escalation on site, we call on all financiers, lenders, shareholders or bondholders, to publicly speak out against the destruction of the Hambach forest and exert pressure on RWE to await the recommendations of the coal commission if they don't want to see their reputation tarnished by their association with this dodgy company."
Kathrin Gutmann, Europe Beyond Coal Campaign Director, concluded: "RWE is Europe's biggest polluter, number one in terms of CO2 emissions and number two in terms of premature deaths caused by coal pollution. It is totally unacceptable for the company to blatantly ignore the work of the coal commission, creating irreversible damage and escalating conflict. It is now time for responsible financial institutions to speak out against RWE's bad faith actions and show that there are consequences for its behaviour."
Notes for editors:
The letter sent by NGOs can be found on this webpage. It was sent to the following financial institutions: ABP, Ackermans & van Haaren, Bank of America, Bank of New York Mellon, Barclays, BayernLB, BlackRock, BNP Paribas, Citigroup, Commerzbank, Crédit Agricole, Credit Suisse, DeKa Invest, Deutsche Bank, DZ Bank, Franklin Resources, Goldman Sachs, HeLaBa (Hessen-Thüringen), HSBC, JPMorgan Chase, LBBW, Norwegian Government Pension Fund, Royal London Group, Santander, Société Générale, Standard Life Aberdeen, Sumitomo Mitsui Financial Group, UBS, UniCredit, Union Investment, Vanguard. The letter was also sent to the following German communal shareholders: Stadt Dortmund, Stadt Essen, Landschaftsverband Westfahlen-Lippe, Hochsauerlandkreis, Landkreis Altenkirchen, Kreis Kleve, Stadt Mönchengladbach, Landschaftsverband Rheinland, Landkreis Mayen-Koblenz, Stadt Köln, Stadt Oberhausen, Rhein-Sieg-Kreis, Landkreis Paderborn, Stadt Gladbeck, Kreis Mettmann, Kreis Düren.
BankTrack has created a new 'dodgy deal' profile for this project, available on this webpage.
The tweet is available on this webpage.
There are no active project profiles for this item now.
There are no active company profiles for this item now.