BNP Paribas coal finance impacts earn Pinocchio Climate Award from the public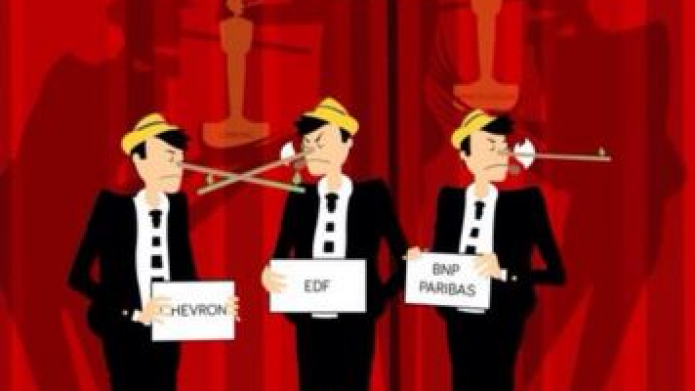 Photo: -
French bank BNP Paribas has been awarded a Pinocchio Climate Award for its global financing of the coal industry, including huge coal-fired power plants in South Africa and India. Following a month of public voting organised by Corporate Europe Observatory and Friends of the Earth France, the award to the French banking sector's biggest coal supporter was made at a ceremony in Paris during the COP21 international climate talks, where BNP Paribas is one of the corporate sponsors.
In the run-up to COP21, and in the face of mounting pressure from campaigners, BNP Paribas announced a new approach to coal financing which sees it ending its support for all new coal mining projects around the world. However, the bank will continue to consider the financing of coal-fired power plant projects in lower income countries, comprising more than 80% of the global coal market.
A new report also released this week at COP21 by BankTrack, Friends of the Earth France and partner organisations as part of the Paris Pledge campaign showed that BNP Paribas is among the top five coal banks globally, with financial support for the industry totalling $14.84 billion since 2009's COP15 in Copenhagen.
Yann Louvel, Climate and Energy campaign coordinator at BankTrack, commented:
"This latest public recognition of BNP Paribas' huge, devastating coal finance legacy further highlights its ludicrous sponsorship role at COP21 and, significantly, it is the bank's role in the financing of the likes of the mega Tata Mundra coal power plant in India which has seen it receive a Pinocchio Climate Award.
"Not only do such investments drive climate change for decades but local communities in Gujurat have already suffered health and livelihood impacts since the power plant commenced operations. While BNP Paribas has recently made new commitments which curtail its financing for the coal industry, its new coal power plant criteria would not rule out support for another giant coal plant in low income countries. BNP Paribas and other banks will face continued public pressure until they take the necessary responsible steps to fully end their engagement with coal, the number one contributor to climate change."
Lucie Pinson, Private finance campaigner at Friends of the Earth France, said:
"The experience with harmful community impacts from the Tata Mundra plant in India must surely now make BNP Paribas consider that bankrolling big coal clients such as Tata Power is a lot more trouble than it's worth, and sever all ties with the industry. More than this, though, having provided $327 million in financing for the project, BNP Paribas has to accept it has certain responsibilities for such a problematic project. Yet it has been dragging its heels and has failed to publish a project assessment all year.
"We urge BNP Paribas to now carry out a thorough and independent assessment of Tata Mundra's social and environmental impacts, and following this ensure that affected people are properly compensated for the clear disruption to local fisheries in particular."
Notes for editors:
1. See details of all this year's Pinocchio Climate Awards.
2. See reaction to the November 19 coal financing announcement from BNP Paribas.
3. New report: 'The coal test: Where banks stand on climate at COP 21' (pdf)
Related Dodgy Deals
Projects
There are no projects active for this item now.