Company – On record
This profile is no longer actively maintained, with the information now possibly out of date
Lead organisation:
BankTrack
Last update:
2020-12-22 00:00:00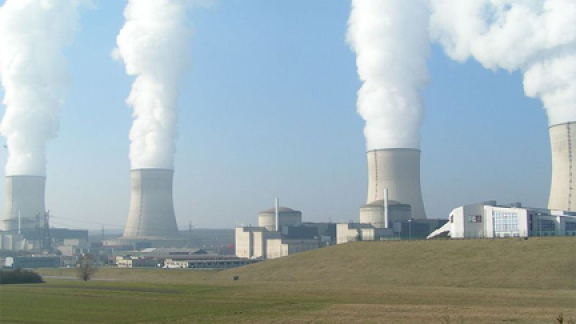 EDF Nuclear Power Station. Photo: EDF
Company – On record
This profile is no longer actively maintained, with the information now possibly out of date
Lead organisation:
BankTrack
Last update:
2020-12-22 00:00:00
| | |
| --- | --- |
| Sectors | Nuclear Electric Power Generation , Biomass Electric Power Generation, Hydroelectric Power Generation, Solar Electric Power Generation, Wind Electric Power Generation |
| Headquarters | |
| Ownership | |
| Subsidiaries | |
| Website | https://www.edf.fr/ |
Like its rival and fellow French multinational AREVA, Électricité de France (EDF) is one of the biggest players in the global energy game. In fact, with more than 158,000 employees, a 2009 profit of 3.9 billion euros, and electricity generation operations in Europe, Asia, the Middle-East, Latin America, and Africa, they don't come any bigger: EdF is the world's largest utility and the French state owns 85% of it.

Three quarters of the 22% of Europe's electricity generated by EdF comes from the company's nuclear reactors. It operates 58 reactors in France alone. EdF has however, struggled to maintain some of its reactors. The hot summer of 2009 meant that inland reactors reliant on river water could not be cooled properly and therefore not operate. A third of France's nuclear generating capacity was out of action and EdF was forced to import electricity from the UK.

In the following winter 15 reactors were closed for various reasons meaning electricity again had to be imported - the equivalent of four nuclear reactors' production. In 2008, the French Nuclear Safety Authority (ASN) refused or suspended the accreditation of EdF's laboratories responsible for monitoring radioactivity around the company's sites because of shortcomings in their radiation monitoring methods.

EdF doesn't seem to be doing any better with its new reactors. Documents leaked by an EdF insider show that the over-budget and behind schedule so-called state of the art EPR reactor being built for EdF at Flamanville in France has defects in its control systems that could cause an 'a Chernobyl-type accident'. EdF, in partnership with AREVA, is proposing to build four EPRs in the UK.


EDF has raised €2.4 billion ($2.8bn) in green bonds to fund the financing and refinancing of renewable energy projects to grow its portfolio to 50GW by 2030. Bond arrangers include JPMorgan, Barclays, BNP Paribas, Citigroup, Commerzbank, Credit Suisse, Deutsche Bank, Natixis, and Societe Generale.