Planning for public disclosures through hidden closed-door processes?
Why the Taskforce on Nature-related Financial Disclosures needs to overhaul its approach to transparency
2022-09-12
Shona Hawkes, Rainforest Action Network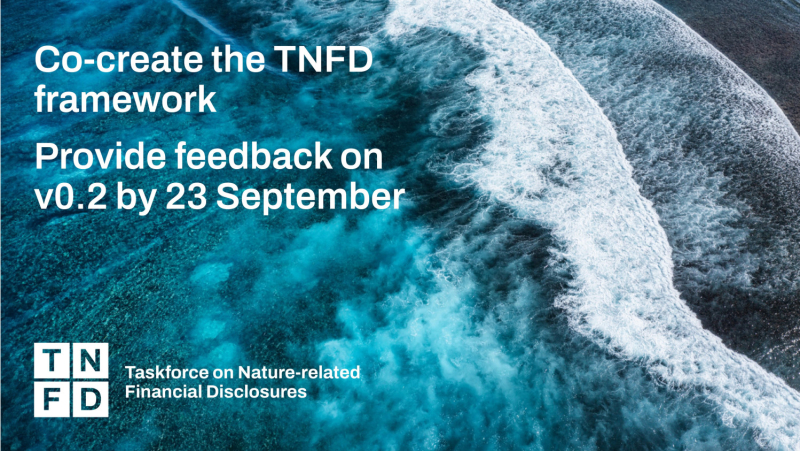 2022-09-12
Shona Hawkes, Rainforest Action Network
Blog by Shona Hawkes at Rainforest Action Network.

This 23 September will be the last day that the Taskforce on Nature-related Financial Disclosures (TNFD) will accept feedback on the second of four planned drafts of its proposed framework. This is part of an 18-month process that will result in a framework on how businesses, including banks and other financiers, should publicly self-report on nature-related risks. What is said in these submissions - the concerns they raise, the evidence they point out, the recommendations and options they suggest to TNFD or even the spurious arguments made by those seeking to protect their own self-interest - will never be made public.
TNFD is a voluntary initiative but aims to become the de facto standard for business reporting on nature. (To learn more about TNFD see the Forests & Finance webpage here.) As the global community becomes increasingly aware of the trillions of dollars in financing that are driving the nature crisis, TNFD posits that better corporate reporting will help solve the problem. While TNFD claims to be 'science-based' – in that it refers to datasets on how to measure nature and biodiversity – it is not 'evidence-led' in that it appears to have dedicated little research or rigor to identifying which types of requirements contribute to change from business, which don't, and which decision-making structures result in sound outcomes. While various serious concerns about TNFD have been raised - including that it is far removed from the measures that environmental defenders and the victims of corporate-led harms are calling for - this article focuses on the lack of transparency, why it matters and basic steps that TNFD should adopt to start to lift its veil of secrecy.
Who makes decisions and how?
The role of transparency in decision-making processes is extremely well established. As TNFD's decisions are controlled by a taskforce made up solely of 34 senior staff from global corporations it is particularly susceptible to criticism that decisions are led by self-interest rather than evidence. CSOs have expressed alarm that UN agencies are backing such a process, particularly given TNFD's aim to influence future regulation, including through talks on a new global biodiversity agreement. Global corporations writing the template of their own future regulations is an extremely concerning precedent. This issue is likely to haunt TNFD long into the future and the lack of transparency doesn't help.
TNFD taskforce members include HSBC and Rabobank which since the Paris Climate Agreement are each estimated to have made tens of millions of dollars in profit off the back of multi-billion dollar financing to an array of companies linked to deforestation and human rights abuses. There is BNP Paribas which earlier this year signed onto a massive loan to TotalEnergies whose East Africa Crude Oil Pipeline could negatively impact 2,000 square kilometers of protected wildlife habitat and has involved serious violations of local people's human rights. Members also include Bank of America - one of the largest fossil fuel financiers, as well as BlackRock which has been described as the 'world's largest investor in deforestation'.
While TNFD can give the appearance of seeking views from diverse voices, a Forests & Finance analysis shows deep inequalities in who it pursues feedback from. Greater transparency would provide data on how deep these biases run. Anecdotally, we know that the victims of corporate-led nature harms are grossly under-represented compared to corporations who may be perpetrating or profiting from such harms. A lack of transparency can also allow a bank or company to privately advocate for TNFD to adopt positions that contradict its own stated commitments to act on nature loss and related human rights abuses.
The difference that transparency makes
A recent example from a consultation by another reporting initiative - the International Sustainability Standards Board (ISSB) - shows the difference that transparency makes. This is particularly relevant given TNFD's relationship with ISSB. TNFD's proposed framework will only require businesses to self-report on financial risks and opportunities for the business itself - in this case, those that may arise from its relationship with nature in the short, medium or long-term. For example, a loss of bee populations may add to new costs to agribusiness for pollination. This is often referred to as an 'enterprise value' approach. However, and of critical importance, TNFD does not require a business to also report on its actual or potential adverse risks and impacts on nature unless it affects profitability. It has no requirement to report risks or harms to those protecting nature or other human rights abuses.
Reporting on both how environmental or social issues impact on business profitability and how business impacts on the environment or people is often described as 'double materiality'. TNFD itself has never published any research on this area; it has never consulted on whether TNFD public disclosures should be based on enterprise value or double materiality; and it doesn't appear to have any plan to do so. Instead, TNFD has justified its position by saying it should align with the approach put forward by ISSB – a newly instituted group that faces similar legitimacy issues to TNFD – and the ISSB proposal itself is still in draft form.
It is known that some corporations have publicly called for TNFD to adopt double materiality, as has a May 2022 letter by 28 NGOs and networks whose members include over 220 organizations across six continents. TNFD itself acknowledged receiving feedback on double materiality. However, it wasn't clear until ISSB posted submissions on its current draft that several TNFD taskforce members themselves are calling for double materiality –- including Mirova, Deloitte, BNP Paribas and Moody's. Tata Steel pointed out that the ISSB's enterprise value only approach "would likely not fully address the needs of the remaining key stakeholders (governments and regulators/ communities/civil societies)". TNFD co-founder WWF, as well as Knowledge Partners OECD and CDP also called for double materiality. Alarmingly, in its own submission to ISSB in July the TNFD Secretariat that supports the taskforce failed to acknowledge that concerns about double materiality had even been raised. Had ISSB's submissions not been made public, the extent of the TNFD Secretariat's disconnect from these issues would not be apparent (also explored here).
Publicly accessible ISSB submissions also outline the substantial evidence base on the already known flaws of the enterprise value approach and why double materiality is needed. In its submission, Re_Generation analyzed responses from an earlier stage of feedback in 2020 - which it argues saw 72% of respondents call for double materiality, a call that ISSB has ignored.
TNFD can choose to adopt base transparency now
While TNFD has often replicated the ISSB's shortfalls, one area it hasn't matched ISSB is in adopting a base level of transparency.
TNFD should immediately:
By default, make survey responses and submissions provided to TNFD public.
Disclose summaries of meetings.
TNFD could largely copy and paste the processes and structures from ISSB and other initiatives. TNFD should also disclose who is taking part in its individual programs or projects, for example by listing participants in each national consultation group, each piloting program and each focus group discussion.
We invite all banks, other businesses, NGOs or others to make their survey responses and submissions to TNFD public and to provide a copy to the Forests and Finance coalition via Shona Hawkes at shona@ran.org. For more information on TNFD from a civil society perspective see the Forest & Finance coalition webpage.