Natixis AGM: the bank gives the cold shoulder to frontline communities
2019-05-28 | Paris
Les Amis de la Terre
Lorette Philippot, lorette.philippot@amisdelaterre.org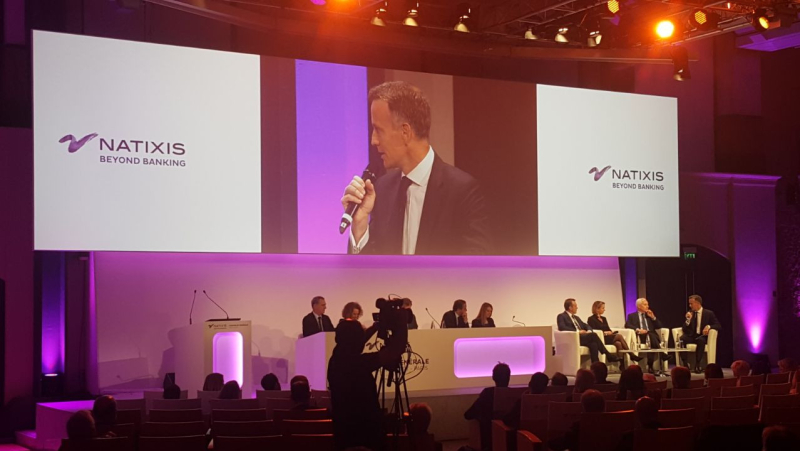 Photo: Les Amis de la Terre
2019-05-28 | Paris
Les Amis de la Terre
Lorette Philippot, lorette.philippot@amisdelaterre.org
This is a blog post by Les Amis de la Terre's Lorette Philippot.
Natixis may have announced a new coal policy, but the main take-away from its AGM was its complete lack of respect towards a representative from an NGO based in Mozambique who travelled all the way to France to get answers from the bank on concerns around a gas project. According to Les Amis de la Terre (Friends of the Earth France), the bank cannot claim to take seriously its responsibility in terms of climate change if it keeps on financing new fossil fuel projects.
Les Amis de la Terre and BankTrack attended Natixis AGM today, together with Ilham Rawoot from Justiça Ambiental / Friends of the Earth Mozambique, who mobilise and campaign against offshore gas and Liquid Natural Gas (LNG) projects in Mozambique.
Whilst Ilham had originally planned to ask Natixis about the key role played by the bank in financing the Coral South Floating LNG project , she found herself in a position where it became impossible. After having to push against staff who were clearly not willing to give her the floor, she was faced with heckles and verbal abuse from the shareholders, whilst the board interrupted her and eventually cut off her mic before she was given the chance to finish her question or for another campaigner to translate it.
Ilham said: "Even before it begins operating, the project — supported by Natixis, as well as the public investment Bank Bpi France, BNP Paribas, Société Générale and Crédit Agricole — has already forced thousands of people out of their homes. I have travelled all the way from Mozambique to ask a simple question to Natixis about their responsibility in this unfolding disaster. I wanted to carry the voice of the communities directly impacted by big fossil fuel companies taking over their land, but also the voice of the victims of climate impacts that are a frequent occurrence in Mozambique".
Previously asked about its increasing finance for fossil fuels , Natixis declared it wasn't planning to stop financing fossil fuels any time soon, and especially gas infrastructure. Lorette Philippot, from Les Amis de la Terre, commented: "To avoid breaching the critical 1,5 °C limit means putting an immediate end to the development of fossil fuels: this is what the scientific community calls for, as well as citizens across the world. At Natixis' AGM, we got heckled by some, but also thanked by many people. Banks need to understand that it is in the interest of all as well as in their own to stop runaway climate change".
The bank has however announced an exclusion of companies with over 25% of their profit or production coming from coal, lowering the previous 50% threshold. Whilst this improvement is welcomed, it doesn't in any way excuse the behaviour and lack of respect of the bank at its AGM. Natixis also announced a new and more detailed coal policy to be published in June 2019. Les Amis de la Terre call on the bank to include in the policy an exclusion of companies developing coal, and to commit to bring to zero all support and exposure to coal in a timeframe compatible with limiting warming to 1,5 °C .
More information:
Natixis was the financial advisor of a $4.7bn financing of the Coral South LNG project. https://www.natixis.com/natixis/jcms/lpaz5_65142/fr/gaz-naturel-au-mozambique-une-operation-de-l-annee-de-c-8md
Les Amis de la Terre published a note detailing the impacts of the projects and the influence of French public and private actors. https://www.amisdelaterre.org/IMG/pdf/note-mozambique-lng-at.pdf
Climate impacts are very much real on a day-to-day basis in Mozambique, with violent disasters wrecking communities in the past months. In March 2019, the town of Beira was completely wiped out by floods following Cyclone Idai.
www.ran.org/wp-content/uploads/2019/03/Banking_on_Climate_Change_2019_vFINAL.pdf
The Beyond 2 °C scenario of the IEA states that all coal assets must be phased out by 2030 for OECD and EU countries and by 2040 elsewhere, to limit global warming to well below 2 °C.